Judge rejects Van der Sloot's unlawful detention motion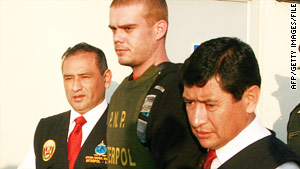 Joran van der Sloot, center, is escorted by police in Tacna, Peru, on June 4.
STORY HIGHLIGHTS
Judge upholds van der Sloot's incarceration and confession in slaying
He says suspect had translator while being interrogated by police
Judge also rejects claim that van der Sloot's laptop was improperly searched
Lima, Peru -- A superior court judge in Lima, Peru, upheld the confession and incarceration of Joran van der Sloot in connection with the killing of Stefany Flores, officials said.
On Friday, Judge Wilder Casique Alvizuri declared as "unfounded" van der Sloot's habeas corpus claim that his constitutional rights were violated at the time of the confession because he was represented by a state-appointed attorney.
Van der Sloot also claimed that his laptop had been improperly searched.
In an official press release, the judge said that the suspect had a translator made available to him during the three depositions he gave the police and that his laptop was sealed once delivered to the court.
Van der Sloot, a 22-year-old Dutch citizen, is jailed pending trial on charges of first-degree murder and robbery in the May 30 death of Flores, a 21-year-old student.
While he remains a suspect in the disappearance of Natalee Holloway in Aruba in 2005, he has not been charged in that case.
FOLLOW THIS TOPIC