Van der Sloot will fight incarceration to top court, attorney says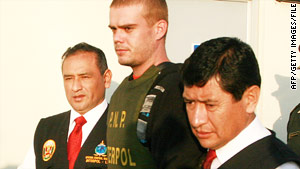 Joran van der Sloot faces murder charges in Peru for the death of Stephany Flores, 21.
STORY HIGHLIGHTS
Joran van der Sloot will appeal ruling on his detention to the highest court, if needed
A judge last week ruled that van der Sloot's confession and jailing stood
He wants to 'paralyze the process,' lawyer says
Van der Sloot is also the suspect in the Natalee Holloway disappearance
(CNN) -- Joran van der Sloot, whose claim of unlawful incarceration was denied last week, will immediately appeal and fight all the way to the Peruvian Supreme Court and international courts, if necessary, his attorney told CNN Monday.
Van der Sloot, a 22-year-old Dutch citizen, is jailed pending trial on charges of first-degree murder and robbery in the May 30 death in of Peruvian student Stephany Flores, 21.
In an attempt to nullify a confession he gave police, van der Sloot claimed his civil rights were violated following his arrest. A judge on Friday ruled that his confession and detention stand.
His legal strategy now is to "paralyze the process," his lawyer, Maximo Altez, said.
Altez said van der Sloot will use every possible law that is available to him, and that if he exhausts Peruvian courts, they will reach out to the Inter-American Court of Human Rights in Costa Rica. He maintains that his client's rights have been violated.
The attorney, who has been in touch with both van der Sloot and his family, said that the Dutchman is a little "depressed," as anyone in prison would be.
Van der Sloot is also a suspect in the disappearance of Alabama teen Natalee Holloway in Aruba in 2005, though he has not been charged in that crime.

Video: Inside Joran's prison courtroom

Video: Reporter interviews Joran in jail

Video: DNA found at Peru murder scene
A court document obtained by CNN shows Flores had a cranial fracture and other injuries to her face and neck and showed signs of asphyxiation. Forensic tests in the hotel room where her body was found showed blood on the floors, hallway and mattress, the document said.
According to transcripts of van der Sloot's confession, he said he elbowed Flores in the face before strangling her and then suffocating her with his shirt. The transcripts were provided to CNN by a police source who has not been named because he was not authorized to release the material.
Van der Sloot told authorities he attacked Flores on May 30 after she read an e-mail in his computer connected with the Holloway case. After killing Flores, police say, van der Sloot took money and bank cards from her wallet and fled to Chile, where he was arrested on June 3.
He was returned the next day to Peru.
Van der Sloot is being held at the Miguel Castro Castro Prison, in a high-security area where only two of 10 cells are occupied and he has no contact with the general prison population.
In Session's Jean Casarez from the truTV network contributed to this report.
FOLLOW THIS TOPIC