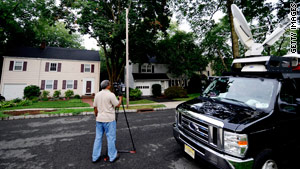 Residents of this home in New Jersey are alleged to have been part of a Russian espionage ring.
STORY HIGHLIGHTS
Allegations that 11 people acted as Russian agents shines light on espionage
U.S. officials describe an operation straight out of a 1950s spy novel
Court documents detail alleged deceptive activities by suspected foreign agents
Former agents say contacting under-cover agents is when problem start
London, England (CNN) -- Allegations that 11 people acted as Russian agents in a long-term mission in the United States have again shone a light on the murky world of espionage.
Some of the suspects adopted phony identities, including those of dead Americans, and posed as married couples, according to New York court documents. The suspects engaged in secret communications including exchanges of bags, money drops and use of invisible ink, as well as using more modern touches such as wireless computer networks between specific laptops, the documents said.
The alleged plot could have come straight from a Frederick Forsyth or John Le Carre novel and revived memories of 2006 allegations by Russia that a fake rock found on a Moscow street was being used by British diplomats to transmit classified data back home.
But analysts said the new case -- if true -- really exposed the incompetence of the alleged Russian spies while highlighting the age-old problem for undercover agents of how to communicate with their bosses.
"It's just bad tradecraft. If they were good we wouldn't know about them," Harry Ferguson, a former British MI6 agent and author of "Operation Kronstadt," told CNN on Tuesday. "Only bad spies get caught. They were either forced to act in haste or they just didn't think."

Video: Inside the alleged spy ring

Video: Spying for Russia?

Video: Suspected spies head to court

Video: Spies in New York?
One of the suspects allegedly made contact from a bookshop with a Russian government official who was driving by in a van with diplomatic plates to make the wireless connection, a court document said. And another described alleged efforts to secretly get money to the suspects to fund their clandestine activities, including money drops involving exchanged bags in public places and other subterfuge.
In one incident, one of the alleged agents, Robert Christopher Metsos, who was arrested in Cyprus on Tuesday, received money from a Russian agent and buried it in a park in northern Virginia, the document said. Two of the other alleged agents later showed up at the park to dig up the money, it added.
The Russian Foreign Ministry said in a statement the arrests were "unfounded and have unseemly goals," adding that "we do not understand the reasons why the U.S. Department of Justice has made a public statement in the spirit of the Cold War."
What the allegations, if proven, expose is the problem of using "sleepers" or "illegals"-- agents who live unobtrusively in a country for several years until they are activated into service -- according to analysts. "Communication is always the weakest link with illegals," Ferguson said.
"Illegals are standard espionage technique for many countries: You put them in during peacetime and activate them when you need them. Illegals are fine when they're switched off, but as soon as you start passing messages there's your problem," said Ferguson. "In this case the big mistake seems to have been contacting an SVR (Russia's foreign intelligence service) official under United Nations cover, which is real old world stuff.
"Diplomatic cover is being used less and less in the modern world by all major intelligence agencies because it's too easy to check. The idea that this guy with U.N. cover is sitting in a van is just asking for trouble. I can only imagine that there was some kind of emergency: these guys weren't following instructions and were about to do something they shouldn't, and had to be contacted quickly."
Another expert, Richard Aldrich, author of "GCHQ: The Uncensored Story of Britain's Most Secret Intelligence Agency," agreed with this analysis, saying the big problem in espionage is making contact with the agent.
"When you read classic intelligence literature we think of spying with human agents or by technology, such as spy satellites or code-breaking at Bletchley Park (the British intelligence base during World War II). But increasingly the use of human agents and technology have merged and now we're seeing a fantastic array of gadgetry," Aldrich said.
"This is important for every person running a high-grade agent in place, such as a researcher on the outer fringes of President Obama's kitchen cabinet, for example. On the one hand you want to be contacting that person weekly or daily because the information is time-sensitive, but every time you contact that person you put them in jeopardy. Modern technology notionally reduces the risk of frequent contact with high-grade agents.
"Agents used to leave stuff for their handler by dead letter drops, chalk marks on pavements or phony beer cans that opened up. But now this is done electronically, and there's a constant battle of wits. I suspect there's been a technological breakthrough by the U.S. authorities that has assisted them in tracking these people and their activities."
FOLLOW THIS TOPIC