STORY HIGHLIGHTS
NEW: Judge denies bail for New Jersey couple, sets bail for Palaez
NEW: Judge says of New Jersey couple, "I just don't know who these people are"
NEW: Hearing for couple in Boston court delayed
NEW: Boston attorney likens spy allegations to "infiltrating PTAs"
New York (CNN) -- One of the suspects in an alleged Russian spy ring has admitted that he worked for Russia's intelligence service, federal prosecutors say in court documents obtained by CNN Thursday.
The suspect known as Juan Lazaro made a "lengthy post-arrest statement on June 27," according to a bail letter provided by the U.S. Attorney's Office for the Southern District of New York.
He allegedly told federal agents that he was not born in Uruguay, that "Juan Lazaro" is not his real name, that his house in Yonkers, New York, had been "paid for by the 'Service' and, although he loved his son, he would not violate his loyalty to the 'Service' even for his son," he said after he waived his Miranda rights, prosecutors say.
The document also says Lazaro, who is married to co-defendant Vicky Pelaez, told agents she delivered letters to the "Service" on his behalf, and that he refused to provide his real name to prosecutors.
Lazaro appeared Thursday at a detention hearing in a New York Federal courtroom to determine whether he qualifies for bail. His bail arraignment has been adjourned for the day. No future court date has been set.
The judge set bail for Pelaez at $250,000 plus $10,000 in cash and ruled she will have to wear an electronic monitor.
Pelaez is a longtime U.S.-based columnist for the Spanish-language El Diario newspaper.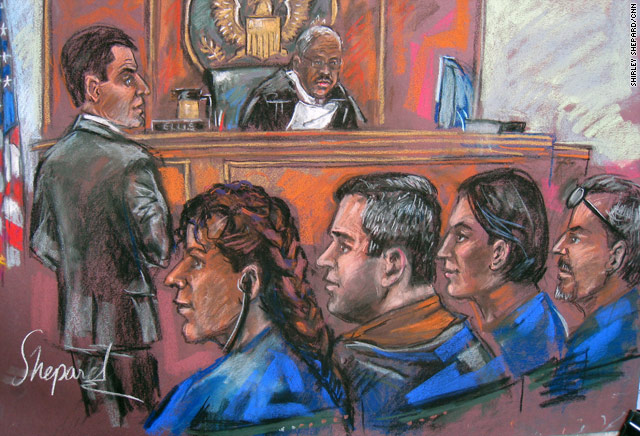 History of U.S.-Russia spying

Video: 'Spy' ring hot topic in Russia
The judge denied bail for two other alleged spies, Richard and Cynthia Murphy of Montclair, New Jersey.
Judge Ronald Ellis said the "government's case against them is strong" and there are many questions about the couple, noting, "I just don't know who these people are."
The bail letter also mentioned the New Jersey couple, describing a 2009 message from Moscow to the alleged New Jersey conspirators, a message that has now been decrypted. It goes into detail about the mission of the alleged spies, saying "The only goal of our Service and all of us is security of our country. All our activities are subjected to this goal."
"Only for reaching this goal you were dispatched to the U.S., settled down there, gained legal status and were expected to start striking up useful acquaintances, broadening the circle of your well-placed connections, gaining information and eventually recruiting sources."
The bail letter also talks about a search warrant executed this week at a safe-deposit box associated with the alleged New Jersey conspirators, saying it contained eight unmarked envelopes, each containing $10,000 in apparently new $100 bills.
The hearings of two other alleged Russian spies, Donald Howard Heathfield and Tracey Lee Ann Foley, were delayed until July 16 in Boston, Massachusetts.
Attorneys for the couple, who were led handcuffed and shackled into federal court in Boston, said they are contesting their identities. That means the government will have to prove who they are when the hearings resume.
Attorney Peter Krupp called the charges against the couple "extremely thin" and said the government "essentially suggests they infiltrated neighborhoods, cocktail parties and PTAs."
The couple's children appeared with them in court. The two boys, reportedly 16 and 20, said nothing as they watched the proceedings.
Heathfield is employed as a consultant, and his wife is in real estate.
Officials announced the arrests of the 10 alleged spies on Monday. An 11th suspect is at large after being briefly detained in Cyprus.
Three other suspects appeared briefly in federal court in Alexandria, Virginia, on Thursday.
The cases of defendants known as Patricia Mills, Michael Zottoli and Mikhail Semenko were continued until Friday -- Zottoli and Mills because their lawyers said they had received new information, and Semenko because he said he had not been able to hire a lawyer.
A source with knowledge of the case said the Juan Lazaro confession was not the information that led defense attorneys to ask for a delay in the Zottoli and Mills cases. But the source would not say what the information is, or whether it will be revealed publicly in court Friday.
Meanwhile, the two children of Zottoli and Mills, 1 and 3 years old, are being cared for by family friends, an Arlington County, Virginia, spokesman said late Tuesday.
Mills and Zottoli did not speak in court. Semenko spoke only briefly and with a slight Russian accent.
The 10th suspect held in the United States, known as Anna Chapman, has already had a hearing and was ordered detained.
The suspect who is at large is Robert Christopher Metsos, 55, an alleged go-between who dug up money buried by other suspects, according to court papers.
He was arrested on an Interpol "red notice" in Larnaca, Cyprus, on Tuesday but was released on bail pending further proceedings, police there said. He was told not to leave the country and was ordered to check in nightly with police.
He did not check in Wednesday, and police are searching for him, a spokesman said.
At the time of his arrest, he was traveling on a Canadian passport and was about to board a flight to Budapest, Hungary. Metsos faces extradition to the United States.
His disappearance came two days after the U.S. Justice Department announced the arrest of 10 people on charges of being Russian agents involved in a long-term mission in the United States.
The Justice Department said the suspects were supposed to have recruited intelligence agents, but were not directly involved in obtaining U.S. secrets themselves.
They were charged with conspiracy to act as an agent of a foreign government without notifying the U.S. attorney general, a crime that carries a maximum penalty of five years in prison, the Justice Department said. Nine also were charged with conspiracy to commit money laundering, which has a maximum penalty of 20 years in prison.
The case resulted from a multiyear investigation conducted by the FBI, the U.S. attorney's office and the Justice Department's National Security Division, according to a Justice Department statement.
The Russia operation is believed to date back to the 1990s, according to court documents. They say the FBI conducted extensive electronic surveillance of the suspects for years and surreptitiously entered residences to take photographs and copy documents.
The Russian Foreign Ministry said the suspects committed no actions directed against American interests and the arrests are "unfounded and have unseemly goals."
"We do not understand the reasons why the U.S. Department of Justice has made a public statement in the spirit of the Cold War," said a statement on the ministry's website.
"Such incidents have occurred in the past, when our relations were on the rise. In any case it is regrettable that all these things are happening on the background of the 'reset' in Russian-U.S. relations announced by the U.S. administration."
Russia's prime minister, Vladimir Putin, said American police were "out of hand" but expressed the hope that relations would not be harmed.
"I hope the positive developments that have been accumulated recently will not be damaged," Putin said.
Assistant Secretary of State P.J. Crowley expressed similar sentiments Wednesday.
"As we've made clear -- and as I think officials in Moscow have made clear -- we are going to work as hard as we can to move beyond this and continue to focus on the many issues with which we have common interest," Crowley said.
CNN's Susan Candiotti, Eden Pontz, Carol Cratty and Terry Frieden contributed to this report.
FOLLOW THIS TOPIC