Russian who emerged in recent spy case deported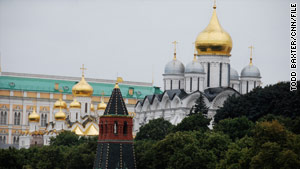 Ten Russians suspected of spying in the U.S. have been sent back to Russia.
STORY HIGHLIGHTS
NEW: The 23-year-old Russian is on his way back to Moscow
NEW: Karetnikov admitted immigration violation and agreed to deportation
NEW: Karetnikov was not believed to have passed classified information to Russia
The Russian has been monitored since he came to the United States in October
(CNN) -- A 23-year-old Russian who came to light during the recent spy case has been deported for violating U.S. immigration law, a Department of Homeland Security spokesman told CNN Tuesday.
An immigration judge ordered Alexey Karetnikov removed from the United States, said spokesman Matthew Chandler, who said Karetnikov admitted being in the country illegally and voluntarily agreed to be deported.
"Once deported, Mr. Karetnikov would face criminal and civil penalties if he returned without express U.S. government permission," Chandler said.
Another U.S. government official said that Karetnikov was en route to Russia.
"He's being flown to Moscow from the West Coast," according to the official, who spoke on the condition of anonymity.
The official said that Karetnikov was not suspected of passing classified information to Russia.
The official, who called the 10 suspected spies who sent to Russia last week "small fish," said Karetnikov wasn't "even in the aquarium."
The Russian received a visa to enter the United States last July, came to the United States in October and has been monitored ever since, the official said.
The 10 Russian agents were part of a swap completed last week between the United States and Russia.
The United States transferred the 10 to the Russian Federation, and the federation released four people imprisoned for alleged contact with Western intelligence agencies.
Authorities have lost track of another suspect, who was detained in Cyprus, released on bail and then failed to check in with authorities as he had been required to do.
FOLLOW THIS TOPIC