Guard slain at Mexico prison where inmates were let out to kill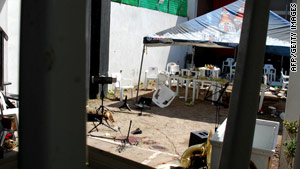 Seventeen people were killed last week during a party in Torreon, Mexico.
STORY HIGHLIGHTS
Inmates were allowed out of jail at night to commit slayings, a prosecutor says
The prison director allowed the inmates to leave, the attorney general's office said
The inmates were allowed to use prison vehicles and weapons, officials said
The guard was stabbed to death during a demonstration, the state news agency says
Mexico City, Mexico (CNN) -- A guard has been killed at a Mexican prison where authorities say the warden let out inmates at night to commit drug-related slayings, the state-run news agency said.
Ofelia Veronica Lares Rodriguez, 45, was stabbed to death Monday during a prison demonstration in which inmates were demanding the reinstatement of former director Margarita Rojas Rodriguez, who has been arrested, the Notimex news agency said.
The Mexican attorney general's office said Sunday that inmates from the prison in the city of Gomez Palacio were let out each night after 8 p.m. to commit killings of rival drug gang members. The prisoners were allowed to use prison vehicles and weapons and would return to the jail after committing the crimes, said Ricardo Najer, a spokesman for the attorney general's office.
The inmates were responsible for last week's mass slaying of 17 people at a party in the nearby city of Torreon in the state of Coahuila, Najer said. The prison is located just across the state line, in Durango state. Both states are in north central Mexico.
Officials said they matched bullet shells found at the crime scenes with weapons at the prison.
The prison weapons also matched casings found at shooting deaths at bars on February 1 and May 15, authorities said.
Officials said they also detained Roberto Enriquez Aguayo and Jose Guadalupe Rivas Ordaz, chiefs of security at the prison, as well as assistant director Francisco Carlos Alberto Uranga Orona.
News accounts Monday noted that the Zetas drug cartel released a videotape last week that showed the apparent interrogation and subsequent shooting death of a man identified as a municipal police officer in Lerdo, a small city in Durango state. During the interrogation on the 13-minute recording, which is posted on YouTube, the bloodied man said jail director Rojas would let inmates out to kill enemies, including Zetas cartel members.
The man, who identified himself as 25-year-old Rodolfo Najera, also named other officials he said were linked to organized crime groups.
FOLLOW THIS TOPIC