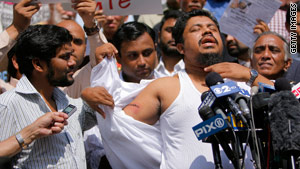 New York cab driver Ahmed Sharif shows the gashes in his arm and neck.
STORY HIGHLIGHTS
Union rep: Donations to Ahmed Sharif fund "barely enough" to pay for baby formula

Officials: Sharif was stabbed by a passenger who asked if he were Muslim

Police: Michael Enright, 21, is facing hate crime, attempted murder charges
(CNN) -- New York cab driver Ahmed Sharif cannot bring himself to talk about the young man who allegedly cut his throat and nearly killed him last week, a taxi union representative said Sunday.
"Ahmed is a strong man, but mentally he has limits," said Bhairavi Desai of the New York Taxi Workers Alliance. "The trauma he's experienced will last for a long time."
Desai spent time this weekend with Sharif. She said his most pressing worry is how he'll provide for his wife and four children -- including a 10-month-old --without a job. Sharif is receiving 2/3 of his salary, about $30,000 a year, in workers' compensation. Union members do not get health insurance or disability payments, Desai said.
"My guess is that he'll be unable to work for at least four months," Desai said. "He can't even pick up his baby because of the wounds to his arms. He can't turn his neck."
There's been so little money raised over the past few days for Sharif that it would "barely cover baby formula," said Desai who, along with Sharif, held a widely publicized press conference Friday announcing the union was creating a fund for the family. The union's website indicates how to mail a donation or give online.

Video: Bloomberg: Cabbie stabbing 'disgraceful'

Video: New York cab driver stabbed

Video: Stabbing ups fear for Muslim cab drivers
"We're pretty shocked that it's been such a low amount," Desai said.
At the press conference, stitches running along the deep gash in his neck, Sharif implored taxi drivers to look out for each other. A Bangladeshi who emigrated to the United States 25 years ago, Sharif told reporters, "I feel like I belong here, [like] I was born here."
His household's sole breadwinner, Sharif, his wife and children, ages 10 months, 5, 9 and 11, live in a small apartment, Desai said.
His 9-year-old son thinks his father fought a villain and won. "He keeps taking Ahmed's hand and saying, 'My dad is Superman,'" she said.
The assault on Sharif occurred amid tense public debate over plans to build an Islamic cultural center and mosque two blocks from the site of the September 11, 2001, terror attacks on the World Trade Center.
Michael Enright, a 21-year-old film student, who is facing attempted murder and hate crimes charges in the attack was transferred late last week from Rikers Island jail to a psychiatric ward at Bellevue Hospital in Manhattan, a New York City Corrections Department spokesperson said.
Bellevue is a locked unit with cells and corrections and medical staff.
Tuesday night Enright got into Sharif's taxi and began an initially cordial conversation with him, according to Desai and police. Enright then allegedly asked Sharif if he was Muslim and cursed at the driver.
Enright allegedly shouted "Assalamu Alaikum, consider this a checkpoint," before reaching forward and slashing Sharif's neck, Desai said.
"Assalamu Alaikum" is an Arabic greeting that means "peace be upon you."
Bleeding profusely, Sharif stumbled out of his taxi and managed to flag down a police officer who arrested Enright, the union rep said.
On Sunday, CNN reached by phone a woman where records indicate Enright last resided -- the small village of Brewster, New York.
"This is not my son," the woman said. "My son is a gentle, kind, sensitive person.
"I can't talk to you anymore," she said. "If you are a mother, I hope you understand."
Friends and acquaintances of Enright, a bushy blonde with a boyish face, portrayed him as an unlikely perpetrator of a hate crime.
The student had been a volunteer with Intersections International, a nonprofit global and reconciliation advocacy group which partly funded a trip to Afghanistan that Enright took in the spring.
As part of his school thesis at New York's School of Visual Arts, Enright shot a film on American soldiers serving in the country, the group's executive director, Robert Chase, said.
"The whole thing [the cabbie attack] is unfathomable," Chase said. "[Enright's] a good guy. His work has been responsible. He's been diligent and hard working."
Those words also describe Sharif, said Desai. "I want people to understand how full of pride and dignity these drivers are," she said.
"Most drivers work 12 hour shifts, pay out of pocket for their gas and lease their vehicles from a cab garage," Desai said. "If you clear a profit, even a small one, that's an achievement. On top of that, it can obviously be dangerous."
Early next week, the New York Taxi Drivers Alliance will release a survey it conducted of 200 drivers over five weeks, Desai said.
During that time, two researchers working for the union asked drivers about verbal and physical assaults they said they've endured.
More than half of the drivers said they had been called racial slurs by passengers at least once in the past 12 months, she said. Close to 35 percent of the 200 drivers said they had been told specifically, "Go back to your country."
Most of the drivers who reported these experiences are Pakistani, Indian and Afghan, Desai said.
FOLLOW THIS TOPIC