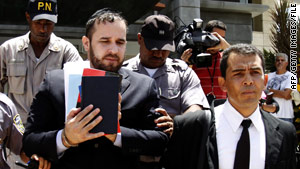 Jorge Torres-Puello, left, here outside a Santo Domingo, Dominican Republic, court in April, faces charges in the U.S.
STORY HIGHLIGHTS
NEW: Jorge Torres-Puello is wanted in Vermont on alien-smuggling charges
Torres-Puello had been involved in the case of U.S. missionaries arrested on kidnapping charges
He was arrested in March in the Dominican Republic on human-trafficking charges
Washington (CNN) -- A man who provided legal advice to 10 U.S. Baptists accused of kidnapping 33 Haitian children after January's earthquake has been extradited from the Dominican Republic to the United States on alien-smuggling charges, the U.S. Marshals Service said.
Jorge Torres-Puello, also known as Jorge Torres Orellana, was arrested March 18 in Santo Domingo, capital of the Dominican Republic. The Caribbean nation recently ordered his extradition, and Torres-Puello was escorted Monday to Vermont, where he faces charges.
After Haitian authorities detained 10 U.S. missionaries this year on kidnapping and abduction charges, Torres-Puello contacted their church in Idaho, saying he was a legal authority on Haitian and Dominican law, the Marshals Service said.
"He obtained money from the families of the missionaries and began representing himself to the Haitian court and international media as the attorney/spokesman for the detained Americans," the Marshals Service said in a release Monday.
"In February," the agency said, "law enforcement authorities in El Salvador were notified the individual acting as the legal adviser to the U.S. missionaries bore a strong resemblance to Jorge Torres Orellana, a man wanted by El Salvadorian authorities on human-trafficking charges. Authorities in El Salvador requested the assistance of Interpol, and an Interpol Red Notice was issued to law enforcement agencies worldwide."
In a telephone interview with CNN this year, Torres-Puello acknowledged he is the same man wanted by Salvadoran authorities but denied the charges against him.
"I never did anything," Torres-Puello said. "I started helping a Dominican pastor helping a lot of people who were stranded to get back to their home countries. We once gave some Nicaraguan and Costa Rican women some money to return home and instead they went to the authorities and put in a complaint against us. I never had anybody against their will."
Torres-Puello is a Dominican who was born in New York, the Dominican Republic's National Drug Control Agency said at the time of his arrest.
"According to documents of authorities in the United States, the Dominican Republic as well as El Salvador and Costa Rica, this person is an important part of a network of traffickers of undocumented people, especially women and children from Central America and the Caribbean," the Dominican agency said in a release.
Torres-Puello faces charges in the United States of conspiracy to take foreigners into the country illegally.
In El Salvador, he and his wife, Ana Josefa Ramirez Orellana, face charges of presumed sexual exploitation of minors and women, the agency said. The drug agency said Torres-Puello forced Nicaraguan and Dominican children to work as prostitutes in El Salvador.
Torres-Puello denied those allegations in his interview with CNN.
"I know I am innocent and I want to clear my past," he said.
In addition to Vermont, Torres-Puello is wanted in Philadelphia, Pennsylvania, for probation violations for fraud, the U.S. Immigration and Customs Enforcement agency said. He also is wanted in Canada.
The 10 U.S. Baptist missionaries were arrested January 29 as they attempted to cross the Haitian border with the Dominican Republic with 33 Haitian children. Haiti said the missionaries did not have legal paperwork for the youngsters and held them on child-trafficking charges.
The missionaries, known as the New Life Children's Refuge, denied any wrong-doing, saying they had received permission to take the children to a Dominican orphanage.
Nine of the 10 missionaries were released later, but group leader Laura Silsby was detained until a trial in May. She was found guilty and sentenced to time served. She and the others have returned to the United States, most of them to Idaho.
The 7.0-magnitude January 12 earthquake in Haiti killed 230,000 people, injured about 300,000 and left 1 million people homeless, the Haitian government said.
FOLLOW THIS TOPIC