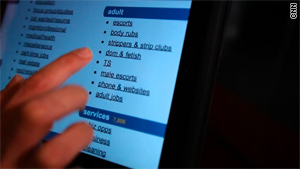 "Today, perpetrators [of sex trafficking] hide behind their computers," said Rep. Jackie Speier, D-California.
STORY HIGHLIGHTS
NEW: Adult services ads still available on Craigslist's foreign sites
Craigslist official says "no plans" to resume adult services ads
Panel hears that at least 100,000 U.S. teenagers are involved every year
The internet has made it easier for people to access teen prostitutes
Washington (CNN) -- Craigslist has "no plans" to resume running adult services ads that contribute to child sex trafficking in the United States, an official with the online advertising site told a House panel Wednesday.
However, the erotic services ads remain available to Americans on the company's foreign sites, including its Canadian site, acknowledged William "Clint" Powell, the director of customer service and law enforcement relations at Craigslist.
Powell's remarks to a House Judiciary subcommittee responded to testimony that the internet has greatly expanded child prostitution and child sex trafficking. In particular, witnesses cited online advertising sites such as Craigslist and backpage.com as facilitating the ability of people to hire child prostitutes.
In late August, attorneys general in 17 U.S. states banded together to urge Craigslist to discontinue its adult services.
"The increasingly sharp public criticism of Craigslist's Adult Services section reflects a growing recognition that ads for prostitution -- including ads trafficking children -- are rampant on it," the attorneys general said in a letter to Craigslist CEO Jim Buckmaster and Founder Craig Newmark.
Craigslist stopped running adult services ads on its U.S. sites on September 3, Powell told the panel.

Video: Underage sex for sale on internet
"There are no plans to reinstate the category," he said. "Those who formerly placed ads in the adult services category will now have to advertise elsewhere."
Under persistent questioning by subcommittee Chairman Rep. Bobby Scott, D-Virginia, Powell conceded that someone in the United States could access the Craigslist site in Montreal to contact a pimp offering a child prostitute in the United States.
Powell said such a scenario was unlikely, noting that traffic for adult services ads migrated to other services such as backpage.com instead.
People who post such ads "have decided that there is no value in using Craigslist anymore, so they are using other sites," Powell said.
Child sex trafficking abetted by internet technology is a growing scourge of American society, with at least 100,000 teenagers believed lured into prostitution and "sexual slavery" each year, the panel was told earlier at its hearing on domestic minor sex trafficking.
"Sex trafficking is the slavery of the 21st century," said Rep. Carolyn Maloney, D-New York, noting human trade is the third largest global criminal enterprise, behind drug and gun trafficking.
Most Americans believe the problem exists overseas in developing countries, but Maloney said it occurs in neighborhoods across the country.
"These are our daughters, their schoolmates and friends," Maloney said, and Rep. Mike Quigley, D-Illinois, noted vehicles cruise for teen prostitutes in some of the upscale areas of Chicago.
Rep. Jackie Speier, D-California, told the committee that the internet brought a rapid escalation of the problem by allowing easier access to child prostitutes.
"Today, perpetrators hide behind their computers and have a child at their door" with the click of a mouse, Speier said.
On Tuesday, a CNN Special Investigations Unit report described how online ads contribute to the child sex trafficking problem.
The CNN report quoted Ernie Allen, chief executive of the National Center for Missing and Exploited Children, as saying the internet "changed the dynamic" of the child sex trade.
"We're finding an astounding number of kids being sold for sex on the internet," Allen told CNN. While Craigslist shut down its "adult services" pages in early September, other sites like backpage.com are filling the vacuum left behind, said Allen, who also spoke at Wednesday's hearing.
Backpage.com told CNN that it promptly responds to law enforcement inquiries, and says the site includes links to help users notify the national exploited children center if they identify potential abuses.
Craigslist argues it has had a vigorous approach to vetting adult services ads. It said that in the 15 months before closing the adult services section altogether, it rejected 700,000 ads because they violated the web site's rules, including advertising prostitution and being "indicative of an underage person."
Craigslist says ads are reported to Allen's NCMEC "when our manual reviewers see anything falling within NCMEC CyberTipline reporting guidelines." But Allen said his organization, which is the nation's primary reporting agency for missing children, received just 132 referrals from Craigslist over that same 15-month period.
"The small number of reports makes it difficult to get a sense of the true scope of the problem," Allen told CNN. "We've seen lots of ads where there is obviously a young person in the ad. Now is she 18 or 17? Is she 22 or 12?"
Panel members at Wednesday's hearing discussed possible steps the government could take to combat the problem, including better funding of law enforcement efforts and services for victims of the sex trade. All agreed that targeting customers driving the demand for the child prostitutes should be targeted, and that teenagers involved should be treated as victims instead of delinquents or runaways.
"We also need to weigh in on the way that people, young children, are moved around," said Rep. Christopher Smith, R-New Jersey.
He noted a program involving airline flight attendants and crew members who get training to detect young people being trafficked across borders or state lines. When the airline workers saw something that "just didn't look right," they notified law enforcement officials who intervened and "those young girls were rescued," Smith said, citing a specific incident.
CNN's Tom Cohen and Amber Lyon contributed to this story.
FOLLOW THIS TOPIC