Bar shooting in Juarez leaves 8 dead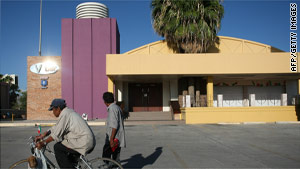 The V Bar in Ciudad Juarez was the scene of a mass shooting that left eight people dead early Friday.
STORY HIGHLIGHTS
Police responding to a report of a shooting find 7 bodies
Eighth victim was taken to a hospital, where he died
Most of the dead suffered multiple shots, principally to the head
Mexico City, Mexico (CNN) -- Eight people were killed and another was wounded in a bar shooting Friday morning in Ciudad Juarez in northern Mexico, police said.
Police responding shortly before 4 a.m. to a report of the shooting at the "V Bar" found seven bodies, Chihuahua state police said in a statement. An eighth victim was taken to a hospital, where he died. The nightspot is located in Juarez's Pronaf zone, which is popular among tourists, the statement said.
The seven men and one woman who died were between the ages of 20 and 35; most had been shot several times, principally in the head, it said.
Several females were also hospitalized with injuries.
The sole fatality who has been identified was Leon Cabral Martinez, 35, who died in the hospital, the statement said.
Chihuahua state police, who revealed no motive for the killings, said they found dozens of shell casings.
The bodies were taken to a medical forensic service where the causes of death were to be determined.
About two years ago, the owner of the bar, Wilfredo Moya, was fatally shot in the bar, one of several he owned in Juarez.
CNN's Nick Valencia and Edgar Roman contributed to this story.
FOLLOW THIS TOPIC