STORY HIGHLIGHTS
Teacher Randolph Forde was accused of soliciting a "hit" against a student for $50
A grand jury declined to indict him, but he has been unable to get job back or find work
A Google search of Randolph Forde's name turns up dozens of articles, few positive
"I don't know what I'm gonna do next. I don't know what to do with my life," he says
Jonesboro, Georgia (CNN) -- To this day, Randolph Forde experiences a small panic attack whenever the local news comes on the television.
The former Georgia high school special education teacher was arrested in October on allegations that he offered money to one student to kill another. The story appeared on the local TV news before making national and international headlines, casting Forde as a man with an bizarre vendetta against a student he suspected of being gay.
Forde vehemently denied the allegations, and in May, a grand jury in Clayton County found there was not evidence to indict him on terroristic threat charges. But the media frenzy that accompanied the sensational allegations continues to haunt him.
"It's silly, but I just get this nervousness -- I'm afraid my face is going to show up again" on the television screen, he said. "I don't know why, but that's my natural response. I get nervous. Just being exposed like that really shook me up."
It's not just television news. Google his name and dozens of pages pop up, filled with headlines such as this one: "Teacher Accused of Trying to Put Hit on Student." The sources vary from major news sites, including CNN.com, to blogs, personal websites and chat forums.
Among the first 12 pages of Google hits, only two go beyond the initial allegations and provide a glimpse into what has become of Forde: "Teacher cleared in threat case wants apology, job back," and "Randolph Forde just wants his name back."
As a result of the allegations, Forde lost his teaching job at Mundy's Mill High School, and, he claims, his reputation. And now, thanks to the internet, he fears he may never be able to rehabilitate his name fully.
"I'm unemployed and my name is smeared all over the world," he said. "I took 15 exams to become a teacher, I have three masters' degrees and now they're worthless. You think to yourself, at least they can never take away your degree, but ... you cannot use it if your name means nothing."
The rejection letters Forde has received do not allude to the allegations or to the pages of internet search results that his name turns up. But he is convinced that potential employers may have come across them and been influenced by them.
If his suspicions were correct, he wouldn't be alone in his predicament. Online reputation management has been a growing enterprise since the explosion of social media, which allows the exchange of information and stories -- true and untrue -- faster than ever, said online reputation management consultant Andy Beal.
It's impossible to entirely scrub your name or misdeeds from Google.
--Andy Beal, reputation management consultant
"It's impossible to entirely scrub your name or misdeeds from the digital landscape. When negative content about you begins to dominate Google, the trick becomes how to balance it with enough positive content to push the bad stuff down the list," Beal said, the founder of Trackur.com, which monitors clients' online reputations.
Forde said he has not been able to afford the services of someone such as Beal, choosing to rebuild his reputation the old-fashioned way.
He has unsuccessfully applied for jobs in Washington and New York, where he last lived and held a job as a senior personnel administrator in the State Education Department before his move to Georgia. He has also thrown out lines on jobs in Maryland, where he hopes to relocate with his wife and 5-year-old son.
Forde even tried to get his old job back at Mundy's Mill High School after learning that the position had been posted on the Clayton County school district's job site.
On a typical summer day in July, with the temperature approaching triple digits, Forde donned a crisp black suit and tie and drove to a job fair at the Clayton County Professional Learning Center in Jonesboro.
With him as always was his son, Emanuel, who has become his sidekick since Forde lost his job in January.
"That's been the one good thing about this situation, spending more time with him," Forde said as he stood by his car, preparing to enter the building. He smiled as the young boy pulled at his arm. "We go everywhere together."
Forde explained he was hopeful for the first time in months. He was carrying a leather binder with copies of his résumé, degrees and teaching certificates. His wife had taped a note on his car keys that read, "I'm proud of you."
He made it as far as the front door, where the chief human resources officer of Clayton County schools stopped him.
The tone of the conversation was hushed, yet stern. The man told Forde, "I checked you out" before the job fair, and discovered that Forde did not have the "clear renewable certificate" required to teach in Clayton County.
Forde attempted to argue that the school board was responsible for his not having the certificate. He said he was in the process of obtaining the certification when he was fired from his job. He had finished the coursework, but the school system had not submitted the paperwork necessary for him to be certified, he said.
But a Clayton County schools spokesman disputed Forde's claim.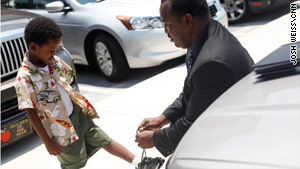 Former teacher Randolph Forde brings his son to a job fair in an effort to get his old job back.
"He did not complete the work necessary to complete the program that would allow him to move forward and become certified," spokesman Charles White said. "You have to complete the program first and that would be the gateway to move toward certification."
Forde wasn't the only person turned away from the job fair, White added. Around 25 people were denied entry that day for not having proper credentials for the job.
And so Forde's search for a job and a purpose continues. He spends his days perusing online job sites and working a book about his ordeal while he looks after his son.
"I'm the only person in this situation that really lost. Everyone else has moved on. My story, when you put in the big picture, I'm just another guy that got screwed," he said.
Regardless of what Forde says or what the grand jury decided, an attorney for the teen at the heart of the allegations said the boy stands by his story.
A friend of the teen's testified at a Clayton County school board hearing in December 2009. The boy said Forde approached him on October 9 on the school bus and asked him to carry out a hit for $50, according to hearing documents. The teen testified that as the bus pulled away, Forde held up a piece of paper with his friend's name on it, implying that he was the target.
Also at the school board hearing, the accuser said the teacher had made him uncomfortable before the alleged bus incident, when Forde asked him if he was gay.
The testimony led to Forde's dismissal for misconduct, without unemployment benefits. But the decision to deny benefits was later set aside by the state Department of Labor, which found that the school board failed to "carry the burden of proof" to show Forde questioned a student's sexuality or suggested a hit on him, according to documents from the appeals hearing.
Forde fervently denies ever questioning the student's sexuality or suggesting a hit, and appears visibly upsets at the mere mention of the allegations. His voice quickens, the tone rises.
"I don't want to relive a situation and give voice to something that didn't happen to mess up my name more. That kid was misbehaving and I took him out of the classroom. I corrected him. I never asked that kid if he was gay," he said.
Eventually, he sighs and catches his breath. He pauses a moment to gather his thoughts.
"Every single day I wake up, I feel like I'm losing, and I don't know what I'm gonna do next. I don't know what to do with my life."
FOLLOW THIS TOPIC