Four dead, including toddler, in Boston shooting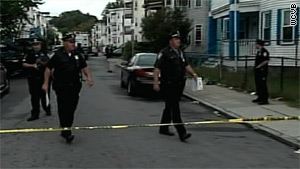 Police responded to the shooting Tuesday in the Mattapan neighborhood in Boston, Massachusetts.
STORY HIGHLIGHTS
Police responding to 911 calls found 3 adults dead in Boston's Mattapan neighborhood
Child died after arrival at hospital; fifth victim not expected to survive
District attorney says shooting wasn't random
Police have no suspects, are looking for a silver or gray Ford Explorer seen leaving scene
(CNN) -- An early morning shooting left four people dead, including a toddler, and a fifth victim hospitalized in critical condition, Boston, Massachusetts, police said Tuesday.
Police responded to 911 calls about a shooting in Boston's Mattapan neighborhood and found three adults dead at the scene. A young child was rushed to a local hospital, where he was pronounced dead shortly after the arrival. The fifth victim is in critical condition at Beth Israel Hospital. Authorities do not expect him to survive, they said at a midday news conference.
Dan Conley, the district attorney, told reporters that this was not a random shooting. The individuals were found lying in the street -- one of them naked.
"Cowards kill. Cowards use guns to settle their scores. Cowards hide," a visibly upset Mayor Thomas Menino said at a news conference Tuesday.
Earlier this month, a Domino's Pizza delivery man was murdered delivering pizza to a vacant home where three men stabbed him multiple times. "To those who have no respect for life and would commit these brutal acts, our streets are not your playgrounds. Our kids cannot be your collateral damage," Menino said. "We will not allow you to poison our city."
Since January of this year, there have been 52 homicides, compared with the 40 homicides in the same period last year, according to Boston Police.
"We're going to get them. We're going to lock them up. We're going to throw the key away," Menino said.
Boston Police do not have any suspects, but they are looking for a silver or gray Ford Explorer that witnesses saw leaving the scene, Police Commissioner Ed Davis said.
FOLLOW THIS TOPIC