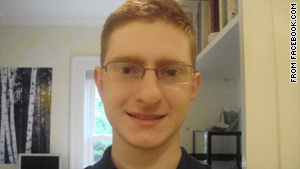 Tyler Clementi's wallet and cell phone were found on the George Washington Bridge.
STORY HIGHLIGHTS
Prosecutors consider other charges against defendants
Body identified as Rutgers student Tyler Clementi
Someone from Rutgers got on forum to seek advice after being spied upon
Clementi's roommate is believed to have sent a message about the encounter on Twitter
New York (CNN) -- New Jersey prosecutors said Thursday they are determining whether additional charges, including bias, may be brought against two Rutgers University students accused of invading the privacy of fellow student Tyler Clementi, who committed suicide after his sexual encounter with another man was streamed online.
''The initial focus of this investigation has been to determine who was responsible for remotely activating the camera in the dormitory room of the student and then transmitting the encounter on the Internet,'' Middlesex County Prosecutor Bruce J. Kaplan said.
''Now that two individuals have been charged with invasion of privacy, we will be making every effort to assess whether bias played a role in the incident, and, if so, we will bring appropriate charges,'' Kaplan said in a statement.
Under New Jersey law, a person is guilty of bias intimidation if he or she commits a crime with the purpose of intimidating someone because of race, color, religion, gender, disability, sexual orientation, gender identity, national origin or ethnicity; or if the victim or victim's property was selected as a target because of the same factors.
On the evening of September 19, Rutgers student Dharun Ravi is believed to have sent a message by Twitter about his roommate, Clementi.

Video: Events surrounding student suicide

Video: NJ Gov: How will they sleep?

Video: Expert: Suicide linked to spying

Video: The internet and cyber bullying
"Roommate asked for the room till midnight. I went into molly's room and turned on my webcam. I saw him making out with a dude. Yay."
Ravi, 18, of Plainsboro, New Jersey, surreptitiously placed the camera in their dorm room and broadcast video of Clementi's sexual encounter on the internet, the Middlesex County prosecutor's office said. Ravi tried to use the webcam again two days later, on September 21.
"Anyone with iChat, I dare you to video chat me between the hours of 9:30 and 12. Yes it's happening again," Ravi is believed to have tweeted.
The next day, Clementi was dead.
Authorities said the 18-year-old freshman committed suicide by jumping off the George Washington Bridge, which spans the Hudson River between New Jersey and New York. A law enforcement source told CNN that Clementi's wallet and cell phone were found on the bridge.
The New York City Medical Examiner's office said Thursday that a body recovered a day earlier from the Hudson River is Clementi's. Spokeswoman Grace Burgess said the cause of death was ruled to be suicide by drowning and blunt injuries from the impact of the jump from the bridge.
A mobile status update September 22 on a Facebook page purportedly belonging to Clementi said: "jumping off the gw bridge sorry."
Ravi and his friend Molly Wei, 18, of Princeton, New Jersey, are charged with two counts each of invasion of privacy for the September 19 broadcast, according to the prosecutor's office. Two more counts of invasion of privacy were leveled against Ravi for a September 21 attempt to videotape another encounter involving Clementi, the prosecutor's office said.
Both Wei and Ravi surrendered to campus police -- Wei surrendered on Monday and was released on her own recognizance; Ravi surrendered Tuesday and was released on $25,000 bail. Steven Altman, Ravi's attorney, had no comment Thursday. It was not clear if Wei had retained an attorney.
If convicted, the two students could face up to five years in prison.
Clementi's death brought anger from gay rights groups and support for the two accused students.
Paul Callan, a professor of media law at Seton Hall University, said Ravi and Wei could face an additional charge if it turns out that the broadcast of Clementi's encounter was fueled by hatred of gay people.
Details about Clementi's sexual orientation are unclear. Rutgers University student Danielle Birnbohm, who lived next door to Clementi's and Ravi's room in the dorm, told CNN affiliate WPIX that Clementi was gay. "It was obvious," she said.
Ravi apparently tweeted a message on August 22, nine days before classes began at Rutgers. "Found out my roommate is gay?" the tweet, believed to be posted by Ravi, said, according to Topsy, a search engine that allows users to access tweets removed from Twitter. In that same tweet, the writer linked to a thread on JustUsBoys.com.
On another page on JustUsBoys.com, someone posted a thread labeled "college roommate spying."
The user dubbed cit2mo wrote on September 21, a day before Clementi jumped from the bridge, "so the other night i had a guy over. I had talked to my roommate that afternoon and he had said it would be fine w/him. I checked his twitter today. he tweeted that I was using the room (which is obnoxious enough), AND that he went into somebody else's room and remotely turned on his webcam and saw me making out with a guy. given the angle of the webcam I can be confident that that was all he could have."
Cit2mo asked readers what he should do, including whether to get another roommate. Cit2mo also said he didn't want to report his roommate and "then end up with nothing happening except him getting pissed at me...."
In another post, cit2mo wrote about his roommate.
"I guess what he was doing was...he was in another person's room, with other people... and so I feel like it was 'look at what a fag my roommate is' ... and the fact that the people he was with saw my making out with a guy as the scandal whereas i mean come on...he was SPYING ON ME....do they see nothing wrong with this?"
Several people who responded to cit2mo's post expressed outrage and said the webcam was an invasion of privacy. Cit2mo said he might talk with a resident assistant in the dorm.
Cit2mo later responded that he had reported the incident.
"He [the resident assistant] seemed to take it seriously... he asked me to email him a written paragraph about what exactly happened... I emailed it to him, and to two people above him...."
That post came at 6:17 a.m. on the day that Clementi disappeared. It was the last message cit2mo put on the forum.
CNN was unable Thursday to determine whether cit2mo was Clementi, but a laywer for the justusboys.com website said the posts were traced back to Rutgers. A label under cit2mo's name on the forum had been changed from "On the Prowl" to "In Loving Memory" Thursday.
"To me, it looks like that's the guy," said Chad Belville, attorney for Colorado-based BluMedia, which owns justusboys.com.
Belville told CNN the company will keep the posts on the site.
"We don't want to cover up what happened. This is a learning experience. This is what gay men are going through," Belville said. "I hope we can reach out to some other isolated kids who really need some place to go."
In a later statement, BluMedia said "Tyler's death brings national attention to the fact that anti-gay bigotry is still alive and well, even in our universities. While Tyler's death has brought focus to the abuse gay men face every day, countless others continue to silently suffer. We hope that this tragedy will open the eyes of any who believe anti-gay bigotry causes no harm."
Rutgers won't comment on the chat forum because of an ongoing investigation, said Gregory Blimling, vice president for student affairs.
Rutgers President Richard L. McCormick said the community was grieving for Clementi.
"I have spoken with Tyler's parents to extend my own and the university's deepest sympathies, and we will continue to respect the family's request for privacy," McCormick said in a statement Thursday. "It is up to us at Rutgers to honor this young man's life by reaffirming, and living up to, our commitment to the values of civility, dignity, compassion,and respect for one another."
The group Parents, Families and Friends of Lesbian and Gays cited several cases of young people it said were victims of hate crimes and severe bullying. "It's time to take a stand for youth, families and inclusive safer school laws and policies," the organization said.
Steven Goldstein, chairman of the gay and lesbian civil rights organization Garden State Equality, said he was sickened by this incident.
"There are no words sufficient to express our range of feelings," Goldstein said. "We are outraged at the perpetrators. We are heartbroken over the tragic loss of a young man who, by all accounts, was brilliant, talented and kind. And we are sickened that anyone in our society, such as the students allegedly responsible for making the surreptitious video, might consider destroying others' lives as a sport."
But Raj Ardeshna, 17, a senior at West Windsor-Plainsboro High School North in Plainsboro, N.J., and a former classmate of both defendants, told CNN that the two were "terrific people."
"To know that two intelligent kids could get caught up in something like this is shocking to me," Ardeshna said. "The only rationale I've been able to come up with is that they thought they were being funny -- but I really couldn't tell you.
"Without a doubt they must both be filled with regret and are distraught over what happened to Tyler, and as cliched as it sounds -- they are both good people," Ardeshna said. "And they just turned 18 and they just went to college, and everyone slips up without understanding the consequences."
Kirbi Marquez, a Rutgers student and a classmate of Ravi and Wei in high school, told CNN "had they known the consequences of their actions, they would not have considered doing this."
"I'm sure they're bearing the guilt, they're both sympathetic people and good kids and they didn't mean for any of this to happen," said Marquez.
He said he and others at the high school think they are getting a bad rap when, in fact, the allegations "are not a reflection of our values" while at the school.
Parry Aftab, the founder and executive director of StopCyberBullying.org, said the two must have had an inkling on what might happen.
"These young people had to have known the devastating effects of their actions," Aftab said. "And while they may not have foreseen death -- they had to have known how much pain that this would cause."
Those who knew Clementi described him as quiet and an accomplished musician -- he played violin with the Ridgewood Symphony Orchestra.
Meanwhile, on Facebook, thousands of people joined memorial pages set up for Clementi, whose apparent tragedy began on the internet and continued to unfold there.
CNN's Kristen Hamill, Ross Levitt, Logan Burruss, Megan Miller, Mark Norman, Swetha Iyengar, Mia Aquino, Kevin McKinnon, Moni Basu and Phil Gast contributed to this report.
FOLLOW THIS TOPIC