Jury to begin deliberating in case of alleged synagogue bomb plot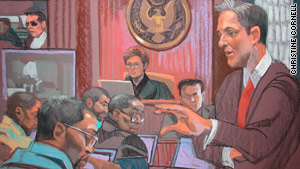 The defendants are accused of planning to blow up a synagogue and a community center in New York.
STORY HIGHLIGHTS
Prosecution: Alleged ringleader intent on harming America
Defense argues that informant isn't credible
Defendants are accused of plotting to attack synagogue, community center
New York (CNN) -- Jury deliberations are expected to begin Wednesday in the trial of one of four men charged with plotting to bomb a synagogue and a Jewish community center.
Prosecutors say James Cromitie and three other men spoke extensively about their plans as Shahed Hussain -- posing as a representative of a Pakistan-based terrorist group -- recorded the discussions.
The lawyer for Cromitie said Monday that testimony from Hussain is "garbage."
"The bottom line is when it comes to Hussain's testimony, it's worthless. It's garbage," lawyer Vincent Briccetti told the jury. "He lied to you."
Prosecutors argued that Hussain had not lied about how much money he told Cromitie, the alleged ringleader of the group, he would be paid for the attack and denied defense contentions that the men were entrapped.
"The defendants thought this was real -- real bombs, real missiles," Assistant U.S. Attorney David Raskin told the jury. He also said that Cromitie was intent on doing something against America and that the FBI informant never put the idea "to blow things up in Cromitie's head."
Cromitie and the other men -- David Williams, Onta Williams and Laguerre Payen -- from Newburgh, New York, were arrested on May 20, 2009. They are charged with conspiring to blow up the Riverdale Temple and the Riverdale Jewish Community Center in Riverdale, New York. They are also accused of planning to fire surface-to-air-missiles at a New York National Guard facility.
The jury spent six weeks listening to testimony and undercover tapes made by the FBI informant. On the tapes, Cromitie can be heard telling Hussain: "I am a soldier in America but not for America." He later talked about needing a fatwa, or blessing from an imam.
"I'm gonna do something, with or without it, I need to make some noise," he told Hussain in the fall of 2008, according to testimony.
Hussain developed his relationship with Cromitie over months, meeting for coffee and lunches in local restaurants in Newburgh, according to testimony.
FOLLOW THIS TOPIC