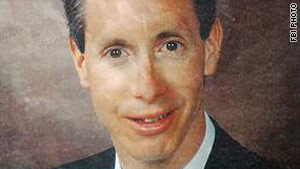 Warren Jeffs' conviction was overturned by the Utah Supreme Court in July.
STORY HIGHLIGHTS
Attorneys: Warren Jeffs is now presumed innocent
Extradition to Texas would violate Jeffs' rights, defense says
Hearing set for November
(CNN) -- Attorneys for Utah polygamist sect leader Warren Jeffs are asking a court to delay his extradition to Texas, where he faces charges including aggravated sexual assault of a child, until Utah authorities decide whether to retry him.
"Mr. Jeffs, although presumed innocent, has now been incarcerated for more than four years on charges that, given the [Utah] supreme court's opinion clarifying the law in Utah, will be difficult if not impossible for the state to sustain," defense attorneys wrote in the motion filed in Utah's Third District Court this month.
"The state is punting, using the [Uniform Criminal Extradition Act] as an offensive line to protect its weakened prosecution, buying time until it can figure out what to do next in its now frantic effort to defeat Mr. Jeffs and the unpopular religion he represents," the motion said.
The Utah Supreme Court in July overturned Jeffs' conviction on two counts of being an accomplice to rape, saying that instructions given to jurors were erroneous. Jeffs was accused of using his religious influence over his followers to coerce a 14-year-old girl into marrying her 19-year-old cousin. He was sentenced to two consecutive prison terms of five years to life.
The defense argues that the Interstate Agreement on Detainers -- a federal law under which a state can obtain custody of a person even if the person is already incarcerated in another state -- no longer applies to Jeffs, as his status changed with the Utah Supreme Court's ruling. Jeffs is now presumed innocent of all charges against him, defense attorneys claim, and extraditing him to Texas would violate his constitutional rights.
Utah Gov. Gary Herbert signed an extradition warrant in August at the urging of Texas Gov. Rick Perry. In Texas, Jeffs faces a felony charge of sexual assault of a child, as well as charges of sexual assault and bigamy, according to the warrant. If convicted, he could face a sentence of five to 99 years or life in prison.
The defense filing asks the court to quash the warrant signed by Herbert, saying the two states have "shrouded their ungodly alliance in the semantics of extradition law," and to delay Jeffs' extradition to Texas "until after all pending prosecution in Utah is resolved."
Last month, Jeffs' attorneys objected to his signing an extradition waiver in a Utah court. He is to remain jailed for at least two more months and will appear in court again November 15 for a hearing.
The state's response to the motion is due Friday, said Nancy Volmer, spokeswoman for Utah state courts. The defense then has a week to reply to the state's response.
In June, an Arizona judge dismissed charges against Jeffs after the Mohave County prosecutor requested it, citing "much more serious charges" against him in Texas. Jeffs had been awaiting trial in Arizona on four counts of being an accomplice to sexual conduct with a minor.
Jeffs is the leader or "prophet" of the Fundamentalist Church of Jesus Christ of Latter-day Saints. The sect first drew national attention after Jeffs was arrested during a routine traffic stop in August 2006. At the time, he was on the FBI's Ten Most Wanted List.
The FLDS is a 10,000-member offshoot of the mainstream Mormon church FLDS members openly practice polygamy at the Yearning for Zion Ranch in Eldorado, Texas, and in two towns straddling the Utah-Arizona state line: Hildale, Utah, and Colorado City, Arizona. The mainstream Mormon church renounced polygamy more than a century ago.
Critics of the sect say young girls are forced into "spiritual" marriages with older men and are sexually abused. Sect members have denied that any sexual abuse takes place.
FOLLOW THIS TOPIC