New York victims of Mumbai terror attack sue Pakistan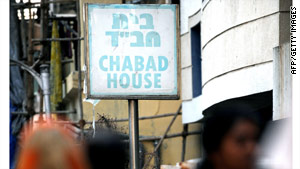 Rabbi Gavriel Noach Holtzberg and his wife, Rivka, were killed in Chabad House, a Jewish cultural center in Mumbai.
STORY HIGHLIGHTS
The lawsuit alleges a Pakistan intelligence agency aided militant group in attack
Court documents state two New Yorkers were among the more than 160 people killed
Victims' relatives are seeking an unspecified amount of money for damages, the suit says
New York (CNN) -- Family members of two New Yorkers gunned down during the 2008 Mumbai, India, terror attacks are suing Pakistan's intelligence agency along with a militant organization they say are responsible for the deaths.
Rabbi Gavriel Noach Holtzberg and his pregnant wife, Rivka, were among the more than 160 people killed during the attacks.
During the incident, 10 men stormed buildings such as the luxury Taj Mahal Palace and Tower, the Oberoi-Trident hotels, a train station and a Jewish cultural center.
The only surviving gunman, Mohammed Ajmal Kasab of Pakistan, was convicted of murder, conspiracy and waging war.

2008: Mumbai terror attacks

Obama commemorates Mumbai terror attacks
The Pakistan-based militant group Lashkar-e-Tayyiba, which has been blamed for the November 2008 siege, is also named in the suit.
Holtzberg's relatives allege that Pakistan's Inter-Services Intelligence agency aided the militant group in the attacks.
The wrongful death lawsuit filed last week in federal court in New York says the intelligence agency "provided critical planning, material support, control and coordination for the attacks."
Family members are seeking monetary damages but did not specify an amount.
The families' lawyer, James Kreindler, was part of a successful lawsuit against Libya in connection with the 1988 explosion on Pan Am Flight 103 that killed 259 people over Lockerbie, Scotland, as well as 11 people on the ground.
FOLLOW THIS TOPIC