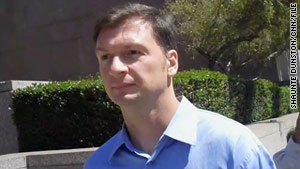 On Monday, a judge will consider whether Bruce Beresford-Redman, shown here in August, can go free on bail.
STORY HIGHLIGHTS
A lawyer for Bruce Beresford-Redman argued his children needed him at home
The judge said there was a "fairly detailed and strong" case against him
The extradition process could take months
The former "Survivor" producer is accused of killing his wife at a Cancun, Mexico, resort
Los Angeles, California (CNN) -- Reality TV producer Bruce Beresford-Redman must stay in jail while his lawyers fight his extradition to Mexico on a charge that he murdered his wife at a Cancun resort, a federal judge ruled Monday.
U.S. Magistrate Suzanne Segal denied Beresford-Redman's bail request, finding that there was a risk he would flee while the extradition process, which could take months, is under way in Los Angeles.
A Mexican judge signed an "aggravated homicide" warrant last May accusing Beresford-Redman of killing his wife, Monica Beresford-Redman, "by asphyxiating her" at the Moon Palace Resort on April 5. Her body was found in a resort sewer on April 8.
It took six months for the paperwork to wind its way through law enforcement and diplomatic channels before he was arrested at his Rancho Palos Verdes, California, home last month.
Defense lawyer Vicki Podberesky argued during a bail hearing Monday that he is needed at home with his young children who have been "very traumatically impacted" by the death of their mother and now the arrest of their father.
"His foremost concern is to help his children through their grieving process in the loss of their mother," Podberesky told the judge.
While the son and daughter "made great progress" since their mother's death, "they've regressed considerably since he's been arrested and removed from their home," she said. "There's a lot of crying and it's difficult to go to school."
Outside of court, a sister of the slain woman said the children's suffering was caused by their dad.
"If he's being accused of murdering my sister, I felt that he should have thought about that before killing her," Jeanne Burgos said.
The judge said the criminal complaint makes a "fairly detailed and strong" case that "he may have caused their trauma."
Trauma suffered by his children is "unfortunately a common consequence of being charged with a crime," and not a special circumstance that justifies bail, Segal said.
A hearing was set for December 7 on the defense motion to have the arrest warrant dismissed on the grounds that the U.S. government does not have enough evidence in hand to prove "probable cause" that Beresford-Redman killed his wife.
"It's either based on hearsay, or based on facts that are just not borne out by forensic evidence," said defense lawyer Richard Hirsch.
Prosecutors in Mexico have not yet sent their evidence to U.S. prosecutors who must make the case for extradition. The process could take several months before the judge makes a final decision on if Beresford-Redman will be sent to Mexico for trial, Hirsch said.
The extradition request cited several witness statements, including one from two British teenagers who were in the hotel room below where the Beresford-Redmans were staying.
The boys wrote that they were awakened by "screams, crying for help and extremely loud banging from the room above" at 6 a.m. on April 5. "It sounded like a woman in extreme distress" and lasted for 15 minutes, their statement said.
The document, which used Monica Beresford-Redman's maiden name, said the couple "had been having marital troubles for some time before her murder."
"The marital problems continued in Cancun," it said. "In a conversation from Cancun on April 4, 2010, Monica Burgos told her sister, Ferreira Burgos, that she had found evidence that (Beresford-Redman) was still in contact with the woman with whom he was having the affair."
Bruce Beresford-Redman is a former producer on the CBS reality show "Survivor." He also worked on NBC's "The Contender" and "The Restaurant," as well as MTV's "Pimp My Ride," according to entertainment media company IMG.
Monica Beresford-Redman, a native of Brazil, owned a restaurant in Los Angeles.
CNN's Alan Duke contributed to this report
FOLLOW THIS TOPIC