STORY HIGHLIGHTS
Food blogger challenged readers to eat real food for a month

Participants traded convenience for traditional food, found that it was time-consuming
Dietitian said reducing processed foods is healthy but advised avoiding extremes
Is a new asthma treatment a breakthrough? Watch "Campbell Brown," 8 p.m. ET Tuesday
(CNN) -- The task set by a food blogger seemed deceptively simple: Eat real food for a month.
More than 900 people signed up for the challenge, and some were confident that it would not be difficult to avoid processed foods for 28 days.
But in the age of potato powders, cheese in a squirt can and microwaveable meals, eating only "real food" turned out to be much more difficult.
On Day One of the challenge, blogger Jennifer McGruther gave this instruction: Purge your pantry of processed foods.
This meant everything with refined oils, white flour, sugar, low- and skimmed-milk products, margarine, processed cheeses, refined salt and dried pastas had to go.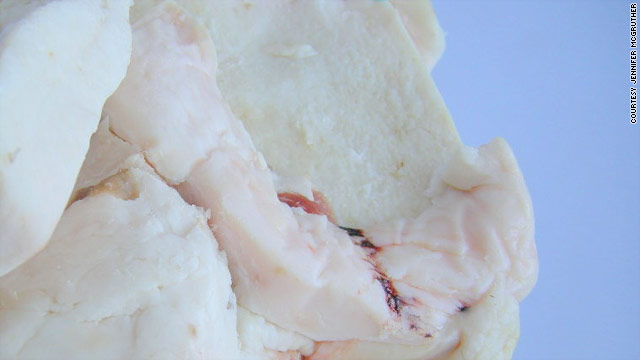 Gallery: Lessons on lard
"It doesn't matter if the foods are organic or not. Toss them anyway," she said. "You may well have paid good money for the food at one time, but remember, real health comes from real food, and real food never comes from a box."
Neither a chef nor a nutritionist, McGruther is a full-time real estate office manager and a mother from Crested Butte, Colorado, who enjoys cooking and blogging at NourishedKitchen.com.
In 2006, she started gravitating toward a diet of traditional foods because of her interest in nutrition and farmer's markets. The purpose of her 28-day Real Food Challenge was to show readers that eating only real food could be done.
The philosophy behind traditional food is similar to the slow food movement, which originated in Italy more than two decades ago in response to the growing impact of fast food on the traditional Mediterranean lifestyle. It also espouses locally grown foods and traditional preparations.
By eating real food, "you allow your body and taste buds to reset. You can taste the full array and subtle nuances in your food," McGruther said.
Throughout the month, McGruther taught readers how to render lard to avoid refined oils, sprout grain, cultivate yogurt and make cheese instead of using premade convenience products from the store.
Photo Gallery: How to render lard
Limiting processed foods can be rewarding because it encourages people to eat more fruits and vegetables, said Dawn Jackson Blatner, a registered dietitian and an American Dietetic Association representative. But she warned against villainizing all processed foods.
Processed food is defined as any food that has undergone a change of character. For example, edamame would be unprocessed, and tofu would be processed.
I like the idea of less processed foods, but you can find healthy stuff in a package, too.
--Dawn Jackson Blatner, registered dietitian
Blatner said another example is milk that is pasteurized for safety reasons. Some traditional food loyalists recommend drinking raw, whole milk.
"I like the idea of less processed foods, but you can find healthy stuff in a package, too," she said, pointing to low-fat milk, sliced apples and unsalted canned vegetables as examples.
"You have to put everything into perspective. With any diet, you never want to follow it to such an extreme there's something wrong with it."
Whether the philosophy is called "slow foods" or "traditional foods," it's gaining momentum thanks to major bestsellers and influential foodies and chefs.
Families who took McGruther's challenge were stunned by the lack of choices without processed foods.
"I thought we ate healthy," said Kassandra Mier, a challenge participant. "I didn't think it'd be a problem. It was tougher than I thought. Trying to have a breakfast that didn't have anything processed was time-consuming."
In the morning, she ground oats and buckwheat to make pancakes and waffles. She pan-fried eggs and made hash browns from scratch.
"The first week, I didn't think I could continue it," said Mier, who lives in the suburbs of Toronto in Canada. "It made it extra work than it would've been otherwise. I felt like a slave in the kitchen."
The upside was her children had such hearty breakfasts, they rarely asked for snacks.
Mier did not completely follow the challenge, because she continued to buy bread from the store and allowed her kids to have cereal once a week. She hopes to adopt other ideas from the food challenge as she gets faster at food preparation.
Dawn Partlow of Lincoln Park, Michigan, said that throughout the challenge, she prepared simple items including steaks, baked potato and salad, or soup made with previously frozen stock.
"I have to meal plan -- there are grains to be soaked at least overnight, flour to be ground and yogurt to be made. ... Those things aren't time consuming, but all have to be done in advance," she said.
But not every participant had such a smooth transition into traditional foods.
"I got rid of tons of stuff -- enough stuff, that I had trouble figuring out what to feed my kids," said Maggie Towson of Bel Air, Maryland.
After the pantry purge, a trip to the grocery store stunned her.
"There's little real food in them," she said. "That was kind of a shock to realize how limited the choices were."
She and her two kids were dedicated to the challenge, but Super Bowl parties and special events diverted their focus. She tried baking sourdough bread (but she let it rise too long) and fermenting vegetables (into sauerkraut, which her kids didn't like).
"I was stressed out about not being able to keep up," Towson said. "I like to have a checklist and get everything checked off, and it wasn't happening."
But after writing about her frustrations online, the other participants comforted her, and she realized that any small change was an improvement.
Towson, like other participants, said cutting out processed foods was expensive, because grass-fed beef and fresh produce from farmer's markets cost more.
"Real food costs more, because it's worth more," said Nina Planck, author of "Real Food: What to Eat and Why." It's a common complaint about real foods, and it boils down to priorities, Planck said.
"You need to think about where and how you want to spend your money ... ," she said."I buy fruits and vegetables in season, in bulk at the farmer's market. I don't need another sweater, but I have to feed my kids every day."
While the real food challenge may have felt overwhelming, McGruther was optimistic.
"Anyone can do it. It's about taking slow steps, learning one piece at a time," she said.