STORY HIGHLIGHTS
ICRC says drug-resistant strains of tuberculosis are growing "deadlier by the day"
Prisons are incubators for highly infectious respiratory disease, ICRC says
Tuberculosis kills more than 1.5 million people per year according to ICRC
ICRC-backed programs in Azerbaijan, Georgia have helped cut TB prison deaths
(CNN) -- Efforts to prevent the spread of increasingly dangerous drug-resistant strains of tuberculosis will fail unless countries do more to tackle the deadly disease in prisons, the International Committee of the Red Cross warned Tuesday.
Up to two billion people worldwide are estimated to carry the microbes that cause the highly infectious respiratory disease. Of those roughly 200 million will become sick with the disease at some time in their lives, according to the ICRC.
Tuberculosis is a disease that attacks the lungs with symptoms including persistent coughing, coughing up blood, chest pains, fever, fatigue and weight loss. It is typically curable with drugs although courses of antibiotics to kill the virus can take months to work and cause severe flu-like side effects.
But the World Health Organization last week warned that up to one in four people with the disease in some parts of the world were becoming ill with strains known as multidrug-resistant TB (MDR TB) and extensively drug-resistant TB (XRD-TB) that no longer respond to standard treatment.
The ICRC says that all strains of TB are making a comeback worldwide, killing almost two million people annually. And it says prisons in developing world countries are providing perfect incubators for new variations of the airborne disease because of overcrowding, poor nutrition and inadequate health services.
For the past decade the humanitarian organization has supported efforts to fight TB in prisons in the Caucasus, Central Asia, Latin America and Africa. But it says innovations that have helped to reduce the number of prisoner deaths from TB in Azerbaijan and Georgia need to be rolled out more widely.
Preventing tuberculosis becoming a death sentence

Video: Tackling tuberculosis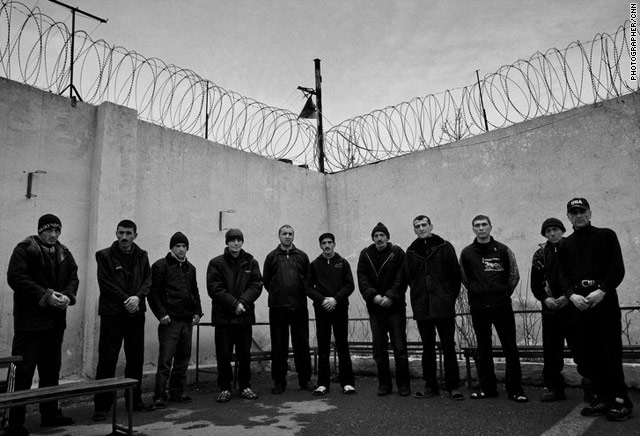 Gallery: Azerbaijan's tuberculosis prison hospital
"Tuberculosis is smart, resilient and growing deadlier by the day," said Raed Aburabi, the ICRC's health in detention coordinator, on the eve of World Tuberculosis Day on March 24.
"It has adapted faster than we could have possibly imagined to existing treatments, resulting in a major increase in multi and extremely drug-resistant strains, which pose a very real threat. TB can only be stopped outside prisons if it is tackled from within."
While the incidence of TB in jails can be up to 40 times higher than outside, ICRC doctor Hernan Reyes said the disease could not be contained inside prison walls.
"Bad prison health is an issue for the community," Reyes told CNN. "If you don't treat the focal point of TB in the prisons it's going to leak out, through the staff, through visitors, through the medical people going in and out. The prisoners may be behind bars but the microbacteria definitely is not."
Reyes said tuberculosis was a "disease of poverty" which typically affected developing societies, although richer countries are also becoming more vulnerable because of greater levels of movement and migration.
He said the rising costs of drug treatments for more resilient new strains were making TB "untreatable" in many countries. While a typical drug treatment would last for six months and cost $20, treatment for MDR TB lasts 24 months and can cost up to $20,000.
"That means you are going to start losing more and more people to TB," he added. "TB is becoming an untreatable disease for most countries."
"TB is becoming an untreatable disease for most countries."
-- Hernan Reyes, ICRC
Reyes said addressing the conditions which allowed tuberculosis to spread in prisons was easier than treating the disease itself. That means investing in improved living conditions, better food, more fresh air and improved medical facilities and adopting World Health Organization strategies to control the disease, according to the ICRC.
It points to the success of efforts to bring the disease under control in Azerbaijan where infected inmates are now treated in a centralized prison hospital in Baku and a similar program in neighboring Georgia.
"When we started visiting prisons in Azerbaijan 15 years ago, we discovered that TB was killing around 300 inmates every year," said Nikoloz Sadradze who heads the ICRC's delegation in Baku.
"By last year, the number of deaths had fallen to 20, thanks to prevention measures, improved screening and diagnosis, and medically supervised treatment and follow-up."
Aburabi said that more countries affected by TB needed to display "political courage" to fight the disease.
"The kind of commitment, change and creativity that's needed to outsmart this disease won't happen overnight. But if the same level of progress we've seen in Azerbaijani and Georgian jails could be achieved on a broader scale, we would stand a fighting chance of gaining the upper hand against this killer worldwide."