Diagnosing kids' mental health issues a complex task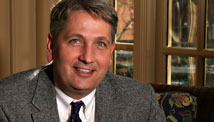 STORY HIGHLIGHTS
Mental illness can strike anyone, even children in healthy environments
Children who act differently in different settings add complexity to diagnostic process
Young parents often tend to blame themselves for their children's illness
Shortage of child psychiatrists, other resources an obstacle to care
Editor's note: Dr. Ken Duckworth, medical director of the National Alliance on Mental Illness, offers a different perspective on young children and mental illness, sparked by CNNHealth's Dr. Charles Raison's recent answer to a question on a 6-year-old's bipolar disorder.
(CNN) -- As medical director for the National Alliance on Mental Illness as well as a child psychiatrist, I appreciate this opportunity to address some of the issues raised on May 11 by the California mother who asked, "Who can help my bipolar 6-year-old?"
Unfortunately, Dr. Charles Raison's answer suggested that the child's problems were more likely caused by parents or family dynamics than bipolar disorder because the boy was described as "perfect in school." I agree that young children who act differently in different settings do add complexity to the diagnostic picture, and this report raises more clarifying questions that need to be addressed. Notably, the National Alliance on Mental Illness' young families routinely report that children diagnosed with a mental illness can hold themselves together during the school day, only to unleash troublesome behavior when they return to the safety and comfort of home. The need for more information and the variability of presentations is covered In the alliance's Parents & Teachers as Allies curriculum for school professionals, which helps to explain the dynamics of mental illness.
More from Raison on children and bipolar
Mental illness can strike anyone, including children growing up in the most healthy home environments, with the most loving and effective parents. A tragic aspect of many cases is that young parents who are trying hard to do the best for a child with a mental illness blame themselves. This is a common reaction in my experience.
Ironically, this discussion occurs at the same time that PBS stations around the country are airing the documentary "When Medicine Got It Wrong" about the myth of the "schizophrenogenic mother," in which bad parenting was once thought to cause schizophrenia. The theory failed once doctors realized that brothers and sisters, raised in the same family environments as adult children who developed schizophrenia, never developed the illness themselves. Today, sorting out what families can do that works and what does not is still at times informed by this hurtful history between families and psychiatrists.
Doctors learn from families. They need to ask many questions to reach a diagnosis and to consider many variables. Some questions seek to identify what may or may not be happening in one environment that differentiates it from other ones, in order to determine how the illness is affected. That's consistent with the hope indicated in the original answer that some problems could be "resolved or improved" until "only the component directly tied to a mental condition remained."
With a 6-year-old, the diagnostic challenge is especially difficult and the first hurdle is finding help.
Most people rely on their primary physicians for mental health care. Even when access to a general psychiatrist is available, a critical shortage of child psychiatrists, psychosocial interventions and skilled parent coaching exists. That may be another part of the puzzle confronting the mother from California. For our part, the National Alliance on Mental Illness offers free Family-to-Family Education classes throughout the country, and in 25 states, NAMI Basics, a course specifically for parents and caregivers of children who develop symptoms of mental illness before age 13. We also have a Child & Adolescent Action Center. In general, people can find us at http://www.nami.org/or 1 (800)-950-NAMI (6264).
Other resources include the Child and Adolescent Bipolar Foundation,http://www.bpkids.org/, the Federation of Families for Children's Mental Health, http://www.ffcmh.org/ and the American Academy of Child and Adolescent Psychiatry http://www.aacap.org/.
I appreciate the opportunity to provide an additional perspective in further addressing the mother's concerns.