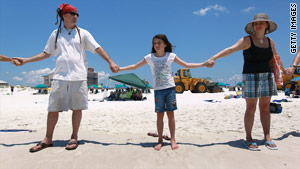 People protest offshore oil drilling in Pensacola, Florida, as Gulf Coast communities struggle to face the oil disaster fallout.
STORY HIGHLIGHTS
Hundreds gather at Mississippi summit to discuss oil recovery, offset human toll
Gathering called "conversation starter," the first of its kind since Gulf Coast oil disaster
"This is a marathon. We haven't even run the first lap," summit speaker says
Fallout anticipated includes increased depression, domestic violence and more
Long Beach, Mississippi (CNN) -- A woman who'd lived two years after Hurricane Katrina in a 30-foot-long FEMA camper cried, calling herself "a survivor" and pleading with the audience to look out for one another. An official with a faith-based relief agency flew in from Washington, seeking jobs for the flood of volunteers who keep calling. An advocate for children reminded people not to overlook the oil disaster's youngest victims.
Behind the Katrina-scarred buildings with blown-out windows that still line the front of the University of Southern Mississippi's Gulf Park campus, several hundred people gathered Wednesday to discuss the long-term environmental, economic and psychosocial impact of the oil gushing into the Gulf of Mexico and gear up for recovery.
They were scientists, disaster experts and medical professionals who'd traveled from around the region, even the country, to share their knowledge. They were religious leaders, counselors and nonprofit executives looking for and sharing guidance and ideas. They were supporters of the elderly, women and families who wanted to make sure emotional needs aren't forgotten.
The Mississippi Gulf Coast Oil Spill Disaster Recovery Summit, whipped together in about four weeks, is believed to be the first mobilization of its kind to confront the challenges threatening life on the Gulf Coast as people once knew it.
"This is a marathon. We haven't even run the first lap," keynote speaker, J. Steven Picou, said the night before the gathering. "There will be casualties. There will be successes. But I'm a professor and believe education is power. We have to give people something they can believe in and something they can act on."
On tables outside the campus auditorium, organizations offered pamphlets on depression, community resilience and tips on how to talk to children. One-sheets from local health centers and relief organizations announced outpatient services and programs to assess psychological needs. Nearby, smiling representatives from BP provided claim and "vessels of opportunity" information, along with free green tote bags, emblazoned with the BP logo, to anyone who would take them.
Picou, a sociologist at the University of South Alabama who lives 400 yards from the Gulf, has spent decades studying how disasters -- particularly man-made environmental ones -- affect communities.
For more than 20 years he's followed the human toll from the 1989 Exxon Valdez spill in Alaska, and he came bearing lessons learned from that region. Many of those resources, including tips to train peer counselors, are available on the Prince William Sound Regional Citizens' Advisory Council website.

Video: The human toll of the oil spill
He spoke about how "social capital" and community trust broke down in hard-hit Cordova, Alaska, as people isolated themselves, grew depressed and watched relationships fall apart. The "spillionaires," those who profited by leasing out their boats to help with the cleanup, for example, were "also called Exxon whores by their cousins, brothers and fathers," Picou said.
He said it was four years before the first oil-related suicide befell Cordova, but just 65 days after the Gulf oil disaster when charter fishing boat captain Allen Kruse shot and killed himself in Orange Beach, Alabama, where Picou lives. Kruse did not leave a note, but his family members and friends have said they believe the oil disaster drove him to his self-inflicted death.
Picou reminded summit attendees that unlike the Alaska community he's studied, the Gulf has community resources, assistance agencies and trained professionals in place. And he made a distinction between natural and man-made disasters.
"A therapeutic community emerges after a natural disaster. They quit blaming God after a week, hold hands and begin rebuilding," he said. But in cases of "technological disasters," such as this latest oil disaster, where steps like rescue, recovery and rehabilitation remain elusive and blame comes easy, "we need to build therapeutic communities. ... We have to take a deep breath, move forward and know it's going to be ongoing."
That's what those who came together in Long Beach hope to do -- move forward, as a united front, into the unknown future. A future that they suspect will be full of financial and emotional stress, the sort that might increase domestic violence, alcohol abuse, child neglect, divorce and other woes.
"Agencies that don't usually work together, work together," suggested John Hosey, the clergy/mental health coordinator for the Mississippi Coast Interfaith Disaster Task Force, who helped spearhead what he called a "conversation-starter" event. "We can get a lot more done together than when we are apart."
Working groups, formed from Wednesday's summit, are expected to meet next month, Hosey said. And a larger regional summit, to get a wider swath of people involved and on board, may come in the fall.
FOLLOW THIS TOPIC