STORY HIGHLIGHTS
Study on diabetes drug's safety based on flawed data, FDA analysis charges
Study officials submitted sloppy data, review alleges
FDA advisory panel to meet next week to discuss the drug's future
GlaxoSmithKline: Drug "does not increase the overall risk of heart attack, stroke or death"
(CNN) -- The popular diabetes drug Avandia may be far more dangerous to patients than reported in a study touted by the drug's manufacturer, according to a strongly worded report posted Friday by the Food and Drug Administration.
The analysis by Dr. Thomas Marciniak says the officials overseeing the so-called RECORD study repeatedly submitted sloppy data and failed to follow up on reports of problems in patients -- including reports of patient deaths. He also called the design of the study "inappropriate and biased," in large part because it was not "blinded" -- meaning that GlaxoSmithKline, the maker of Avandia, was aware at all times of which patients were getting Avandia and which were on other medications.
The analysis was posted along with more than a thousand pages of additional documents being weighed by an FDA panel, ahead of a meeting next week when members will debate a series of steps that could include removing Avandia from the market.
Avandia is used to control blood sugar levels in diabetics, but its usage has fallen since a study published in 2007 reported that it raised the risk of heart attacks and other heart problems. That study, a so-called meta-analysis of other studies involving Avandia, found a 43 percent increase in the risk of heart attacks for patients on Avandia compared with those on other medications.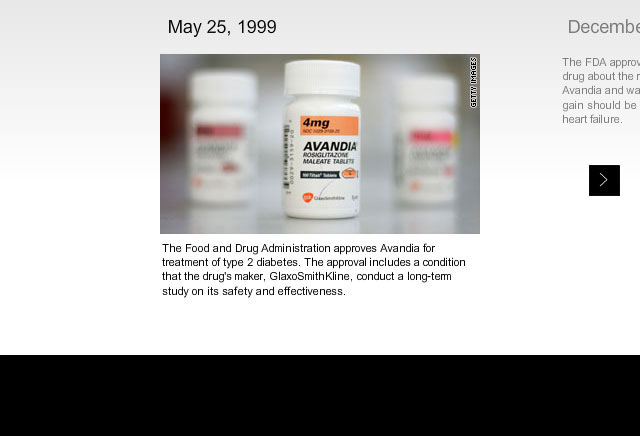 Avandia's FDA timeline

Video: Alternatives for Avandia
Within weeks, GlaxoSmithKline responded by releasing interim data from the RECORD study, which painted a much more reassuring picture. The study, which involved 4,447 patients and compared Avandia with two older diabetes drugs, metformin and sulfonylurea, found no increased risk of heart problems. Full results were published last year in the Lancet.
However, Marciniak did an intensive review of patient records, and said that in many cases there was missing data, or that investigators failed to follow up on likely cases of heart problems. A slide presentation that accompanies the report is full of biting commentary, such as notes on one patient who died after spending more than six weeks in the hospital. "This patient had no CV [heart] events adjudicated!" Marciniak wrote in red text. "The pulmonary edema was ignored." At the bottom of a five-sentence summary on the patient, Marciniak added, "This brief letter is the total information submitted for this 46-day hospitalization terminating in death!"
In most cases, he wrote, the omissions made the safety data for Avandia look better than it really was. Once he re-analyzed the data, he wrote, it actually shows an increased risk of heart attack -- much like the studies it was meant to refute. Marciniak's view, reflected in a slide presentation for the FDA panel, is that "RECORD confirms and extends the recognized concerns regarding increased heart failure and heart failure deaths with rosiglitazone [Avandia]."
In a statement Thursday, Glaxo's vice president for Clinical Development, Dr. Murray Stewart, said, "Since 2007 we have seen results from six controlled clinical trials looking at the cardiovascular safety of Avandia and together they show that this medicine does not increase the overall risk of heart attack, stroke or death."
"There's just no evidence of an increase in heart attacks," he added in a phone interview. "What's more, all the clinical trials show no evidence in mortality versus standard of care. They all show decreased mortality."
The RECORD study is the largest of those studies, and the most widely known. In a briefing Thursday, Dr. Janet Woodcock, the director of the FDA's Center for Drug Evaluation and Research, said, "RECORD is the most germane because it is meant to look at cardiological [sic] comparisons between rosiglitazone [the generic name for Avandia] and the standard of care."
Given that, attacks on its credibility are highly charged. "How do they count the adverse events, how do they [investigate] them -- if there are problems with that, it's really worrisome," said Dr. David Nathan, the director of the Diabetes Center at Massachusetts General Hospital.
While Nathan said he's not sure if there is a serious risk, since 2008 the Treatment Guidelines Committee of the American Diabetes Association, which Nathan chairs, has recommended that doctors use medications other than Avandia. Said Nathan, "We took the position that there's just no rationale for using a drug that might be dangerous, especially when other options are available."
FOLLOW THIS TOPIC