STORY HIGHLIGHTS
NEW: House agriculture subcommittee chairwoman is also inquiring about the egg recall
NEW: The two egg companies in question are expected to respond by September 7
The House Energy and Commerce Committee has begun an inquiry into the egg recall
The committee leaders sent letters to Wright County Eggs and Hillandale Farms of Iowa
The Egg Safety Center has a complete list of recalled eggs, their expiration dates, and brands. Check the situation in your state. Here are safety tips.
Washington (CNN) -- The House Energy and Commerce Committee requested documents and information Monday from Wright County Egg and Hillandale Farms of Iowa related to the recent salmonella outbreak and egg recalls, according to a news release from the office of the committee's chairman, Rep. Henry Waxman, D-California.
Waxman and Oversight and Investigations Subcommittee Chairman Bart Stupak, D-Michigan, sent letters to the two Iowa-based egg producers asking for details on the contamination of their egg products, including when government officials and customers of the affected egg products were first notified of the contamination.
The committee also asked for the inspection records for the companies' facilities, the companies' internal protocols and standards for monitoring and analyzing their products, and documents related to allegations of health, safety, environmental, or animal cruelty violations for the companies or any related companies, the news release said.
Responses from each egg company are expected by Tuesday, September 7, according to the letters.
Hillandale Farms said it shared "a number of common suppliers" with Wright County Egg, including a company called Quality Egg, which provided feed and young birds.

Video: Is our food safe to eat?

Video: Safe from salmonella?

Video: More than a half-billion eggs recalled

Video: FDA chief discusses egg recall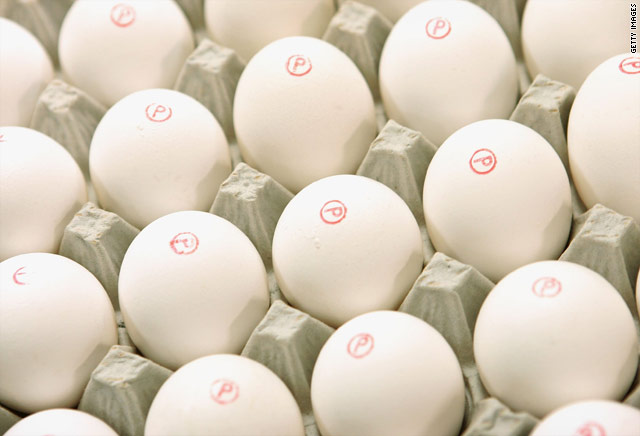 Food poisoning 101
"We are devastated that our eggs have been implicated in making people sick," Hillandale farms said in a statement Sunday. "We have never had a product recall in our 45-year history, and it flies in the face of our mission to provide wholesome, nutritious food for the American public. We regret that anyone might have become ill, and the concern and disruption this has caused our customers."
Both Wright County and Quality Egg are owned by the DeCoster family, which has a string of agribusiness interests in the Midwest and Northeast. Those companies' records have come under new scrutiny since the recalls were announced earlier this month.
In June, company owner Austin "Jack" DeCoster admitted to 10 civil counts of animal cruelty in Maine after a nonprofit animal welfare group conducted an undercover video investigation and forwarded its findings to Maine animal welfare officials.
In a statement issued Monday morning, Wright County Egg said it was working with the Food and Drug Administration on the current recalls and defended its record.
"Wright County Egg strives to operate our farms in the most responsible manner, and our management team has worked closely with FDA through their review of our farms. We have reviewed [FDA] Commissioner [Margaret] Hamburg's comments to the media, but because we have not received any written reports from FDA to date, it would be inappropriate to respond to her remarks. It is important to note that any concerns raised verbally during FDA's on-farm visit were immediately addressed or are in the process of being addressed," the statement said.
"When issues have been raised about our farms, our management team has addressed them swiftly and effectively, working with recognized outside experts to identify and implement corrective measures for our operations," it said. "We are approaching our work with FDA in the same forthright manner."
The Energy and Commerce Committee isn't the only group on Capitol Hill looking for answers.
The chairwoman of the House FDA and Agriculture Appropriations Subcommittee, Rep.Rosa DeLauro, D-Connecticut, sent a letter Monday to Agriculture Secretary Tom Vilsack and Hamburg, asking questions about the recent egg recall.
In the letter, DeLauro asked the United States Department of Agriculture and the FDA, which share jurisdiction in this area, about the investigation into the DeCoster farm's safety record and the oversight of its operations. She also inquired about the possibility of the tainted eggs being used by federal nutrition programs.
FOLLOW THIS TOPIC