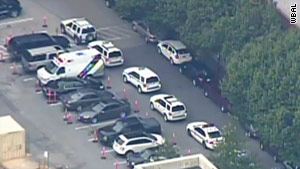 A doctor was shot in a murder-suicide Thursday at Johns Hopkins Hospital.
STORY HIGHLIGHTS
A gunman critically injured a doctor at Johns Hopkins Hospital, killed mother and self
Mental illnesses, drugs, alcohol, frustration can be a pressure cooker for hospitals
Incidents of hospital violence increased, according to the Joint Commission report
(CNN) -- A gunman critically injured a doctor at Johns Hopkins Hospital in Baltimore, Maryland, and later killed himself and his mother, police say -- the latest violent incident in a health care setting.
Hospitals are pressure cookers as people are often distressed, mentally disturbed or intoxicated by drugs or alcohol in a highly stressful environment. All of these factors pose possible dangers to health care workers.
The Hopkins doctor, whose name was not released, was rushed to surgery for an abdominal wound and is expected to survive, according to police.
In an incident last week, a man broke a chair and used one of its legs to beat a 53-year-old nurse at a Valley Stream, New York, hospital. That nurse required eye surgery after suffering wounds in the head, face and neck, according to Newsday.

Video: Hospital workers describe shooting scene

Video: Police: Gunman shoots self, mother

Video: Shooter's brother: 'Terrible shock'
In February, a gunman opened fired in a trauma room at a Laurinburg, North Carolina, hospital after a bar fight, according to CNN affiliate WRAL. Last year, a man who was dissatisfied with his mother's treatment at a Columbus, Georgia, hospital killed one of her nurses and another employee before being shot, according to local news reports.
The greatest number of physical assaults occurred in emergency departments, according to the International Association for Healthcare Security and Safety.
A survey released last year found that more than half of emergency nurses had been spit on, pushed, scratched and verbally assaulted on the job. One in four of the nearly 3,500 emergency room nurses reported being assaulted more than 20 times in the past three years, according to results from the Emergency Nurses Association.
"It was not surprising that there's violence in emergency departments, but it's surprising the magnitude of the violence," said William Briggs, a past president of the association. "We found that two-thirds of the nurses surveyed had an act of physical violence against them.
"You would never go into the supermarket and say 'the tomatoes aren't good enough' and punch the clerk and get away with it. That's exactly that happens in the emergency departments all over the U.S."
Rita Anderson, an emergency nurse said, she has been scratched, bitten, spat on and struck across the face so hard that her jaw broke. She was later told by her assailant, "I'm sorry. I was tired of waiting."
Long waits in a high stress situation can compound the anxiety in waiting rooms and hospitals.
Early in her 43-year career, Anderson said, nurses usually were struck by a person with dementia or mental health problems or who was under the influence.
"But lately, in the past 10 or 15 years, that's not the case," Anderson said. "People are just tired of waiting, or they are just angry that they're not getting the care they feel is acceptable. Instead of saying something, their response is hitting, screaming, spitting, yelling."
"There is a growing trend in violence," said Dr. Leigh Vinocur, a spokeswoman for the American College of Emergency Physicians. "Emergency rooms are sort of a microcosm of society. There's a growing trend in violence in the emergency room."
Vinocur, who has been choked by a patient, has observed some of the incidents after working in urban emergency departments in Baltimore, Maryland, and Detroit, Michigan.
"There are risks. I wouldn't compare it to what police officers have to do every day, but it's part of the job. The issues that we take care of in the emergency room: substance abuse, psychiatric, trauma, assaults and gunshot wounds, stabs related to gang violence. Those are all violent injuries, and so sometimes, it does spill over into the emergency room."
And it's a growing issue.
"Health care institutions today are confronting steadily increasing rates of crime, including violent crimes such as assault, rape and homicide," according to a 2010 report from the Joint Commission's Sentinel Event Database.
The Joint Commission, which accredits and certifies more than 18,000 health care organizations and programs, compiled the numbers of based on voluntary reports.
Its database indicated the greatest number of reported assaults, rapes, homicides in the last three years: 36 incidents in 2007, 41 in 2008 and 33 in 2009. The actual number of cases is believed to be higher.
"People are under a lot of stress when they're ill and when they come to the emergency department," said Dr. Paul Schyve, senior vice president of the Joint Commission. "There have been cases in which essentially a gang war is brought from the street into the emergency department because somebody has been wounded."
Health care workers have to balance their own safety and that of the patients. Hospitals have protocols for dealing with potentially dangerous patients by having several staff members or security guards to accompany employees or securing the patient so they can't hurt others or themselves, health workers said.
Some hospitals have taken increased measures, such as the Henry Ford Hospital in Detroit, which implemented metal detectors. In the first six months of the screening, 33 handguns, 1,324 knives and 97 chemical sprays were confiscated, according to the American College of Emergency Physicians.
The group lists possible solutions such as security officers, closed circuit television cameras with 24-hour trained observers, panic buttons and better control of the entry into the emergency department.
"It's not something unsolvable," said Briggs, a nurse at Tufts Medical Center. "There are prevention programs that have lead to less incidence of violence by training people to recognize early signs before it becomes a physical threat. Part of it is to make sure there's the right security, cameras, access control, and that you have a plan what to do if there's a hostage situation."
FOLLOW THIS TOPIC