STORY HIGHLIGHTS
In the last 11 years, as more boomers entered midlife, the suicide rates increased
Historically, elderly have had highest suicide rates, but now 45-64 is age group with highest rate
Dashed expectations, economic woes, depression or medical problems may be factors
(CNN) -- "I hate him. I'm so mad. I love him. I miss him. I want him back," Christine Lopez's thoughts twisted and churned.
Questions swirled. A void swelled. And their 4-year-old son tugged at her, asking about Daddy.
Her husband committed suicide in 2007.
"It's not like he died in a traffic accident," she said. "All these thoughts were running through my head. I lost my future -- the man I was in love with, my son's father. Who do I blame?"
David Sklar, 43 and a part of the baby boomer generation, grappled with depression and chronic pain.
In the last 11 years, as more baby boomers entered midlife, the suicide rates in this age group have increased, according to an analysis in the September-October issue of the journal Public Health Reports.
The assumption was that "middle age was the most stable time of your life because you're married, you're settled, you had a job. Suicide rates are stable because their lives are stable," said Dr. Paula Clayton, the medical director for the American Foundation for the Prevention of Suicide.
But this assumption may be shifting.
Dashed expectations, economic woes, depression or chronic medical problems -- these may be factors why the suicide rates for middle-aged Americans have increased.
Surveys of baby boomers have shown a tone of disappointment.
"So many expected to be in better health and expected to be better off than they are," said Julie Phillips, lead author of the study assessing recent changes in suicide rates. "Surveys suggest they had high expectations. Things haven't worked out that way in middle age."
Richard Croker, author of "The Boomer Century, 1946-2046: How America's Most Influential Generation Changed Everything," said, "From Dr. Spock to Annette Funicello, growing up in the '50s and '60s, we grew up thinking we were special. Somehow, we metamorphosed from peace, love and happiness to a me generation."
"We started accumulating wealth and began focusing on providing for ourselves and our families. That's what we did and now, we're beginning to look around. What's it all about?" he said. "Many of us are divorced. Our families are spread to the seven winds. We're disappointed."
Baby boomers (defined in the study as born between 1945 and 1964) are in a peculiar predicament.
"Historically, the elderly have had the highest rates of suicide," said Phillips, a professor of sociology at Rutgers University. "What is so striking about these figures is that starting in 2005, suicide rates among the middle aged [45-64 years of age] are the highest of all age groups."
1990
Age 15-24: 13.2
Age 45-64: 15.3
Age 65 + : 20.5

2000
Age 15-24: 10.2
Age 45-64: 13.5
Age 65 +: 15.2

2005
Age 15-24: 10
Age 45-64: 15.4
Age 65 +: 14.7

2006
Age 15-24: 9.9
Age 45-64: 16
Age 65 +: 14.2

Source: Public Health Reports
The 45-54 age group had the highest suicide rate in 2006 and 2007, with 17.2 per 100,000. Meanwhile, suicide rates in adolescents and the elderly have begun to decline, she said.
"What's notable here is that the recent trend among boomers is opposite to what we see among other cohorts and that it's a reversal of a decades-long trend among the middle-aged," said Phillips, who along with Ellen Idler, a sociologist at Emory University, and two other authors used data from the National Vital Statistics System.
Baby boomers had higher rates of depression during their adolescence. One theory is that as they aged, this disposition followed them through the course of their lives.
"The age group as teenagers, it was identified they had higher rates of depression than people born 10 or 20 years earlier -- it's called a cohort effect," said Clayton, from the American Foundation for the Prevention of Suicide, who read the study.
But none of these factors adequately explain why one individual commits suicide.
In their suburban home near Seattle, Washington, Sklar doted on his son, Trevor, and spent time outdoors, fished on the dock and took seaside strolls with his family.
Lopez and Sklar married in 2004 after a six-year relationship.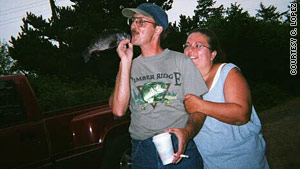 David Sklar enjoyed fishing and spending time outdoors wth his family.
After she had a difficult day at work, he'd draw baths for her. He prepared breakfasts in bed and cut fresh roses from the garden.
"He was just really sweet like that," she said. "He was always interested in what I liked -- he would listen to me."
Sklar also struggled with constant back pain after his car was struck by a drunken driver, then lodged under a semi in 1993. After the accident, he could no longer work in construction.
Sometimes, the act of bending down to pick up an item left him bedridden. He took Demerol, a pain medication.
"He suffered with depression all of his teen and adult life," Lopez said. "I know the back injury made it worse. He felt like he wasn't a real man -- that he couldn't support his family. That was an issue for him."
Sklar tried to make the best of it, Lopez said, starting a home laptop repair business.
In the mid-2000s, Lopez noticed a change. Sklar became sullen and withdrawn. He no longer played with his son, cooked, fished or ventured outside. When the sun rose, Sklar retreated to the garage where he kept his computer. He played a game all day, rarely getting up to eat or to acknowledge his family.
"He was checking out from life, holing up in the garage and in his world out there," she said.
He refused to get counseling and told Lopez, " 'I'm not disabled in the game. I don't have problems in the game. I can be a whole person.' "
Some say health problems could be a factor in increased suicide rates among baby boomers.
Boomers have their share of medical problems such as high blood pressure, diabetes and complications of obesity.
"There's a rise of chronic health conditions among the middle aged," Phillips said. "In the time period from 1996 to 2006, we see fairly dramatic chronic health conditions and an increase in out-of-pocket expenditures."
Some speculate that the increase in baby boomer suicides could be attributed to stress, the number of Vietnam veterans in the age group or drug use, which was higher in that generation. Boomers are also the "sandwich generation," pressed between needs of their children and their aging parents who are living longer, but have health problems like Alzheimer's or dementia.
All this is unfolding in a lagging economy, meaning boomers could be affected by the "period effect."
"One hypothesis is that the economic pressure during this period might be a driving force, with the recession in the early 2000s -- loss of jobs, instability, increases in bankruptcy rates among middle age," Phillips said.
Unemployment correlates with increased rates of suicide. People who are unmarried and have less education are also more at risk.
"Some people who've never been unemployed before, they've lost their savings during this economic trend," Clayton said. "They can't access their retirement benefits because they're not old enough. There is more stress economically on those middle-aged people than there was earlier."
While all these are possible factors, there is no clear-cut answer for survivors like Lopez.
"It's not like they're taking the easy way out," she said about people who commit suicide. "They didn't do it to punish anyone. They didn't do it to cause pain. They're not thinking of the long-term consequences. They need to escape. It's a permanent solution for a momentary problem -- they're in so much pain, emotionally or physically. They can't see past that."
FOLLOW THIS TOPIC