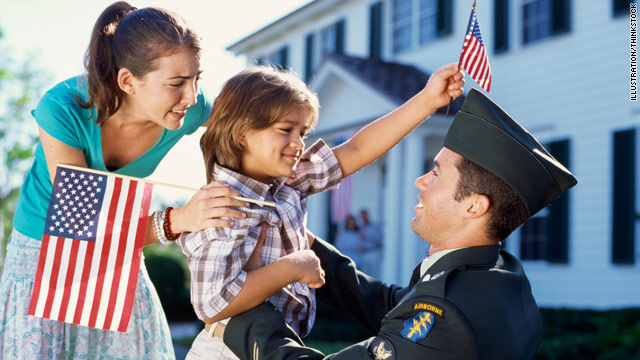 STORY HIGHLIGHTS
Help most often is sought when fathers are deployed
Overall health care visits decrease when a parent is deployed
Children of married parents more likely to seek treatment
(CNN) -- Children who have a parent deployed for military service are more likely to seek out treatment for mental and behavioral health issues, according to a study published Monday in the journal Pediatrics.
The study involved more than 642,000 children aged 3 to 8, with the mean age of 5. It showed mental and behavioral health visits increased by 11 percent when a military parent was deployed. In addition, behavioral disorders increased by 19 percent and stress disorders increased 18 percent.
"Older children and children with military fathers and married parents had larger increases in rates of mental and behavioral health visits during parental deployments," according to the study. "In contrast, the overall outpatient rate and rates of visits for other diagnoses decreased when a parent was deployed" -- by 11 percent.
The study referenced a 2006 survey of military spouses, in which one in five parents reported their children exhibited "more internalizing and externalizing behaviors, especially when a parent deploys to a combat zone."
Data for the study was obtained from the Tricare Management Activity, which oversees health care for the U.S. military and family members in the United States and abroad. Children of National Guard or Reserve personnel were not included. The childrens' outpatient visits were merged with their parents' deployment records.
The fact that overall health care visits decreased during a parent's deployment may be attributed to "increased demands of a functionally single caregiver, who must choose which conditions merit the effort of bringing a child to medical attention," the study said.
Children with military fathers have increased rates of seeking treatment for mental or behavioral issues compared with children of female military parents, according to the study. "One possible explanation is that the mothers remaining at home may be more likely to manifest their own mental health issues or that mothers are more likely to transfer their own mental health symptoms onto the child," the study states. A depressed mother may be more likely to perceive mental health issues in her child and seek medical attention for them, the study said.
People's different abilities to recognize childhood mental health disorders may also factor into the findings, according to the study. Children of single military parents have lower rates of mental and behavioral health visits than children whose parents are married. However, "during their parent's deployment, most of these children live with extended family or temporary guardians." Their caregiver may not know how to access health care for the child and also may not be well enough acquainted with a child's "normal" behavior to recognize a problem, the study said.
Mothers may be more likely to recognize behavior changes, as well, because they may be more aware of a child's "baseline" behavior, according to the study. "Because most mothers identify themselves as the primary caregiver, fathers may not recognize changes in behavior during a mother's deployment as readily as mothers do during a father's deployment," it said.
A commentary accompanying the study also notes that it is possible that deployed fathers may experience greater combat danger, which can be reflected in stress and anxiety for mothers left behind and could result in more manifestation of mental or behavioral problems in children.
The "internalizing and externalizing behaviors" reported by parents and caregivers of military children are similar to those seen in school-aged children of divorcing parents, although those behaviors can be lessened by increased contact with a non-custodial parent, the study said.
"Parent-child separation caused by prolonged parental hospitalizations may most closely resemble the separation experienced by children of military families in terms of its potential for parental mortality and its repetitive nature, but this situation does not occur on the same scale as the separation caused by military deployments as described in this study," it said.
More research is needed to determine if the effects of parental deployment follow a child into adulthood, according to the study. Long-term studies of children who were evacuated and separated from their parents during World War II bombings in Europe show "increased rates of mental health problems have been reported six to seven decades after the experience." But a Finnish study of adults separated from their fathers during World War II had no lingering mental health issues because of it, the study notes.
Pediatricians have long had the responsibility for recognizing problems that may interfere with a child's schoolwork or family interaction, the accompanying commentary notes.
"It is not uncommon for pediatricians to see a child for one purpose," such as a school physical or immunizations, "only to uncover a more troubling problem," the commentary said. "By simply asking, 'I understand your daddy/mommy is deployed. How are you feeling?' pediatricians can uncover important stressors in a military family."
FOLLOW THIS TOPIC