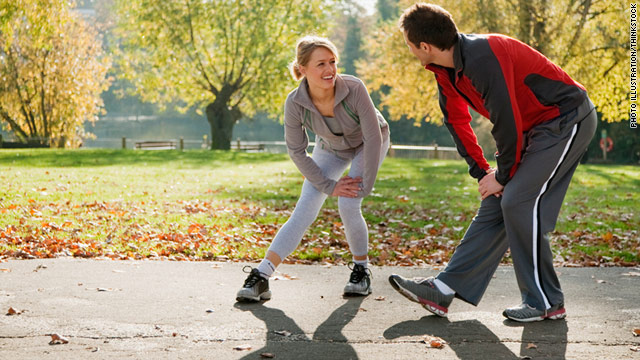 STORY HIGHLIGHTS
Get active in your 20s and stay that way through your 30s and 40s
Women who maintained moderate-to-vigorous exercise gained 13.5 pounds less
Current federal recommendations for exercise are not enough to prevent weight gain
(Health.com) -- If you want to stave off the middle-age spread, get active in your 20s and stay that way through your 30s and 40s, especially if you're a woman, a new study suggests.
In the study, which appears in the Journal of the American Medical Association, researchers followed about 3,500 people between the ages of 18 and 30 for two decades.
Women who maintained a regimen of moderate-to-vigorous exercise throughout the study gained about 13.5 pounds less, on average, than their least-active counterparts, the study found.
The trend was the same among men, but more modest: The most-active men gained about 6 pounds less than the least-active men.
Health.com: Walk a little, lose a lot
"The specific activities that we were looking at in this study included running, brisk walking, bicycling, engaging in recreational sports, even housework that was done briskly, and occupational work," says the lead researcher, Arlene Hankinson, MD, an instructor in preventive medicine at the Northwestern University Feinberg School of Medicine, in Chicago.

Hate weighing in? Try a tape measure
The key to maintaining a healthy weight, Dr. Hankinson adds, is to "be active and stay active and integrate activity into your everyday lifestyle in a way that you can maintain it."
Regular exercise helped keep extra pounds off regardless of a person's initial weight or the amount of calories they typically consumed in a day.
Health.com: 25 diet-busting foods you should never eat
Although the findings aren't surprising, most research on exercise and weight has looked at the impact of physical activity on weight loss, not weight-gain prevention.
In fact, the authors note, there is little evidence to show that the current federal recommendations for physical activity -- at least 30 minutes of moderate exercise, 5 days a week -- are enough to prevent weight gain, especially in the key transition from early adulthood to middle age when many people pack on the pounds.
Dr. Hankinson and her colleagues assessed physical-activity levels using questionnaires that measured both the duration and intensity of 13 different types of exercise (including on-the-job activity), so the study results can't be directly translated into a simple weight-loss prescription.
Still, Dr. Hankinson says the study confirms that people who follow federal exercise guidelines will see weight benefits over the long term.
Health.com: 15 exercise tips for people with type 2 diabetes
Relatively few people were able to maintain a moderate-to-vigorous exercise routine into middle age, however. Only about 12% of men and 11% of women in the study were highly active for the entire 20-year period.
The differences in weight gain between those who do and don't exercise regularly are likely to become even more pronounced as the study participants get older, says Tim Church, MD, of the Pennington Biomedical Research Center, in Baton Rouge, Louisiana.
"The difference between these two groups is only going to continue to get bigger as they go to 55 and 65 and 75," says Dr. Church, who has studied physical activity and health but wasn't involved with the current research. "The real weight gain hasn't even begun yet for this group, from an age perspective."
Health.com: 36 holiday foods you shouldn't eat
Unlike many studies in which people report their own weight -- a notoriously inaccurate approach -- the research staff on this study personally weighed the study participants and interviewed them about their physical activity in person, Dr. Church points out.
"This is a phenomenal study," he says. "This data is acquired just about as rigorously as you possibly can."
Copyright Health Magazine 2011
FOLLOW THIS TOPIC