STORY HIGHLIGHTS
Why do people get sick when they're finally suppose to relax and enjoy their holiday?
The holidays are a virus-distribution system, one disease expert said
Flu, cold and other viruses spike during the winter time because the cold is better for their survival
(CNN) -- The Badger family holidays are filled with medical catastrophes.
One year, Melissa Badger's niece stopped breathing at the Thanksgiving table because of a strep infection. In 2003, Badger's son came down with a severe fever and ended up in the emergency room on Christmas. On Christmas Eve 2005, Badger tripped on ice while delivering presents to needy families and sprained her ankle.
This year, Badger's husband complains of cold-like symptoms -- fatigue, coughing and a sore throat. Badger struggled with a bug going around her office that was giving everyone stuffy noses and cold symptoms.
"Now, we get to worry about that lingering cold all of us have, since we're hosting family this Christmas Eve," said Badger. Hosting family means more than 30 people at their Beloit, Wisconsin, home.
Illness for many of us seems to knock at the most inopportune moments -- after finishing a year-end project, before a holiday or after taking exams.
It had Shannon Duffy, who spent this Thanksgiving in bed with the flu, asking: "Is too much excitement and anticipation of the holiday season a bad thing? Or is it that my immune system just gets so overloaded with life stresses that when I step back and take a break, it is like an open invitation for the flu bug to intervene?"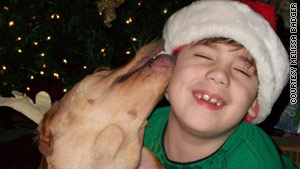 Andy Badger and his dog, Sophie celebrated Christmas last year without any health mishaps.
With Mom sick in bed, Duffy's sons had to microwave their TV dinners for Thanksgiving.
"I've been sick a lot during the holidays," said the Palm Springs, California, resident. "If it's not Thanksgiving, it's Christmas."
There are a few theories why sickness comes at the worst time.
"The holidays are a virus-distribution system," said Dr. William Schaffner, chair of the department of preventive medicine at Vanderbilt University. "They help us distribute the viruses, influenza and other common cold virus from person-to-person because of close contact."
1) Achoo to you, and you, and you
Flu season reaches its height in late fall and early winter. This is because viruses circulate better in the colder weather, said Dr. Philip Tierno, director of microbiology and immunology at New York University's Langone Medical Center.
It's not only cold and flu bugs that become active during colder seasons. CDC: Seasonal FluView
Other viruses, such as the norovirus and rotavirus, become more active during winter. Norovirus, known as the stomach flu, easily spreads through contamination in food, drink and surface contact. The virus is found in the stool and vomit of infected people. Rotavirus also causes diarrhea, vomiting, fever, and abdominal pain.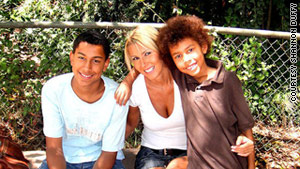 Shannon Duffy said she gets sick every Christmas or Thanksgiving.
Advice: If you're sick, cough into the crook of your arm.
If someone is coughing or wiping his or her nose, don't hug or kiss the person. Use common sense, Tierno said.
5 Immunity boosting tips for moms
2) The sea of humanity ... at the mall
Think of the holiday traditions: catching a show, shopping at a crowded mall, attending holiday parties.
All this means you're indoors in crowds and exposed to everyone's germs. As people cluster indoors, they use the same doorknobs, banisters and surfaces after wiping their noses or sneezing.
"During the winter season, we're more subject to crowding, touching something that's not hygienic and crowding," Tierno said.
People get less fresh air, too.
"They don't open up windows to get fresh air. They don't go outside as much during cold weather. They decide to stay in, so any virus that may be present would be more easily spread," he said.
Advice: Practice frequent hand-washing (at least 20 seconds wiping both the top, bottom of hands and between the fingers prior to eating and drinking) or use hand sanitizers.
Occasionally open the window to let fresh air circulate.
Must-know winter health & safety tips
3) Germs fly free
Air travel means if there's a small flu outbreak on the West Coast, that virus could be in New York in less than five hours.
"Human travel is synonymous with virus travel," said Shaffner, an infectious disease expert.

Get your flu shot

Recipe for sickness: Vacation?
When family members travel across the country, they're bringing along pathogens that have been in their communities and exposing them to new places.
It's not only the act of being in an enclosed cabin of a car, bus, train or plane, Shaffner said.
"Remember we're talking about being on an airplane, getting to the airplane, making your way through the crowds and other crowds in the other end," he said. "It is just as important as the airplane."
Advice: The Centers for Disease Control and Prevention recommends everyone older than 6 months old be vaccinated for influenza. Get your flu vaccine to reduce chances of getting sick.
Dr. Sanjay Gupta talks to Sebelius about flu shots
4) You're super-stressed before vacation
End-of-the-year projects, reports, final exams -- it could be all that work before break that spikes a stress hormone in your body.
"The increased cortisol level induces likelihood of infection during the holidays," said Dr. Robert Hasty, assistant professor of internal medicine at Nova Southeastern University's medical school.
Cortisol is a natural hormone that responds to stress, lowering immunity and making you more susceptible to infections.
The interval between acquiring a virus and becoming sick takes about 48 to 72 hours. You may have become infected when you were stressed and the symptoms may start to show right when you go on holiday break.
Advice: Stress might be unavoidable, but try getting enough sleep and hydrating.
Prevent the stress hormones from wreaking havoc by better planning, avoiding traffic, buying presents earlier.
FOLLOW THIS TOPIC