STORY HIGHLIGHTS
CNN iReport reached a milestone last week: An iReport from every country in the world
iReporters sent photos and videos from 194 countries
The iReport Global Challenge ended with Nauru, the world's smallest republic
(CNN) -- Four years ago, CNN's citizen journalism community, iReport, was born. Today, we have an iReport from every country in the world.
Our global community has documented Iran election protests after reporters left the country, joined thousands to witness Obama's inauguration, used iReport to find missing loved ones after the Haiti earthquake and given a voice to victims of domestic violence. Our more than 700,000 registered iReporters have taken us to places that are rarely talked about and opened our eyes to settings of extreme beauty and harsh poverty.
iReport Global Challenge: See an iReport from every country
In 2010, we discovered we had iReports from all but about 50 of the world's 194 countries. So we embarked on a quest for the remaining nations. The iReport Global Challenge, as we called the project, ended last week with Nauru, the world's smallest republic.
From majestic castles in the Pyrenees mountains, to a flaming gas crater in the middle of the desert, to a diver's paradise in the South Pacific, we introduce you to 10 of the most fascinating places:
1. Andorra (Population: 85,000)
When Rebecca Florence first visited Andorra in 2007, she fell in love with the little-known country tucked between France and Spain in the Pyrenees mountains.
"How had I not even heard of this place?" she thought.
Picturesque landscapes, clean air, top-notch ski resorts and low crime rates are just a few of the many things that make the Catalan-speaking country special, says Florence, who moved with her husband to Andorra in 2009. She was so passionate about the region that she created a website to share the country's secrets for English-speaking tourists.
View more submissions in the iReport Global Challenge
2. Tuvalu (Population: 10,500)
It looks like paradise, but this South Pacific country has become the face of global climate change. Experts have warned that in the next 50 years, Tuvalu could be the first country to totally disappear under water.
Florent Baarsch, 23, of Lyon, France, moved to the island nation in September for a yearlong climate change research project. He says rising sea levels have already caused significant coastal erosion, and parts of the capital island, Funafuti, flood once a month from salt water seeping through the ground. But Tuvaluans aren't going anywhere, Baarsch says.
"The Tuvaluans want to stay on this place, and carry on living as they have always lived for centuries," he says.
3. Eritrea (Population: 5.8 million)
Railway enthusiast George Hart traveled from the United Kingdom to this Horn of Africa country in March 2009 for one reason: To ride, photograph and film the Eritrea Railway, a 74-mile mountain pass railway constructed between 1887 and 1932.
Passing through wild scenery, 39 tunnels and more than 65 bridges, he says the railway is "one of the most spectacular in the world."
While the railroad was the high point of his trip, Hart also enjoyed visiting the capital city of Asmara, an immaculate city -- "not a scrap of litter to be found" -- with Italian roots, Art Deco buildings, and an unusual open-air market selling household items made from scrap materials.
4. Djibouti (Population: 740,000)
Djibouti -- Eritrea's neighbor to the south and one of the hottest places on earth -- was one stop on a long voyage in the Indian Ocean for Amalvict Oliver of Nimes, France.
Oliver confessed that the small country, with its hostile climate and intense poverty, was not his favorite. But he captured stunning images of Lake Abhe Bad, the salt lake where the final scene of Charlton Heston's 1968 movie "Planet of the Apes" was filmed. Oliver's photos show a harsh landscape marked with craters that resemble Mars or the moon.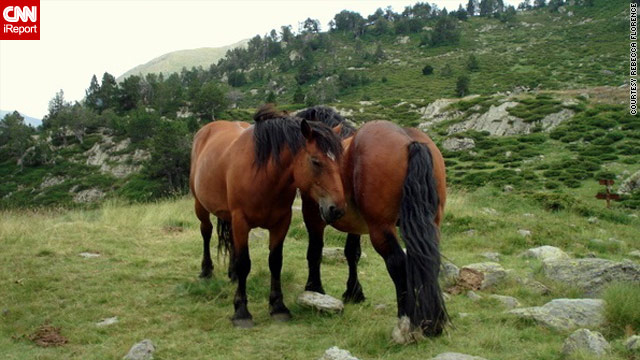 Gallery: 10 fascinating countries
Oliver also visited the Moucha Islands, located a few miles off the coast. Djibouti has a thriving tourism and diving industry, and Oliver, a diver, took advantage of the chance to photograph the beautiful marine life he found.
5. Turkmenistan (Population: 5 million)
When Andrey Shapenko traveled from Moscow to this Central Asian country in September to give a talk about the gas industry, he made stops at the National Museum and other tourist sites.
But by far the best part of his visit was a gaping, flaming gas crater in the middle of the desert -- the result of a 1971 Soviet gas exploration accident, the crater has burned for nearly 40 years.
"In simple words, it was awesome ... There's nothing and nobody around. It's just in the middle of desert. Nobody cares about it, nobody looks for safety -- it's at your own risk," said Shapenko, who works for a Russian oil company. "You understand the power of nature and real force of Earth when you stand near it."
6. Guinea (Population: 10.3 million)
Few people know about Guinea, an impoverished West African country where life is hard but joyful, and filled with dance and drumming, says Pam Camara of High Falls, New York.
Camara's husband, Mimo, was a lead dancer with Guinea's national dance troupe for 18 years. They go back as often as they can, bringing American dancers and drummers to train with members of the troupe.
"The same way you might go to Little League here, kids in Guinea will go to their community centers or wherever they can find a gathering space, and they choreograph routines," she said.
7. Tonga (Population: 123,000)
Elena Borquist Noyes and her husband Mark have noticed that the residents on this archipelago in the Pacific can do many things well: Open a green coconut in just a few hacks of a machete, sew an outfit with no pattern in less than a day, weave a palm leaf basket in 10 minutes.
But celebrations are their true forte, complete with "throngs of people, heaps of food, a huge roast pig, and some spectacular dancing," says Noyes, who arrived with her husband in Tonga in October 2009 to volunteer with the Peace Corps.
The annual yam harvest is one, bringing communities together to help harvest each others' fields, "often with much teasing about the size and quality of each others' yams." When all the yams are successfully dug up, everyone gathers to feast and give prayers of thanks. This country takes their yams seriously, Noyes says: One big tuber can fetch more than $30.
The country had even more to celebrate with its first Democratic elections in November.
8. Papua New Guinea (Population: 6 million)
Warriors covered in body paint are the common face of this collection of islands east of Indonesia, but Brian Malone found so much more to discover: Japanese World War II wrecks, clear blue waters "teeming with dolphins and fish," and a volcano that erupted in 1994 and by 2009, was still spewing enough ash that locals needed to use umbrellas to protect themselves from the debris.
Malone works in Papua New Guinea as a sales manager for Digicel, an Irish mobile phone company covering the Caribbean and the Pacific. The country got its first nationwide cellular service two years ago, and he says it's common to drive through the Southern Highlands "and see people walking by in full tribal gear with a mobile phone glued to their ear."
9. Palau (Population: 21,000)
The most beautiful place on the planet -- that's how many visitors describe this Pacific island nation, which draws scuba divers, snorkelers and kayakers from all over the world to its coral reefs and other underwater delights.
Ethan Daniels of Berkeley, California, lived in Palau for nine years as a dive guide and biologist and still dreams of being in the sparkling waters. The small-town feel of the country along with its natural beauty, vibrant sea life and warm, welcoming inhabitants keep him going back every year.
"It was a fascinating culture to spend a good chunk of my adult life," Daniels says. "It was really hard to leave when I did."
10. Nauru (Population: 9,300)
The Global Challenge came down to Nauru, the tiniest republic in the world.
Lee Miller had read about "pretty much every country" and was looking for a vacation spot where he would see no tourists. He found it, on this remote island just below the equator.
iReporter and CNN special contributor Johnny Colt reports from Nauru
Nauru has had plenty of struggles. The country once enjoyed great wealth from mining phosphate for fertilizer, but those resources are nearly exhausted, and Miller observed dilapidated homes and beaches strewn with garbage.
But there was a lot more about the country waiting to be seen. In 2008, sitting on a beach where one could go hours without seeing another human being, Miller basked in the feeling that he was "on the edge of the world."
"Overall, I had a great experience and met a lot of great people," says Miller, who plans to return with his brother in 2011. "For this, I would go back."