STORY HIGHLIGHTS
Susan Stanton, subject of CNN documentary, transitioned from man to woman
Stanton struggled with depression and suicidal thoughts during her transition
Says life no different than any other city manager
Follow the journey on "Her Name was Steven" Saturday, 8 p.m. and 11 p.m. ET
Editor's note: Follow Steven Stanton's transition to a woman on "Her Name was Steven" on CNN Saturday 8 p.m. and 11 p.m. ET
(CNN) -- Susan Stanton doesn't seem much different than any other woman: She struggles with her weight, she tries to balance her career with being a parent, and she worries about her teenage son who is just learning to drive.
But Stanton has been a woman for only about two years.
In 2007, Largo, Florida, City Manager Steven Stanton, announced he planned to become a woman.
Stanton -- who knew very little about the transgender community -- practically became the poster child for the transgender rights movement.
Today, her name is linked more closely with budget concerns in Lake Worth, Florida. That relative anonymity has allowed Stanton to finally achieve her goals: to live her life as a woman, resume her career as a city manager, and continue to raise her son.
Stanton on "Larry King Live": I always knew

Stanton's transition from man to woman is intimately chronicled in the CNN documentary, "Her Name was Steven," which airs this Saturday at 8 p.m. and 11 p.m. ET.
Stanton agreed to participate in the documentary to "put a human face on [something] people still have a profound misunderstanding of," she says.
Are you transgendered? Share your message
Stanton's 2007 announcement came as a shock to the city of Largo, Florida, who had known Steven Stanton as their city manager for 14 years.
The city manager was promptly terminated and Stanton's marriage ended. After transitioning to Susan, she became a pariah in the transgender community for her wavering position on whether all transgender people should be federally protected, as well as her decision not to sue the city of Largo for her termination.
But her relationship with her son, Travis, never wavered. Travis' acceptance of his father is a central part of the CNN documentary.
Read Travis' essay about his father
The most stinging criticism for Stanton is that the gender transition would harm Travis.



Video: Son accepts transgender dad

Video: Steven becomes Susan

Video: Transgender comes out to wife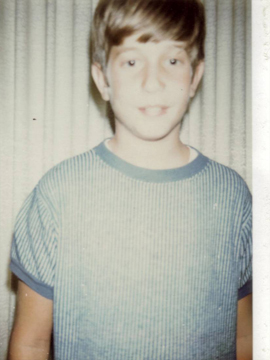 Gallery: Her Name Was Steven
"They perceive [that] when you go through this process, you're going to become some sort of monster," she said. "This story clearly documents the love of a child to a dad because the dad never changed -- maybe the outside changes."
Stanton underwent gender reassignment surgery in 2008. Travis still calls Stanton "Dad," which Stanton says does not bother her, even when Travis says it in front of other people.
"I'm his dad, I'll always be his dad," she says. "I'm not his mom."
Starting over
It has been nearly a year since Stanton was hired as Lake Worth's city manager. She says her main concern today is getting Lake Worth through the difficult economic challenges that nearly every small U.S. city is facing.
She has the unique position of knowing what it's like to serve as a city manager as both a man and a woman.
"You don't realize how difficult it is to lead people as a woman because you don't get the deference as a woman," Stanton says.
"As a guy, when I'm talking, people would stop. But now, sometimes I find myself saying, 'Excuse me, stop interrupting me.' "
Looking back
Like many transgender people, Stanton struggled with serious depression and suicidal thoughts during her transition.
The loss of her job and her marriage were the two most difficult side effects of the process.
"I did not want to leave angry at my city, the person who wound up divorcing me and the people who wound up getting off my train," she said.
She credits her faith with helping her not internalize anger after losing so much during the transition process.
"So many people who go through this process, they don't do that," she said. "And they're justified in their emotion, but it becomes incapacitating."
Stanton speaks fondly of both the city of Largo and of her ex-wife, Donna.
"I am still wearing my wedding band. ... We speak frequently, I still love her as much as I did before," Stanton says.
"I love Largo, I still love Largo, I walked away with a sense of loss that not only did I lose my friends in the city, but the relationship with a community that I dearly loved.
"You just don't discard that so easily."
She said her job keeps her so busy that she doesn't have time to worry much about her personal life.
"I haven't started [dating] yet," she says. "Psychologically, I'm not there yet."
She also doesn't think about "Option C" anymore, which she defined in the documentary as suicide.
"I don't worry, like I was at that point in the documentary, because I'm gainfully employed," Stanton said. "I'm not at that place. But I also know, given the nature of my type of work, I could be back in that spot someday."
Stanton walked away from being a spokesperson for the transgender community, but says she still represents the community "because of the prominence of my story."
"Today my focus is being a city manager, not being a transgender advocate," Stanton says. "I promised people in that community [transgender community] two years ago when I walked off the stage -- I was gone."
Stanton says her journey to become a woman does not mean she wants to forget about her life as a man.
"For the most part -- most things I do in my life -- the fact that Susan used to be Steven is totally irrelevant," Stanton says. "But it's very much part of who I am. I don't think you can ever deny your human story."