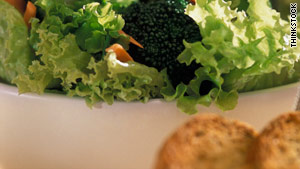 The School Lunch Initiative includes healthy eating options, like salads with vegetables from sustainable farms.
STORY HIGHLIGHTS
Advocates hope the Healthy, Hunger-Free Kids Act of 2010 will mean healthier student meals

School Lunch Initiative uses food from sustainable farms for public schools in Berkeley, California

The program includes free daily breakfast for all students, lunch menus with organic dishes

Boulder, Colorado, is the only city to have adopted the program pioneered by Berkeley's schools

(CNN) -- Advocates for improved school nutrition hope the Healthy, Hunger-Free Kids Act of 2010, a bill cleared for a final vote by the Senate this past Wednesday, might pave the way for lunch programs across the country to replicate the success of a deliciously successful pilot project in Berkeley, California.
The School Lunch Initiative provides "delicious, healthy, freshly prepared meals using seasonal ingredients from sustainable farms to all of Berkeley's public school students." It grew from Uber-celebrity chef Alice Waters' proposal to build a football field-sized garden at Martin Luther King Jr. Middle School. Waters is an authority on the locavore movement, which encourages the consumption of food that's produced within a 100-mile radius.
"It's an incredible program," said Mark Coplan, spokesman for the Berkeley Unified School District. "We don't use any frozen stuff at all. Even when you're looking at pizza, you're looking at really good stuff."
The comprehensive program, established in 1995, includes free daily breakfast for all students; two representatives from each elementary school class roll a red wagon piled high with nine-grain muffins or breakfast focaccia back to their classrooms. Each school boasts a salad bar and lunch menus featuring dishes such as pear-glazed pork chops with white beans.
But Coplan says the program was designed to ward off accusations of elitism.
"We didn't want something where people would say 'well, they have all that organic food in Berkeley.' We wanted this to be applicable to Tupelo, Mississippi."
Thus far, Boulder, Colorado, is the only city to have adopted the program pioneered by Berkeley's schools. Ann Cooper, who oversaw the initiative's development, is now heading the effort in Boulder.
"[Cooper] was the only person who had the courage to say, 'I don't care if kids like plastic cheese, we're not giving it to them'," Coplan said.
Still, Coplan suspects other schools will soon follow. Parents regularly visit Berkeley's dining facilities to gape at the rice bowl stations and tray-free, family-style service.
"They ask us how they can get this in their schools," Coplan said. "The answer is you can't if you don't have a board that believes in it."
A supportive school board helped pass a bond issue in 2000 and didn't flinch when the program failed inspection its first year, Coplan said. With fresh food, he said, it's harder to calculate the nutritional information mandated by state and federal guidelines.
"The state told us it would be easier to monitor if we used frozen food," Coplan said. "We said, 'Sorry. We know fresh is better.' "
The school system has since perfected its reporting of fat grams and carbohydrates, but other data concerning the program remains scarce. Coplan knows his colleagues line up to lunch at the high school's organic vegetable station, where produce comes garnished with organic dressings, but he can't point to any hard evidence that students are scoring better on tests or racking up better attendance records since they traded subs for spinach.
The program was created to reduce rates of obesity and diabetes, but the school system hasn't yet collected any information showing students are healthier.
"Our plan was actually to do blood tests, but people freak out at the idea of blood tests in school," Coplan said.
In a much-forwarded essay that appeared in The Atlantic earlier this year, social commentator Caitlin Flanagan criticized the Edible Schoolyard program for being built on a foundation of good intentions instead of hard facts.
"Until our kids have a decent chance at mastering the essential skills and knowledge that they will need to graduate from high school, we should devote every resource and every moment of their academic day to helping them realize that life-changing goal," she wrote, criticizing the planting and harvesting opportunities provided by the School Lunch Initiative and programs like it.
But Emily Jackson, Growing Minds director for the Appalachian Sustainable Agriculture Project, says fostering relationships between students and their food helps ensure a lifetime of healthy eating, a habit that's generally linked with high achievement. Jackson helps coordinate school gardens, farm field trips and cooking classes for students across Southern Appalachia.
"We have children associating positive experiences with healthy food," Jackson said. "They're going home and asking for broccoli. It's a rare parent who isn't going to want to do everything they can to get that kid broccoli."
The Senate's Healthy, Hunger-Free Kids Act of 2010 would earmark about $4.5 billion more for child nutrition programs over a 10 year period, which is less than the $10 billion increase President Obama asked for.