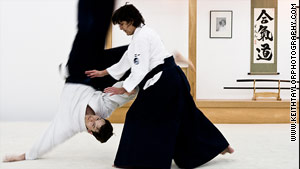 "Learning how to remain calm in the face of an attack helps me in everyday life," Bernath says.
STORY HIGHLIGHTS
Penny Bernath, a 6th degree black belt, says martial arts can help provide balance in life
Martial arts programs provide self-confidence and help overcome adversity, she says
Aikido helped her to work with, not against, her nonaggressive nature, she says

About the author: Penny Bernath, a 6th degree black belt, teaches the martial art of aikido. She is also an educator who created KidVisionVPK, an online teaching tool for teachers.
Fort Lauderdale, Florida (CNN) -- In the beginning, it was a secret. Inspired by a television program on abused women, I snuck out with my sister to find a martial arts school for myself. I had told my husband at the time that I was interested in finding a martial arts class.
"That's for men," my first husband said, "and you are not very physically active anyway." But I was 20 years old and inspired.
I later became frustrated with many martial arts and self-defense classes that I found. At the point of attack, the victim is taught to instantly transform into a crazed aggressor by kicking, striking and screaming.
This is unrealistic, particularly for a woman who isn't aggressive by nature. So I gravitated toward aikido, a defensive martial art that taught me to work with -- instead of against -- my nature. Aikido works by blending with an attack and redirecting it away.
Learning how to remain calm and centered in the face of an attack helps me just as much in my everyday life as it does in aikido.
Martial arts as a way to a balanced life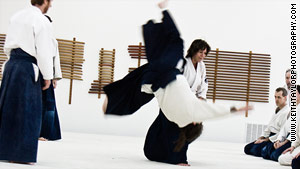 Trusting your partner is a key part of martial arts, Bernath says.
In aikido, practice requires two people who take turns attacking and defending. You learn on a very physical level to treat others as you would like to be treated. If someone is rough, you tend to be rough. If someone is easy, you are easy.
In life, a smile begets a smile.
With each new partner, you have to establish a relationship of trust, usually without speaking, often without knowing anything about that person or where he or she comes from.
Watch how you can deal with an attack
This exercise has helped me in my professional life as a mentor to teachers. When I walk into a classroom to observe a teacher, I generally don't know anything about her. It is best for me if she feels relaxed and does what she knows how to do. My part requires eye contact, body language and a positive, noninvasive presence.
Martial arts are both physically and mentally empowering, helping me as a mother, wife, professional and student. I am expected to accept responsibilities, resolve conflicts, and keep others safe. Understanding that my strength comes through maintaining control, I feel empowered that I can do so in daily life.
Overcoming adversity
Facing adversity is another lesson from martial arts. As the attacker, you must give a committed strike and then you have to trust your partner. You must stay centered and in control, yet at the same time let go and let the movement take you.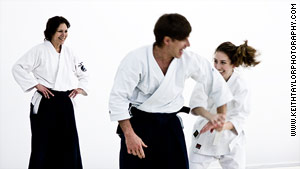 Martial arts teach self-defense, as well as how to deal with daily challenges, according to Bernath.
In aikido practice, as in life, you commit to an attack or plan of action, follow through, absorb the energy of others, and accept the consequences of the action with a positive learning attitude.
Knowing that I can take whatever comes my way at the dojo has made me able to accept and move on from personal disasters. I was laid off after 20 years of working my way up the ladder to an executive position at a private university.
It was devastating to lose not only my job, but my passion. I felt physically thrown on the mat, but I knew I had to get back up, just as I do every time I practice aikido.
When you fall down, you must get up and practice again with renewed insight. Eventually it led me to a new career that allowed me to continue to follow my passion by contributing to the overall good of preschool teachers, parents and children.
You must also learn how to deal with more than one attacker, which is called "randori" in aikido. During randori, the attackers come one right after the other. I must center myself, stay low to the ground, focus on the moment at hand, complete each technique, and try to create a synchronized energy with the group.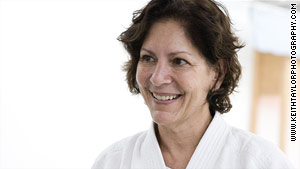 Bernath says she became inspired to learn martial arts after watching a show on abused women.
It is just like dealing with a hectic life. When my children were younger, my second husband, Peter, and I were busy growing our aikido dojo, practicing often and traveling all over the world to pursue our training. At the same time, we had to take my son to his all-star Little League baseball games and my daughter to her baton practice, which she did competitively.
I had all these things going on, and then I had to go back to work full time. Then I realized I wanted to go back to school. I did. My life was full, but I stayed centered and focused -- just like dealing with more than one attacker.
The connection between the lessons I continue to learn on the mat and conducting my daily life are extraordinary. Aikido has taught me how to be calm and centered though physical practice and to move confidently and follow through with ideas I believe in.
5 tips for choosing a martial arts program
• Make sure the location of the dojo, and the day and time of classes easily fit into your schedule.
• The school and its teaching staff should be credentialed with a larger organization.
• The style and form of the martial art should suit your personality.
• Find out whether the price fits your budget.
• Watch a class. Do you feel comfortable and welcome? Is there a positive relationship between the teacher and students? If not, you might want to find another program.