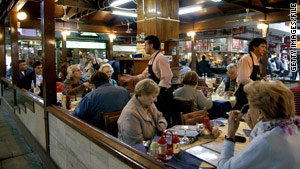 Loud music with a pumping bass can help restaurants turn tables quicker by making people chew faster.
STORY HIGHLIGHTS
Studies show people drink more, eat faster and leave sooner when music is louder
Diners seated at tables in the middle of the restaurant floor will eat faster
Warm colors such as red, orange and yellow stimulate the need to eat
(CNN) -- Next time you find yourself at a boisterous bistro shouting at your dinner companions over the plat du jour, it might be the result of a restaurant up-sell.
It turns out these not-so-good vibrations might be on purpose. Studies show people drink more, eat faster and leave sooner when the bass is thumping, so restaurants are bringing the noise.
Customers have been sounding off in recent years about the deafening volume level in restaurants.
Washington Post food critic, Tom Sietsema, has gone so far as to include the average decibel count into his restaurant reviews and former New York Times restaurant critic Frank Bruni famously docked chef Mario Batali's flagship restaurant Babbo one star for its ear-splitting rock soundtrack.
There is, he wrote, "Lou Reed and Moby, at a volume that rises around 10:30 p.m., as if patrons are being cued to chew faster."
"In the mid-1980s, researchers at Fairfield University demonstrated that people increased their rate of chewing by almost a third when listening to faster, louder music, accelerating from 3.83 bites a minute to 4.4 bites a minute," George Prochnik at The Daily Beast points out.
A 2008 study in France further found that when music decibels are amped up, men not only consumed more drinks but consumed them in less time.
But music isn't the only tactic restaurants sneakily employ to make customers eat and get out -- or even better, spend more cold hard cash.
Diners seated at tables in the middle of the floor, exposed to the hustle and bustle, will be less comfortable and will eat faster. The same goes for uncomfortable chairs; restaurant designers know if your derrière isn't snug, the less time it will spend parked.
Seeing is believing -- and spending. Catching a glimpse of food lets your senses take over your wallet; elaborate dessert trays, cheese carts and sizzling fajita platters tempt people to pay up for items they originally hadn't intended to buy.
Restaurants can color your appetite, too. Next time The Golden Arches call to you, blame it on the color scheme. Warm colors such as red, orange and yellow stimulate the need to eat.
"Bold, primary colors and bright lighting encourage turnover and are appropriate for quick-service and casual restaurants that depend on fast turnover," Regina S. Baraban and Joseph F. Durocher write in Successful Restaurant Design.
However, these tactics certainly aren't for every restaurant. Many dining rooms, especially those outside the casual eatery sector, encourage those to linger a little longer.
New York-based architect Andre Kikoski is a finalist for the James Beard Foundation 2010 Award for Outstanding Restaurant Design for The Wright, a fine dining restaurant at the Guggenheim Museum.
"They [the diners] need to be rewarded with an environment that does more than get them in and out quickly," Kikoski told CNN. "We have this particular goal that we are to an extent, a museum experience."
The contemporary restaurant design relies on a primarily white foundation, banquette with bold blue leather seating, soft lighting and calibrated colors for a "sense of calm, a sense of retreat, that lets you be in that moment."
Of course, there are others that are more up front with their turnover techniques.
On hectic nights, the reservationist at Salumeria Rosi Parmacotto in New York City will inform diners that they need the table back in 90 minutes for the next party.
If you lurk over your digestif too long, chef Cesare Casella will place your name on Salumeria's "no salami" list.
Take note dilly-dalliers: no salami for you.