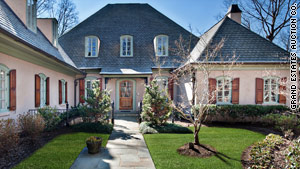 Some luxury homes on real estate markets for years can jump off the auction block in 15 minutes.
STORY HIGHLIGHTS
Those who can afford luxury homes are not shopping for them as much now
But luxury homeowners are finding they can sell houses on auction block
Qualified buyers preview property by appointment during days before auction
Sellers include private owners, hedge fund groups and banks
Atlanta, Georgia (CNN) -- If all goes well Tuesday, Andrew Perlmutter will sell his 9,000-square-foot home in an exclusive gated community outside Atlanta in less than 15 minutes.
The three little words that will seal the deal?
"Going, going, gone."
Perlmutter is part of an increasing number of luxury homeowners choosing to forgo the traditional Multiple Listing Service, months of walk-throughs and back-and-forth deals with real estate agents, instead letting an auction house do all the work in selling their homes.
Sales of residential real estate at auction grew by more than 47 percent from 2003 to 2008, according to the National Auctioneers Association.
"While auctioneers have existed for over 2,000 years ... consumers today are growing more and more familiar with everyday auctions due to the popularity of websites like eBay, and the fact the speed, transparency and the ability to set your price points at an auction meets the needs of today's buyers and sellers," said Chris Longly, the group's deputy executive director.
Grand Estates Auction Co. has seen its business increase and evolve in the past two years as homeowners looking to sell are forced to adjust to the sluggish housing market.
The Charlotte, North Carolina-based company specializes in absolute auctions, which require no set starting bid and award multimillion-dollar homes to the highest bidder.
And unlike some real estate auctions, Perlmutter's home isn't in foreclosure or distress. Perlmutter, 50, and his wife are typical multiproperty-owning clients who are looking to make a lifestyle change upon becoming empty-nesters.
"As much as we love the house, do we really need a 9,000-square-foot home in Atlanta in addition to a 4,500-square-foot home on the ocean in Massachusetts?" asked Perlmutter, a business development consultant. "The truth is, we don't."
Stacy Kirk founded Grand Estates in 1999 with her mother, who, at the time, was trying to sell her own luxury home on Lake Norman, about 20 miles north of Charlotte.
Kirk says her parents were growing increasingly frustrated with trying to sell their home using the conventional listing method, experiencing "unqualified showings, canceled showings and a long period of time that it was listed."
They got the idea for their company at a fine arts auction.
"Just like they would sell a Monet or Renoir painting at auction or a $50,000 bottle of wine, why couldn't a multimillion-dollar home be sold at auction?" Kirk and her mother reasoned.
Grand Estates has sold hundreds of homes in the $1.5 million to $10 million range at absolute auctions in some of the country's most exclusive resort areas: Aspen, Colorado; Palm Beach, Florida; Nantucket, Massachusetts; Charleston, South Carolina; and La Jolla, California, among others.
Real estate expert Barbara Corcoran says that though real estate auctions have been growing in recent years, "the new part of the trend is that it's inching toward the luxury market."
Previously, luxury homeowners were the "least likely of homeowners who would go to auction," said Corcoran, the founder and former CEO of the Corcoran Group, a leading New York real estate firm. "There was a stigma of desperation associated with it, and rich people hate desperation."
But within the past year, Kirk's client list has grown to include hedge fund companies and banks working with sellers in lieu of foreclosure, something she doesn't expect to continue once the housing market recovers.
And the number of private sellers Grand Estates has represented has grown, too, from 15 in 2005 to 25 in 2009.
Corcoran calls luxury absolute auctions a "more highbrow version" of the bidding that used to be done on the steps of courthouses.
Today's luxury auctions just have "more expensive rental chairs and auctioneers with English or Australian accents," Corcoran said with a laugh, adding that bidders "dress up to go because they want to measure up to the new McMansion they're getting."
But Corcoran acknowledges today's appeal of the auction. "An auction is perfectly suited for a down market with an oversupply of houses and buyers who are hesitant to purchase," she said.
At an event this month, Grand Estates sold a seven-bedroom waterfront home on Georgia's Lake Oconee for $1.83 million, the most successful sale for a multimillion-dollar home in the area since 2007, according to listing records.
A week earlier, the company sold for $1.72 million a Charleston home that had languished on the market for four years under two different real estate firms without a single offer.
Such success is typically the norm at auction, according to Corcoran, who says "nothing is more sexy or attractive to a buyer than other people who want the same thing."
Perlmutter, who followed previous Grand Estates auctions before choosing the company to sell his house, said he expects similar success Tuesday.
He said the company's aggressive marketing campaign for the auction, which has included billboards, thousands of brochures and ads in major publications, has garnered nearly 150 phone calls from interested buyers.
"Today, the real estate agents aren't doing much marketing," said Perlmutter, whose home was listed for nearly a year before he sought Grand Estates' services. "We live in a gated community, so there are no drive-bys and no street signs to attract homebuyers. Most [real estate agents] are just putting homes on MLS and hoping that generates the traffic.
"Being a die-hard business guy, I'm a big believer that you need to motivate the marketplace to come to you."
Former Coca-Cola Chief Executive Officer John Alm, who is also using Grand Estates to sell his penthouse condominium in Atlanta's upscale Buckhead neighborhood Tuesday, agrees with Perlmutter.
"When you have a property like this in the kind of market we are in, you've got to do something different to stand out," he said.
The process starts with the marketing campaign. Qualified buyers are able to preview a property by appointment starting five days before the auction.
If interested, registered bidders are required to submit a refundable cashier's or certified check before the auction: $25,000 for Alm's Buckhead condo and $50,000 for Perlmutter's Alpharetta home.
And on auction day, potential buyers must be prepared to write a check for the remainder of the 10 percent deposit should they have the winning bid.
"We all have in our own minds what something is worth," Kirk said. "Whether it be a family painting or a property or an antique chest of drawers, we all assign a different value to that, and may the person who's willing to pay the most money win."