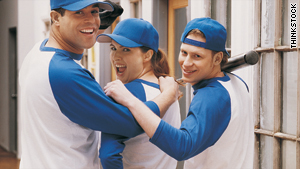 Some women have decided to let men in on some secrets.
STORY HIGHLIGHTS
Women answer the question of what men may not know about them
Asking questions about me tells me you're interested and makes me super secure
"One of the most fun parts about being a woman is that we get to wear cute shoes!"
Says another: "I'm a woman and I love sports -- I have since I was a kid."
(The Frisky) -- We asked women what men don't know about women.
Here are 12 things men (maybe) don't know about their opposite sex.
1. "It's fun to play the damsel in distress sometimes. I love how proud you get when you squash a spider or open that impossible jar."
-- Jenna, 21
2. "I love big hands on men. I love the dimples on the small of their backs. If I am in love with them, I think they are the sexiest thing I have ever seen. I love it when they are manly and when they cry. A man who can make good eggs will make me fall in love with him."
-- Ashley, 30
The Frisky: 11 reasons why women won't call you back
3. "When asked if we are okay and we say, 'I'm fine,' we're lying! Truth is we are not fine but we rather keep the peace or want the guy to just automatically sense something is wrong. Yes, we expect men to be mind readers."
-- Crystal, 27
4. "One of the most fun parts about being a woman is that we get to wear cute shoes!"
-- Kim, 26
The Frisky: "Bachelorette" Ali's 6 steps make men fall in love
5. "Ask me questions ...about my job, my day, my favorite vacation, my family, my beliefs. It tells me that you're interested and invested and makes me feel super secure in your feelings for me."
-- Lynn, 29
6. "We girls are strong. We can handle anything our 'crazy' friends and families throw at us, we can give birth and handle three days worth of cramps. But every once in a while, we like to be taken care of. So please, guys, lift the heavy stuff for us, OK?"
--Trish, 26
The Frisky: 10 signs your new fling is doomed
7. "Not all women get PMS. I'm the exact same before my period, on it and after it."
-- Sara, 28
8. "If you're only looking for 'action,' don't ask us for a relationship. Be upfront -- if we say no, it would have ended unhappily anyway and you'd be better off finding someone who is looking for the same thing you are."
-- Danica
The Frisky: 10 signs he IS just that into you
9. "Girls love the little gestures just as much as the big ones, if not more."
-- Ashley, 23
10. "Women nickname all their guys! Every single guy I've dated (and there's been lots) has a nickname: Quickie Burger, Ice Cream Guy, Shorty, Beefy Italian, Abs Guy, Latin Lover, Mr. King, Leafs Guy, The Candidate. It's just a way to talk to your girlfriends so they can keep everyone straight."
-- Sara, 28
11. "We know it seems unfair that we use femininity to get stuff guys can't, but there's a lot of things that are unfair in your favor. Give us this one."
-- Sonia, 27
12. "I'm a woman and I love sports -- I have since I was a kid. I have NEVER pretended to like sports to get a guy to like me. I can sit with my best female friends and talk celebrity gossip, fashion, and relationships, and I can turn around and talk NHL, NFL, and MLB records, standings, and stats with my guy friends, and I'm proud of it!"
-- Alexis, 27
The Frisky: Is monogamy optional for a good relationship?
TM & © 2010 TMV, Inc. | All Rights Reserved