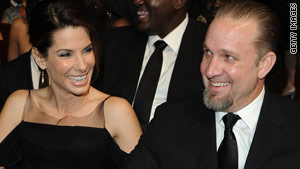 Men's earning power may be a factor in whether they stay faithful, a new study finds.
STORY HIGHLIGHTS
Men financially dependent on women are more likely to cheat, study finds
Author: Top-earning women may threaten the male's traditional view of being breadwinner
Women financially dependent on men are less likely to cheat, survey finds
But men earning a lot more than wives or girlfriends are also more likely to cheat, study says
Atlanta, Georgia (CNN) -- A clue to why Jesse James cheated on Sandra Bullock may be found in a new study that says men are more likely to cheat on women who earn more money than them.
Men who are completely economically dependent on their female partners are five times more likely to cheat than men in relationships with women who earned similar amounts, according to the the study's author, Christin Munsch, a sociology Ph.D. candidate at Cornell University.
Women making more money than men may threaten the male's traditional view of being the breadwinner, says Munsch.
Bullock earned an estimated $56 million last year, making her the top-earning actress in Hollywood, Forbes magazine reported.

Video: Sandra Bullock's ex dating again?
Munsch explained there are several variables that may cause a man to cheat on a female partner who makes more money.
"For example, it may be that men who make less money than their partners are more unhappy and cheat because they are unhappy, not necessarily because they make less money," Munsch said.
But tipping the financial scales too far in the other direction doesn't make men more likely to be faithful.
A man who makes significantly more money than his girlfriend or wife is also more likely to cheat because the job or position he works may require long work hours and travel. Those factors could create an easier environment for cheating, the study suggests.
However, dependence on men does apparently make women more likely to be faithful.
The study found that women who depended on their male partners for money were half as likely to cheat as women who made the same amount as their male partner.
"For women, making less money than a male partner is not threatening, it is the status quo," Munsch said. "More importantly, economically dependent women may encounter fewer opportunities to cheat, and they may make a calculated decision that cheating just isn't worth it. If they get caught, their livelihood is at risk."
So what financial situation would make men more likely to be faithful?
Men in relationships with women who made about 75 percent of the men's income were the least likely to cheat, said the study, which was released at the American Sociological Association's 105th annual meeting in Atlanta, Georgia.
The study, "The Effect of Relative Income Disparity on Infidelity for Men and Women," examined married and cohabitating people between the ages of 18 and 28, who were in the relationship for more than a year. The study uses data from the 2002 through 2007 waves of the National Longitudinal Survey of Youth.
Munsch points out that in the overall study, very few couples surveyed had experienced cheating during the six-year period studied. Only an average of 3.8 percent of male partners and 1.4 percent of female partners cheated during that period.
FOLLOW THIS TOPIC