Love makes teen sex less academically harmful, study says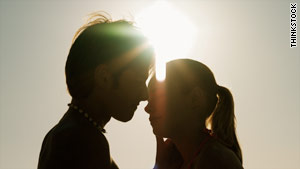 Study: Sexually active teens in a committed relationship are less likely to be negatively affected in school.
STORY HIGHLIGHTS
The context of teen sex can determine the effect it has on a student's education
Study: Teens in romantic sexual relationships have similar school experience to virgins
Teens who have nonromantic sex have greater chance of expulsion or dropping out
Atlanta, Georgia (CNN) -- Sexually active teens may face less academic risk if the sex is taking place within a romantic and committed relationship, according to a new study.
The authors say students who have sex only with romantic partners have generally similar academic outcomes as students who abstain from sex.
But students who describe their sexual activity in terms of "hook-ups," "friends with benefits" or "bed buddies" are more likely to suffer a negative impact on their education.
These student are more likely to experience problems in school, being suspended or expelled, being less likely to aspire to or expect to attend college, being less attached to school and more likely to earn lower grades, the study said.

Video: 'Romantic sex' and grades
The study by Bill McCarthy of the University of California and Eric Grodsky of the University of Minnesota was presented at the American Sociological Association's annual meeting this week in Atlanta, Georgia.
If female students report having only nonromantic sexual relationships, they are likely to miss twice as many days of school as virgins and they are 96 percent more likely to face suspension or expulsion, the study said.
Male students who report having only nonromantic sex are 30 percent less likely to aspire to or expect to attend college. They also face a 200 percent greater chance of being expelled or suspended than do male students who are virgins.
Females who report having both romantic and nonromantic sexual relationships have a 55 percent greater risk of truancy, 30 percent lower chance of hoping to attend college and 300 percent greater chance of dropping out.
But the study said the dropout rate should be viewed with caution because of the small numbers in some of the relationship categories. Twenty-three female dropouts reported to be in exclusively nonromantic relationships; 31 female dropouts said they were sexually involved only in a romantic relationship; and 40 female dropouts reported they were virgins.
Males who reported having both romantic and nonromantic sexual relationships have a 120 percent greater chance of being truant and 270 percent greater chance of dropping out.
Negative impacts of sexual activity are not necessarily more pronounced for females or younger adolescents, the researchers found. In fact, males suffered a more consistent negative impact on their educational experience if they had sex in nonromantic relationships.
The study involved data from the "National Longitudinal Study of Adolescent Health" and the "Adolescent Health Academic Achievement Study."
The authors said their findings raise some doubts about abstinence-only education programs that link all types of adolescent sex to a wide variety of problems for teens.
FOLLOW THIS TOPIC