Paper or plastic? How to pay for the holidays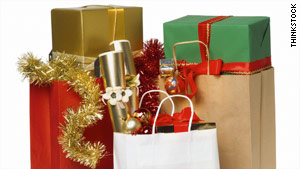 Be careful how you buy your gifts this year, experts say.
STORY HIGHLIGHTS
CNN's Christine Romans offers expert tips on how to pay for holiday shopping
If you're already carrying a credit card balance, don't charge holiday gifts
It's hard to spend more than you've budgeted if you spend only the cash in your pocket
Debit cards without overdraft protection will be rejected when you hit your limit
Editor's note: Christine Romans is anchor of CNN's "Your $$$$$" and author of the new book "Smart Is the New Rich" (Wiley).
Are you filling Santa's bag this year using paper or plastic?
Millions of Americans will trim the tree this year with a credit card balance still left over from last year.
Don't let this be you. It virtually guarantees you aren't saving enough to protect against the many uncertainties in the economy. And chances are, if you're charging up your credit cards, you also aren't investing enough in your retirement and education funds to make sure the future is secure.
So when weighing paper or plastic this holiday season, consider carefully.
Cash
Personal finance expert Lynnette Khalfani-Cox advises paper. "It's definitely more difficult to spend those cold hard dollars when you have to earn them as opposed to whipping out your Visa or your Mastercard," she says. "And it will definitely decrease your tendency to overspend or to splurge or to get yourself in debt."
It's hard to spend more than you've budgeted when you have only a set amount of money in your pocket.
Debit card
If cash is too old-school for you, a debit card can help you manage your spending. Do not sign up for overdraft protection on the card. If you hit your limit at the mall, the card will be rejected.
A debit card, for many, is the same as cash. A recent survey by the National Foundation for Credit Counseling found a whopping 70 percent of consumers plan to use cash or a debit card to pay for their holiday purchases this year.
Credit card
Not everyone has to banish the credit card. For diligent savers who follow a budget, buy with a credit card and pay the bill in full when it comes.
"This is one of the best financial moves a consumer can make," says Gail Cunningham of the National Foundation for Credit Counseling. "You get to buy now and pay later, build a positive credit history which results in a high credit score, and never pay a cent of interest."
But if you already have credit card balances, this is not for you. You cannot afford to spend more for the holidays, period.
Consider this awful math. The average family spent more than $650 last year on holiday gifts, decorations and food. Put that all on a credit card and spend the year paying it off, and the real costs of the holidays is $722. (That's assuming no late fees or charges -- just 20 percent interest.)
"Adding new debt to old is never smart, and with double-digit interest rates, debt can become unmanageable seemingly overnight," Cunningham says.
Spend now, pay later
Say you're a good saver with six months of your living expenses tucked away for a rainy day, but you don't want to dip into that savings to pay for holiday gifts. You plan to charge your holiday spending and pay it off over time rather than dip into the rainy-day fund. In that case, be brutally honest with yourself about when you can possibly pay it back. Set a holiday budget and stick to it. Never buy any consumer good you can't pay off in the next three months.
If you can't pay it off in three months, then you can't really afford it. So put it down.
FOLLOW THIS TOPIC


Part of complete coverage on

Whether it's a surprise White Elephant party or a co-worker's overzealous gift-giving spree -- here's tips for gift shortages.

What would truly delight the geek in your life? It's nearly impossible to know if you don't share his or her peculiar tastes.

There's no reason why we can't have cultivated, old-timey holiday rituals and flourishes today as well.

Imagine the joy on a sports fan's face as he opens his gift on Christmas. We'll help you sort through the many sites that sell sports items

If you want to feel twice as nice about holiday gift giving, try donating to a charity. Here is CNN's charitable gift guide with fun, practical presents>

While your kid might not be coding just yet, it's not too soon to get him or her a tech-driven gift.

You probably know some people looking for work, and you may want to pay a little extra attention to what you buy them.

Cutting back on gifts when you've been extravagant in the past isn't always easy. Our gift-giving experts offer some help.


Today's five most popular stories