STORY HIGHLIGHTS
Chris Hrubesh says trading his car for a bike was one of the best decisions he's ever made
Hrubesh gets around Atlanta by cycling and taking public transport
He estimates he saves between $300 and $500 per month by not owning a car
Atlanta, Georgia (CNN) -- Traffic congestion and headaches, as well as car maintenance, high gas prices and insurance bills bog down many city commuters.
I live in Atlanta, a city where the average commuter wastes 57 hours a year in rush-hour delays, making it the third worst large city for congestion in the country, according to a 2009 report from Texas A&M.
However, my commute is probably easier than most, since I live just a short distance to work and am able to avoid traffic pile-ups and stress.
My commute hasn't always been easy. For years, I drove more than 20 miles to work, often in grueling conditions from my home in the suburbs to downtown Atlanta.
Now, my five-minute journey starts from my downtown loft which I bought four years ago and is stress-free and relaxing.
Each morning, my trek includes a walk down three flights of stairs, where I grab my handmade bamboo bicycle and enter the city streets with my helmet fastened and secured.
My commute to CNN, where I work as a senior video editor, allows me the opportunity to get some exercise as I marvel at the crescent moon and inhale the fresh early morning air, while my neighbors are still asleep.
I took this plunge I had dreamed of for decades, to be car free, more than a year ago.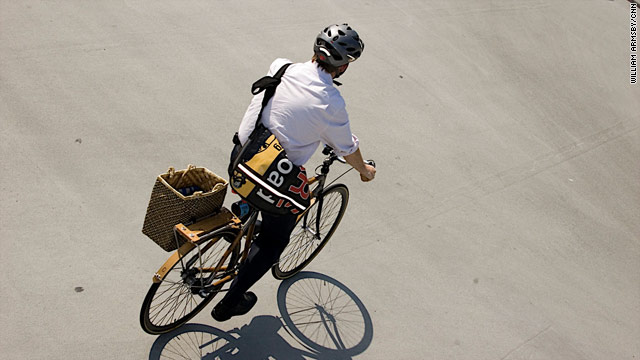 Gallery: Living car-free in a car-crazed city
I had been trying to reduce my carbon footprint for years by recycling, conserving energy at home and planting trees around town with a local non-profit organization, "Trees Atlanta."
My beloved German sports car was my last hold-out on my journey toward a "green" lifestyle. I often thought, how could I give up my car in a city with minimal mass transit and an area that encompasses 131 square miles? I eventually realized it was possible.
I lived in Atlanta's suburbs for 18 years and drove along congested highways and roads, as most of my neighbors did. This lifestyle over time was no longer satisfying to me and I wanted a change. I wanted more time away from traffic where I could instead enjoy a leisurely walk to trendy cafes, art galleries and other city life amenities.
Most importantly, I wanted to ride or walk to work and ditch my car for good. Between repairs, insurance, taxes and gas, my ultimate driving machine was costing $3,000 to $4,000 a year to drive and was bogging me down.
My first big change toward "greener" living was my purchase of an early 1900s loft less than a mile from CNN.
Ditching my automobile has been one of the best decisions I have ever made, despite some of the challenges.
--Chris Hrubesh
I exchanged my coveted parking spot at work for a free gym membership and five monthly round-trip passes on Atlanta's mass transit system. CNN gives this, as well as other perks, to employees who walk or ride a bike to work. To me, this deal was a "no brainer" and I took the bait.
I need access to Atlanta's sprawling surroundings or other places from time to time, and I have a four-part plan to execute this: public transportation, Zipcar (a car rental company in many large cities in the United States and UK that lets you rent by the hour), weekly car rentals for summer vacations and my trusty bike.
Like a "General Petraeus wannabe," I have to carefully execute my journeys across Atlanta's hostile roadways -- Georgia was recently ranked 35th out of 50 states for "bike friendliness" by the League of American Bicyclists.
If I determine a route is too far or dangerous for a bicycle, I rent an hourly hybrid Zipcar which includes gas and insurance coverage.
I take MARTA, Atlanta's train system, to several destinations, usually with my bike in tow. This allows me to travel to places on my bicycle that might be hard to otherwise reach.
My greatest challenge in my "green" lifestyle occurs when my 10-year-old son, Chris Jr., visits me during the summertime and holidays. We spend six weeks together and have a lot of time to fill. Bike riding and mass transit greatly limits our ability to roam, so I rent a car to allow us flexibility.
We spend some of our time riding bikes along Atlanta's city streets, too. I know it's not always fun for him but I want to instill the benefits of riding and walking as an alternative to driving a car in traffic.
Before each ride, we go over road safety rules, double check the air in his tires, test his brakes and make sure his helmet is buckled up properly.
I always tell him, "Let's have a good, safe ride."
Ditching my automobile has been one of the best decisions I have ever made, despite some of the challenges.
Without a car payment, insurance, gas or maintenance, I save at least $300 to $500 a month, even after I factor in car rentals and bike maintenance.
I have lost and kept off 10 pounds of weight since I made my lifestyle switch and I have made many new friends that choose to pedal instead of drive.
I plan to live without a car until I find the perfect hybrid, electric or fuel cell vehicle that won't break my bank account. Once I make that purchase, I still plan to ride my sleek wooden bike to and from work.
FOLLOW THIS TOPIC