STORY HIGHLIGHTS
USDA: About 50 million Americans live in food insecure households

Food banks across the country are experiencing an uptick in demand

A growing number of food insecure people are college-educated and middle-class

Families have to make tough decisions between paying the bills and buying dinner
Lawrenceville, Georgia (CNN) -- Come Christmas dinner, Rolanda McCarty, a 36-year-old single mother, usually goes all out.
Her table last year featured a rosemary-and-oil rubbed turkey and a sweet ham. She prepared fresh collard greens according to her grandmother's recipe. The dessert -- a rich butter pound cake -- was made from scratch.
But after being laid off from her technical recruiting job in January because of the struggling economy, there will be no fancy holiday feast, no family members pouring into her downsized one-bedroom apartment. She will rely on what she has: canned vegetables and microwavable meals from her community food bank.
"It was a little bit embarrassing," said McCarty of accessing the food pantry at the Lawrenceville Cooperative Ministry for the first time last month. "But you know, I have to do what I have to do to survive."
It is perhaps around the holidays, a period of celebration often centered on food, when there is no clearer reminder for many once middle-class families of what life used to taste like. McCarty, who is college educated and served in the Air Force for four years, describes herself as "an independent person," who earned $38,000 a year before the economy took a turn.
But McCarty, along with millions of others, represents a growing group of middle- and working-class individuals who are "food insecure," which means they have difficulty feeding one or more of their household members at some point last year because of a lack of money.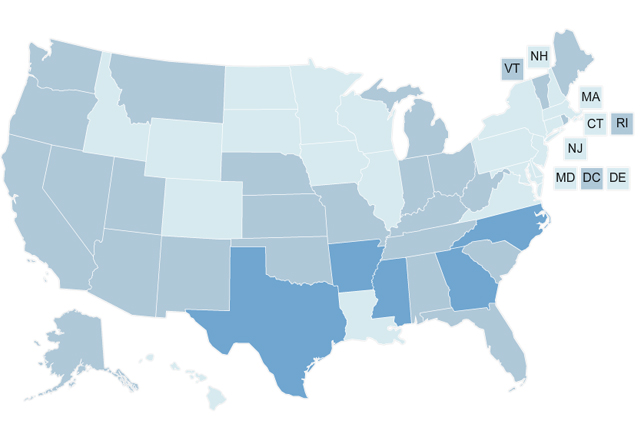 Prevalence of food insecurity by state
More than 50 million Americans were living in a food insecure home at some point in 2009, including 17 million children, according to the U.S. Department of Agriculture. That amounts to one out of six Americans, the highest the government has reported in the last 15 years.
In contrast, before the recession in 2006, 36 million people lived in a food insecure household.
With unemployment near 10 percent and foreclosures ongoing, more Americans are relying on food banks, institutions that are usually regarded as a last resort, food security experts said. Feeding America, an organization of more than 200 U.S. food banks, fed 37 million Americans in 2009, nearly a 50 percent jump from 2006.
These families face a never-ending treadmill of tough decisions. Do they use their income -- if they have one -- to pay their mortgage or feed themselves? Do they pay for a hospital visit or put dinner on the table?
McCarty said she exhausted the ways to save money before seeking free food. She withdrew her 4-year-old daughter from day care. She cooks on alternate days to cut down on her gas bill. Her sister, who is employed, will buy her daughter's Christmas gifts.
"Six year ago, when I started working here, I saw the cliche. There were people entrenched in poverty," said Ross Fraser, spokesman for the nonprofit Feeding America. "Well, that's changing. You have more and more people who have college degrees, who have become unemployed or underemployed."
The new hungry: Educated and middle class
Stories of the new hungry are flooding food banks across the country.
You have more and more people who have college degrees, who have become unemployed or underemployed.
--Ross Fraser, spokesman for Feeding America
In Los Angeles, a teacher who lost an after-school coaching job because of school budget cuts found the pay reduction was too much. He turned to a food pantry to support his children, Fraser said.
A working professional in New York, who lost his job earlier this year, believed his eight months of emergency funds would be sufficient until he found a job. When his funds dwindled faster than expected, he sought handouts at a food bank, a food bank worker said.
Feeding America said 36 percent of the people who get food from its soup kitchens and pantries have at least one employed person in their household. While rural and urban areas continue to require the most assistance, several food bank workers say the need in suburban areas has risen more quickly.
"The recession may technically be over according to the economists, but the people who run our food pantry soup kitchens or shelters, they aren't seeing it or feeling it," said Stacy Wong, a spokeswoman at The Greater Boston Food Bank. Wong said the agency has served 545,200 people in 2010. In 2006, it served 417,950 people.
Food bank workers point out those who are are unemployed must worry about whether their benefits will expire. And, the winter school holidays add to the woes of families in financial despair. Many parents will need to find alternative ways to provide breakfasts and lunches.
Food banks said they are quickly stocking their shelves for the many newcomers they expect.
'A shopping cart and The Sunday Times'
In New York, the most expensive city in the country, the food banks are seeing an unprecedented number of new clients. Food Bank for New York City reported about 90 percent of food banks are seeing new families.
Carlos Rodriguez, vice president of agency relations and benefit access, said some of the food pantries have experienced higher anxiety levels from customers.
"The volunteers and the staff have always been very aware of dealing with this kind of reality that can be very sudden for a family," Rodriguez said.
Rosalinde Block, 58, of New York is a musician and author who spent almost 30 years teaching piano lessons. She lost many of her clients during the recession. Despite her degree from Sarah Lawrence College and her teaching experience, she found herself out of work and unable to provide for her teenage son.
"It was weird," said Block, who in better economic times often donated canned goods or volunteered at homeless shelters. "Here I was standing on 116th Street in Harlem with a shopping cart and reading the Sunday Times."
It was weird. Here I was standing on 116th Street in Harlem with a shopping cart and reading the Sunday Times.
--Rosalinde Block, single mother
Block said she found small ways to lessen the harsh reality that her family must depend on free food. Sometimes, she stuffs the generic cereal into brand-name boxes so her son won't notice.
Stephen J. Scanlan, a professor at Ohio University who teaches a course on domestic hunger, said malnourishment can have detrimental health effects on families. He said children who do not get enough food often perform worse in school than those who are well fed.
"Certainly, there are psychological and emotional consequences when a father or mother struggles to feed their kids," Scanlan said. "It's depressing for them. It's not something someone ever wants to deal with."
Higher demands challenge supply
Even though food banks are finding more hungry mouths, some are concerned with how they will continue to keep up with the demand as private food companies make their own cutbacks.
The Greater Chicago Food Depository relies on private corporations for half its donations, said spokesman Bob Dolgan.
The food bank typically takes items that are unwanted because of erroneous packaging or overproduction. However, the economy has forced some donor companies to close and others to improve their supply chain techniques.
Yet the demand for free food continues to rise, Dolgan said. This year, the group served 678,000 people in Cook County, marking an increase from 500,000 people three years ago.
The Atlanta Community Food Bank, which serves the area where the unemployed McCarty lives, is also experiencing a 30 percent uptick in demand.
"Anything that's coming in they are grabbing," said Rob Johnson, chief operating officer.
FOLLOW THIS TOPIC