Eat, drink for less with online deals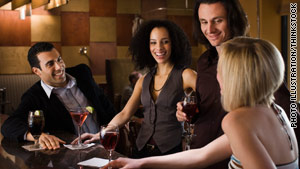 Dining and drinking is even more fun if you're not paying full price because of online deals.
STORY HIGHLIGHTS
Coupon clippers are migrating from print to websites for their deals
Some sites offer newsletters, Twitter feeds on latest price breaks
Restaurant reservation site offers reward system of points
One Foursquare bar offers free drinks to site "mayor"
(CNN) -- In these economically challenging times, consumers are actively on the hunt for deals. And coupon clippers are hungrily turning toward the Web for savings while dining.
There is an emerging genre of websites that connect individuals with deals that will, in theory, give customers an extra nudge toward the doors of the local bars and restaurants that they used to frequent in better times.
As saving becomes the new spending, eating and drinking establishments are learning to cater to the discount devotees of the digital age. After all, a reduced-price customer is better than no customer at all.
One such site, BlackboardEats.com, delivers, via its website and an e-mail newsletter, deals for restaurants handpicked by former food editors. Those deals may include prix fixe discounts, tasting events, dinners and more.
BlackboardEats.com was launched in Los Angeles, California, by Maggie Nemser, former Yahoo! food editor, and recently expanded to New York with former Gourmet travel editor Bill Sertl at the helm.
"When I was the editor at Yahoo! Food, my inbox would be filled daily with these amazing restaurant deals. I wanted to share these offers with readers, only it didn't fit with our usual content, and so my hands were tied. I knew there was a market for the 'best of' the offers, and I wanted to create a space where we could showcase them," Nemser told CNN.
OpenTable, the world's most popular website for making restaurant reservations online, issues points to a customer's account when restaurant reservations are made and honored through its system.
Once enough dining reward points are accumulated, OpenTable issues dining checks of $20, $50 and $100 denominations that can be used at any OpenTable restaurant nationwide.
Restaurants are even turning to social networking sites like Twitter, Facebook and Foursquare to entice the craving, money-conscious consumer. McDonald's has hired its first social media chief, and the B.R. Guest family of restaurants -- which includes Dos Caminos, Wildwood BBQ and others -- offers more than a dozen Twitter feeds for deal-seeking, tech-savvy diners to follow.
A Foursquare check-in at David Burke's Primehouse in Chicago, Illinois, earns a complimentary appetizer. And at the Broken Record whiskey bar and grill in San Francisco, California, the Foursquare mayor -- the person who digitally "checks in" most frequently via mobile applications -- gets a free shot of Jameson or Jack Daniels whiskey.
And all the penny-pinching tactics seem to be helping the previously suffering restaurant industry. According to a report out last week by Nation's Restaurant News, analysts expect the majority of restaurants to beat earnings expectations for the first quarter of 2010, proving that just because people tighten their wallets, they don't have to tighten their belts, too.