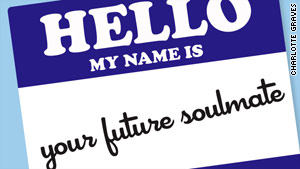 You have to put in work to find the love of your life and it's best to take the job seriously, says matchmaker.
STORY HIGHLIGHTS
Rachel Greenwald says your true love won't show up on your doorstep
Dating coach says you have to go out and look for them
She says to use Facebook, Twitter and your married friends as sources
Says there is no shame in hiring a dating coach
(The Frisky) -- Matchmaker and dating coach Rachel Greenwald is responsible for 750 marriages, and she doesn't believe you will find the love of your life by waiting for him/her to spontaneously appear in line at the grocery store or sit next to you on the subway.
Darn. There goes my approach.
This Harvard M.B.A. and New York Times best-selling author advocates a better way -- being proactive and approaching your dating life like a job search.
Sure, there has to be an intersection of luck, timing, and opportunity, to find love," she says, "But you increase your odds when you do something about it. If you have a strategic organized plan, something will come through faster."
So, uh, what should this plan be? Her new book, "Have Him at Hello: Confessions from 1,000 Guys About What Makes Them Fall in Love ... Or Never Call Back," just hit bookstores and has some ingenious ideas for us.
I had the opportunity to chat with Rachel and get a singles state of the union. Here's eight interesting tips I learned.
The Frisky: Online dating is making me depressed
1. The "no effort mentality" is crazy. We are officially the instant gratification dating generation. If love doesn't happen instantly, we're out of there. But anything worth having takes work. Rachel points out that we are willing to put effort into other things in our lives -- our careers, our friendships, our hobbies, our living space --but we expect our love lives to come effortlessly. "You wouldn't expect to be a CEO in five seconds," Rachel points out.
2. It takes a village to find Mr. or Mrs. Right. An important step in working on your love life is letting people know that you're looking. A lot of us are embarrassed to reach out for help when it comes to finding love. We think it seems desperate to admit that we would like to find someone to spend the rest of our lives with. I'm totally not talking about myself, by the way.
"The stigma is all in your head," says Rachel. "That's like someone saying 'I'm unemployed but too embarrassed to find a job.'" Rachel suggests thinking of all the people in our lives as possible networking opportunities.
The Frisky: I slept with your husband and here's why
3. Stop asking "Where?" Ask "How?" Asking a friend, co-worker, family member, or acquaintance where you can meet a great guy is a dead-end question. When you mention in casual conversation to your "village" that you are looking to meet someone this year, ask "how." That way you are enlisting them in your search. "How?" is a far more proactive and empowering question. It implies suggestions and solutions.
4. Get online. There's no stigma about dating online anymore -- one-fourth of the people who got married last year met online. So, if you don't already have a rocking online profile ... make one. But Rachel also recommends Twitter as an alternative source.
"Why not throw a Twitter party?" she suggests. "Send out a tweet to your friends and tell them that you're having happy hour drinks on Friday at your favorite bar. Tell them to bring friends."
Rachel's also a big fan of Meetup.com. "It's much more sophisticated then it was a few years ago," she says. You can search something like "Singles, New York, film lovers," and find groups that meet in your area. You can even click through the groups and see mini-profiles and pictures of the members.
5. Don't forget about Facebook! One-third of married people met through introductions by friends. Following that logic, Facebook may be our single most underused resource.
"Treat Facebook like an online dating profile," says Rachel. "Take it seriously. If a guy sees a bad photo of you on Facebook or weird things on your profile, he may not give you a chance."
Rachel suggests crafting the image you want to project on Facebook. "Pick five words that represent you and make sure your Facebook profile reflects those five words," she says.
Once you're satisfied with your profile, she suggested playing a game she calls "I Spy a Facebook Guy." Here's how it works: Give yourself 10 days to cruise around your friends' Facebook pages and find 50 guys that you think are interesting. Then scope out their profiles and write them a message. Hey, you already know someone in common.
6. Married people are a great resource. They know a thing or two about relationships, but more importantly, they know other single people who are marriage-minded. Plus, they're much more eager to see you settle down than your single friends.
The Frisky: Why women should ask men out on dates
7. You may have tried it all, but have you tried it well? Trying something once or twice isn't enough.
"Doing online dating with a bad profile picture or going to a singles event and leaving after you scanned the room once is like looking for a job with a poorly written resume or applying for a sales job [when] you're an accountant," says Rachel. Instead, take a look at what you've been trying and how, and think of ways to do it better.
8. It's OK to outsource. How do we know what we're doing wrong in our dating lives? Rachel says that there's no shame in hiring a dating coach. Hey, we have personal trainers, therapists, and head hunters. Outsourcing is part of our culture -- yet we feel we can tackle the dating thing on our own. Why?
OK, I'm sold. I will definitely be trying out some of this advice.
The Frisky: 5 reasons why moving is good for you
TM & © 2010 TMV, Inc. | All Rights Reserved