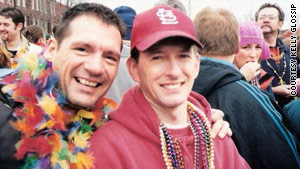 Kelly Glossip and Dennis Engelhard attend a Mardi Gras festival in St. Louis, Missouri, in 2007.
STORY HIGHLIGHTS
Report: Elderly gays tend to be poorer, sicker, more alone than straight people
Discrimination led to thinner paychecks, limited health care, smaller pensions
Stigma keeps lesbian, gay, bisexual and transgender people out of retirement homes
Surviving same-sex spouses may not get typical pensions or benefits
(CNN) -- Last Christmas, Missouri State Highway Patrol Cpl. Dennis Engelhard was putting flares near a minor accident on a snowy road in Eureka when he was hit by a car and killed.
"I'd had a premonition about it," said Kelly Glossip, 43, Engelhard's domestic partner of 15 years.
The openly gay couple had discussed what might happen if Engelhard were to die in Missouri, a state that does not recognize same-sex partnerships, he said.
"He had faith in the system and told me not to worry about it," Glossip said from his home in suburban St. Louis.
But now Glossip, who works only part time in a billing office because of back problems and who supports his 17-year-old son, is worried and angry.
The state would have given a pension to the wife of any officer killed on the job but has no such provision for domestic partners, Glossip said.
"I'm basically on my own," he said.
Denny Meyer, 63, knows all about being on his own. He joined the U.S. Navy in 1968 to pay his country back for welcoming his parents, both Holocaust survivors, after World War II.
He stayed 10 years and loved it but remained in the closet until after he was discharged.
After a career in New York, where he was open about his sexuality, "I started to get old," he said. "I'm an old 63 because of bad luck with cancer and this and that."
Living alone on a limited income, with no close relatives, he was accepted to live in a senior citizens' home in the borough of Queens but turned it down.
"I'm used to being out, so the idea of going into senior housing in a straight environment is horrifying," he said. "I knew that I would have to go completely back in the closet."
Though aging is tough for everyone, it tends to be tougher for people who are gay, according to a report presented Wednesday at the annual conference of the National Council on Aging and the American Society on Aging in Chicago, Illinois.

Video: Police out lesbian sergeant
According to the report, Improving the Lives of Lesbian, Gay, Bisexual and Transgender Older Adults, issues that disproportionately affect LGBT older adults include stigma, isolation and unequal treatment. Together, they translate into their being poorer and sicker and having fewer opportunities for social and community engagement than do their heterosexual peers, according to the report.
Many older LGBTs' financial woes can be traced to the fact that discrimination was legal during their working lives, which often meant thinner paychecks, limited access to health care, fewer chances to build pensions and smaller Social Security payments, the report said.
For example, lesbian couples' Social Security benefits are typically 31.5 percent smaller and gay couples' benefits are 17.8 percent smaller than are those of heterosexual couples, the report said, citing a 2009 study.
Family members provide about 80 percent of long-term care in the United States, but that's not the case with LGBT elders, since they are more likely to be single, childless and estranged from their biological families, said the report.
Instead, many of them wind up relying on friends and the community, so-called families of choice, it said.
And that's just the beginning, according to the report, which cited "official policies, laws and institutional regulations" that offer same-sex partners few of the resources afforded to spouses and biological family members.
That's largely because those laws, programs and services either don't acknowledge or don't protect the partners of LGBTs or because they don't address the stigma and discrimination that result in worse treatment of LGBT elders, it said.
The report cited a 2001 study by the U.S. Administration on Aging that found LGBT elderly are only a fifth as likely as heterosexuals to use such services as senior centers, housing assistance, meal programs, food stamps and other entitlements.
"There's a whole labyrinth of challenges and pitfalls for same-sex couples and LGBTs in general," said Michael Adams, the executive director of Services & Advocacy for Gay, Lesbian, Bisexual & Transgender Elders, who helped write the report.
The report cited these other inequalities:
• Despite paying into Social Security, LGBT elders don't get the same benefits that their heterosexual peers get, with the biggest difference being that same-sex couples are denied spousal and survivor benefits routinely provided to married heterosexual couples.
• Similar disparities occur in Medicaid and long-term care programs. Medicaid does not require a healthy partner to impoverish himself or herself to qualify a spouse for long-term care. But spousal impoverishment protections do not exist for same-sex couples and families of choice.
• LGBT elders' IRAs and other retirement plans have benefits that are unequal to those enjoyed by heterosexual couples.
• Employer policies regarding pensions do not provide surviving partners of same-sex couples with the same financial protections that are accorded heterosexual couples, the report said.
• Under federal tax law, employers can provide health insurance to the heterosexual spouse of a current or retired employee tax-free, but insurance benefits for partners in same-sex couples are taxable.
• A surviving heterosexual spouse can inherit the couple's assets without incurring a tax penalty, but federal and state law requires same-sex partners to pay inheritance taxes in some cases.
• Heterosexual spouses of military veterans get federal benefits, including pensions for spouses of service members killed in combat, medical care and home-loan guarantees, none of which is available to same-sex partners of veterans.
• It is typically more complex and expensive for same-sex couples to navigate inheritance laws than it is for heterosexual couples.
The disparities also extend to health care, with LGBT elders more likely to delay getting needed care and more likely to have HIV/AIDS and chronic mental and physical conditions, the report said.
Even personnel at places that deliver health care may discriminate, it said.
"These providers may be hostile, discriminatory, or simply unaware that LGBT elders exist," it said.
Nursing homes sometimes have staff who create unwelcome environments for LGBT elders and rules -- such as visitation policies and medical decision-making laws -- that exclude families of choice, it said.
Social isolation can loom large as a quality-of-life issue among LGBT elders, who are more likely than others to live alone, the report said.
Such isolation has been linked to higher rates of depression, poverty, re-hospitalization, delayed care-seeking, poor nutrition and premature death, the report said.
Not only do LGBT elders lack support from many mainstream aging programs, including senior centers and places of worship, but elder LGBTs tend to lack support from and feel unwelcome in the broader LGBT community, it said.
Finally, LGBT elders may face discrimination in connecting to their communities by being denied housing in mainstream retirement communities.
"This discrimination may separate LGBT elders from loved friends or partners, or push them into homelessness," it said, adding, "LGBT elders may also feel the need to re-enter or stay in the closet in order to obtain or maintain housing."
Adams expressed optimism that changes will occur, but slowly. "It's taken decades and decades to build up this neglect, and we're not going to solve it overnight," he said.
He said he was asking that the government apply "a neutral policy" to LGBT older people, according them the same protections and services accorded to heterosexuals. He cited the Social Security and Medicaid programs as discriminatory.
Kathy Greenlee, the openly lesbian assistant secretary for aging at the Department of Health and Human Services, acknowledged that issues of aging can be difficult for gays and lesbians.
"There are certainly some financial hardships based on our status," she said. But, she added, "That financial hardship is not especially based on a same-sex relationship but on an unmarried relationship."
In other words, "you could have a male-female couple who lived together for 40 years with similar issues."
While public debate about marriage is strong, "what is clear -- and not debatable -- is that marriage is an economic institution" as well as a religious one, she said.
"The lack of marriage then creates different issues -- whether the couple that's not married is heterosexual or same-sex, there are not protections of a financial nature that are equivalent to marriage."
Asked about the laundry list of issues cited by the report, Greenlee said, "I'm willing to be an ally as I can be, but some of those decisions are clearly within the jurisdiction of other people within the federal government."
She credited her agency with working to ensure that its services "are culturally competent, regardless of whom we are dealing with."
The report was released in collaboration with the Movement Advancement Project and such mainstream groups as the National Senior Citizens Law Center and the Center for American Progress. The foreword to the 90-page report came from AARP.
The issue is growing. According to the U.S. Census Bureau, the number of Americans over age 65 is expected to double over the next 30 years, from 40 million to 80 million.
But a senior fellow for policy studies at the conservative Family Research Council was unmoved.
"Some of these problems that they face are the result of their own choices," Peter Sprigg said. "In other words, the fact that they choose not to marry based on how society defines the institution of marriage leaves them without the support that married people have."