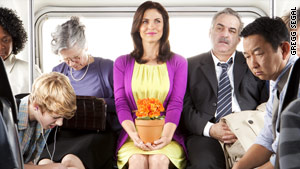 Women should go easier on themselves in order to enjoy life more, author says.
STORY HIGHLIGHTS
Author: Too many women stress over whether they are accomplishing enough
Also, women find more faults when comparing themselves to other women
Writer urges women to accept mistakes, letting others be more perfect
(OPRAH.com) -- Nearly all the women I know are stressing themselves sick over the pathological fear that they simply aren't doing enough with their lives.
Which is crazy -- absolutely flat-out bananas -- because the women I know do a lot, and they do it well.
My cousin Sarah, for instance, is earning her master's degree in international relations, while simultaneously working for a nonprofit that builds playgrounds at woefully underfunded public schools.
Kate is staying home and raising the two most enchanting children I've ever met -- while also working on a cookbook.
Donna is producing Hollywood blockbusters; Stacy is running a London bank; Polly just launched an artisanal bakery...
By all rights, every one of these clever, inventive women should be radiant with self-satisfaction. Instead, they twitch with near-constant doubt, somehow worrying that they are failing at life.
Sarah worries that she should be traveling around the world instead of committing to a master's degree. Kate worries that she's wasting her education by staying home with her kids. Donna worries that she's endangering her marriage by working such long hours. Stacy worries that the capitalistic world of banking is murdering her creativity. Polly worries that her artisanal bakery might not be quite capitalistic enough.
All of them worry that they need to lose 10 pounds.
It's terribly frustrating for me to witness this endless second-guessing. The problem is, I do it, too. Despite having written five books, I worry that I have not written the right kinds of books, or that perhaps I have dedicated too much of my life to writing, and have therefore neglected other aspects of my being. (Like, I could really stand to lose 10 pounds.)
Oprah.com: Why women never hear the good stuff
So here's what I want to know: Can we lighten up a little?
As we head into this next decade, can we draft a joint resolution to drop the crazy-making expectation that we must all be perfect friends and perfect mothers and perfect workers and perfect lovers with perfect bodies who dedicate ourselves to charity and grow our own organic vegetables, at the same time that we run corporations and stand on our heads while playing the guitar with our feet?
When I look at my life and the lives of my female friends these days -- with our dizzying number of opportunities and talents -- I sometimes feel as though we are all mice in a giant experimental maze, scurrying around frantically, trying to find our way through.
But maybe there's a good historical reason for all this overwhelming confusion. We don't have centuries of educated, autonomous female role models to imitate here (there were no women quite like us until very recently), so nobody has given us a map.
As a result, we each race forth blindly into this new maze of limitless options. And the risks are steep. We make mistakes. We take sharp turns, hoping to stumble on an open path, only to bump into dead-end walls and have to back up and start all over again. We push mysterious levers, hoping to earn a reward, only to learn -- whoops, that was a suffering button!
Oprah.com: 10 life lessons you should unlearn
To make matters even more stressful, we constantly measure ourselves against each other's progress, which is a truly dreadful habit.
My sister, Catherine, told me recently about a conversation she'd had with a sweet neighbor who -- after watching Catherine spend an afternoon organizing a scavenger hunt for all the local kids -- said sadly, "You're such a better mother than I will ever be." At which point, my sister grabbed her friend's hands and said, "Please. Let's not do this to each other, okay?"
No, seriously -- please. Let's not.
Because it breaks my heart to know that so many amazing women are waking up at 3 o'clock in the morning and abusing themselves for not having gone to art school, or for not having learned to speak French, or for not having organized the neighborhood scavenger hunt. I fear that -- if we continue this mad quest for perfection -- we will all end up as stressed-out and jumpy as those stray cats who live in Dumpsters behind Chinese restaurants, forever scavenging for scraps of survival while pulling out their own hair in hypervigilant anxiety.
Oprah.com: 6 steps to a regret-proof life
So let's drop it, maybe?
Let's just anticipate that we (all of us) will disappoint ourselves somehow in the decade to come. Go ahead and let it happen.
Let somebody else be a better mother than you for one afternoon. Let somebody else go to art school. Let somebody else have a happy marriage, while you foolishly pick the wrong guy. (Hell, I've done it; it's survivable.)
While you're at it, take the wrong job. Move to the wrong city. Lose your temper in front of the boss, quit training for that marathon, wolf down a truckload of cupcakes the day after you start your diet.
Blow it all catastrophically, in fact, and then start over with good cheer. This is what we all must learn to do, for this is how maps get charted -- by taking wrong turns that lead to surprising passageways that open into spectacularly unexpected new worlds. So just march on. Future generations will thank you -- trust me -- for showing the way, for beating brave new footpaths out of wonky old mistakes.
Fall flat on your face if you must, but please, for the sake of us all, do not stop.
Map your own life.
By Elizabeth Gilbert from O, The Oprah Magazine © 2010
Elizabeth Gilbert is the author of "Eat, Pray, Love" and "Committed"
Subscribe to O, The Oprah Magazine for up to 75% off the newsstand price. That's like getting 18 issues FREE. Subscribe now!
TM & © 2011 Harpo Productions, Inc. All Rights Reserved.
FOLLOW THIS TOPIC