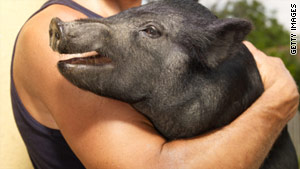 It's best to keep pig wrestling or other odd hobbies or personal information off your resume, experts say.
STORY HIGHLIGHTS
Some candidates set themseves apart from other applicants in negative ways

Big gaps in employment history with no explanation make employers suspicions

From religious beliefs to sexual preference, you name it and it's probably been on someone's résumé
(CareerBuilder.com) -- When Sara Sutton Fell, CEO of FlexJobs.com, was hiring for her entry-level job site, one particular résumé stood out from all the others.
The reason? The applicant claimed to be a "Pig Wrestling Champion" and included details like weight of the pig, number of competitors and months of training.
"[The candidate] definitely set himself apart from other candidates; not so sure it was in the way he was hoping though," Fell said. "If the gentleman had been applying for a job with a company that's involved with county or state fairs, or with a health organization currently helping to prevent the spread of Swine Flu, then his pig wrestling championship would be acceptable (and in the latter application, pretty darn funny). Otherwise, he should chalk it off as not acceptable."
From religious beliefs to sexual preference, you name it and it's probably been on someone's résumé. Job seekers just want to make a statement and stand out from their competition; unfortunately they are often memorable for all the wrong reasons.
"When candidates put things on their résumés that are completely irrelevant to the job position, you have to question their judgment," says Ty Mays, owner of Perfect Pitch Public Relations.

Video: How not to get a job
"If you can't make smart choices or determine what's appropriate during the job search process, an employer is going to wonder what choices you would make if hired. And as a small business owner, I can't take the risk on a candidate who doesn't understand that."
ResumeGuru.com's Robert Dagnall agrees. "The problem with these résumé entries is that they fail the test of relevance. Your résumé should be built around the intersection of your greatest strengths and an employer's greatest needs. Too often, job seekers fail to take into account the needs of their audience -- and that's when the bizarre and narcissistic creep in."
It's great to wow a hiring manager; there are certain ways to do it, however, without crossing the line.
Patrick Scullin, founding partner and executive creative director for Ames Scullin O'Haire Inc. advertising agency, says there are certain things that are right for résumés and others that are just plain wrong.
Scullin says the following are acceptable on résumés:
Interests that show you're an interesting person -- hobbies, passions, musical instruments you play, etc. -- show a dynamic that brings you to life.
Scholastic achievements and high GPAs. Everyone wants smart people; if you've got proof you're one of them, serve it up.
Interesting jobs you did as a young person. These show you're not afraid of hard work and you're adaptable.
While these are areas that may cause harm:
Big gaps in employment history with no explanation. You're begging questions that will only keep suspicions high. Full disclosure, always.
Missing information. Remember Watergate -- it's not the crime, it's the cover-up that gets you in trouble.
Pessimism. Don't be negative in your job descriptions-- no matter how bad the job or your boss was. It raises flags to potential employers that you're a griper.
Spelling and grammatical errors. Whatever you do, proofread, proofread, proofread and then proofread again your résumé. A typo or bad grammar is completely unacceptable. And please, don't have exclamation points!!! Résumés are no place for forced drama.
Narcissism. Have a little humility. While a résumé is a good place to present yourself in the best possible light, it does not excuse you from coming off so strong people will think you're an egomaniacal blowhard.
The weirdest and wackiest
If you're still wondering what works and what doesn't, here's a list of real things that employers read on résumés that they deemed to be "weird and wacky:"
"I always tell people to include their relocation details up top of their résumé and I received one that read, 'Researching condoms in the local Washington, DC area'."
--Heather R. Huhman, founder and president of Come Recommended
"One of the weirdest résumés I ever received was from someone who had a statement at the top about how dependable he was and then a doodle of him on a skateboard."
-- Huhman
"I once received a résumé with three pages worth of résumé packed onto one page by putting it in 7 point font. You needed a microscope to read it."
--Huhman
"People have sent me résumés with the words 'fast paced' spelled incorrectly. I have seen 'face paced,' 'fast paised' and my favorite one of all times, 'fast paste'."
-- Abby Kohut, president and staffing consultant at Staffing Symphony, LLC
"Some people do not know how to abbreviate 'assistant.' You really should not be abbreviating titles (or much else) on your résumé. To me, it indicates laziness in that you don't want to spend the time typing the extra letters. But if you're going to abbreviate 'assistant,' please use 'Asst' not 'Ass'."
-- Kohut
"I once reviewed a résumé that was handwritten on lined yellow paper. One of the jobs was listed as 'Central Intelligence Agency, Langley, VA,' and the description of the job was, 'I'm not authorized to divulge the nature of my job duties while in the employ of the CIA'."
--Sue Thompson, The Potentialist at Set Free Life Seminars LLC
"I once had a candidate for a marketing assistant position who had worked in a supermarket very early in his career and, for that job; he listed as one of his responsibilities, 'cut the cheese'."
-- Anonymous hiring manager at a large staffing firm
"A coffee stain. Yes, I once received a résumé with a partial coffee cup ring stain on it. I believe I used the résumé as a coaster."
-- Patrick Scullin, founding partner and executive creative director for Ames Scullin O'Haire Inc.
"Dirt. The résumé was intentionally smeared with mud. I don't recall what the intent was. I immediately threw it away."
-- Scullin
"A résumé from a part-time model. Included with her résumé was a 4x6 card showing her in various poses and at the bottom it read 'good hands.' She was applying for a corporate position."
-- Cathleen Faerber, The Wellesley Group, Inc.
"The gentleman that included his picture (not a flattering one) and the declaration that he was single and lived with his mother -- this was disclosed right under his picture and was the initial comment on his résumé prior to any career objective or work information."
Faerber
"Under 'reason for leaving' [the applicant] stated 'threat of death'."
-- Faerber
"It seems that my credentials would be a good fit for what you are looking to accomplish, however, I don't wish to make a career of it."
-- Michael Becce, CEO of MRB Public Relations Inc.
"I think the goofiest thing I saw on a résumé was a person who listed one of their special skills as Playstation 3 and Xbox 360. They were applying for an accounting position, so it makes absolutely no sense why they would have that on there."
--Sky Opila, online résumé service BriteTab.com
"The other one was a gentleman who put his marital status as 'single, but looking' on the résumé! I don't understand what these folks were thinking..."
-- Opila
"I think I was fired because my previous employer was racist."
-- Laura Koelling, HR department for a catering company in St. Louis
"I left when I filed workman's comp against my employer. It just got too complicated."
Koelling
"I didn't like working at the strip club because I felt exposed."
-- Koelling
"The résumé said 'ecxellent attention to detail.' Yes, 'excellent' was misspelled!"
-- Molly Wendell, a job-networking expert and author of "The New Job Search"
"Some applicants gave me too much information in the name of their résumé. For example, 'LizSmithCorrectedRésumé' [What if I preferred the incorrect version?] or 'Moms Résumé.' [Hey Mom ... are your kids returning the favor for all of the homework you did for them in school? Are you going to have them do your job for you once you're hired as well?]"
-- Wendell
"Excellent composer of song lyrics."
-- Isabel Huntsman, Seneschal Advisors, LLC
"Hobbies: Sleeping, etc., etc."
-- Carrie Rocha, www.pocketyourdollars.com
"An e-mail address: pinkpoodle@...com (How seriously can you take this person? How professional does this e-mail look if used on our behalf?)"
-- Kitty Werner, Chair, Central Vermont Crime Stoppers
"A résumé that included drawings of Tweedle Dee and Tweedle Dum, then when we called the applicant in for an interview, his twin brother came as well. They had duplicate résumés and showed the same portfolio of work."
-- David Langton - Principal, Langton Cherubino Group, Ltd.
"[The applicant] had blank spots on his cover letter and résumé that he filled in by hand. He had whited out info - like the 'To' and 'Objective' and hand wrote info for the current job."
-- Anonymous
"'I have never trapped a man.' A woman offered this as evidence of good character."
-- Robert Dagnall, ResumeGuru.com
"Personal accomplishments: Getting back together with my boyfriend upon his release from prison."
-- Dagnall
"And here's a new favorite that arrived in my mailbox this morning as part of someone's e-mail signature: 'I am the Master, and Technology my Slave.'"
-- Dagnall
"Number of grandchildren."
-- Ty Mays, Owner of Perfect Pitch Public Relations
"Homecoming king."
-- Mays
&copy CareerBuilder.com 2011. All rights reserved. The information contained in this article may not be published, broadcast or otherwise distributed without the prior written authority.