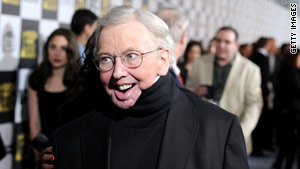 Roger Ebert finds new way to share his insights with his fans.
STORY HIGHLIGHTS
Cancer surgery may have silenced Roger Ebert's voice, but not his insights
He is now sharing his food memories and photos over Twitter
His tweets draw passionate, baffled, often ribald responses from his legion of online fans
Says: "Trick is to follow people you respond to, and then expand via their re-tweets"
(CNN) -- Although Roger Ebert has lost his ability to eat and speak aloud, his appetite for communication with his rabid fan base is being fed in a fresh new way.
"I'm gonna Twitpic food more often. I get to meet my funniest dirty-minded followers." -- @ebertchicago
The longtime Chicago Sun-Times film critic lost a section of his lower jaw due to complications from cancer surgery in 2006 and documented his feelings on the deprivation in a January 2010 blog entry entitled 'Nil by Mouth."
"So that's what's sad about not eating. The loss of dining, not the loss of food. It may be personal, but for, unless I'm alone, it doesn't involve dinner if it doesn't involve talking. The food and drink I can do without easily. The jokes, gossip, laughs, arguments and shared memories I miss. Sentences beginning with the words, 'Remember that time?'" he wrote.
"I ran in crowds where anyone was likely to break out in a poetry recitation at any time. Me too. But not me anymore. So yes, it's sad. Maybe that's why I enjoy this blog. You don't realize it, but we're at dinner right now."
Read Ebert wife's secrets for coping
Accordingly, it was several of his posted images of sausage-based breakfasts and international culinary curiosities -- like haggis, a traditional Scottish dish of lamb heart, lungs and liver mixed with oatmeal and spices and cooked in the animal's stomach -- that drew passionate, baffled, often ribald responses from his legion of online fans.
Ebert took note, tweeting links to a series of captioned, amusingly unappetizing dishes on Twitpic.com and egging on his Twitter followers -- over 140,000 of them -- to respond with commentary.
They did, in droves. Wrote one commenter named 'wormbolt', "This is turning into 'Roger's Car Wreck Cuisine.' We don't want to look, but we HAVE to."
It's that sort of playful, personal connection with fans that earned him a Webby Award for Special Achievement from the International Academy of Digital Arts & Sciences this past Tuesday. The Academy announced via their website, "Ebert's insights - be they in film, online media, journalism or life -- and his unparalleled level of engagement with followers and fans -- has made the Internet a more thoughtful, engaging and self-aware environment."
Read about social media's effects on film criticism
CNN interviewed Ebert by e-mail about his new brand of table talk.
CNN: What made you decide to post that first "Breakfast in Vienna" picture, and how did you come across it?
Roger Ebert: I took it at our hotel in Vienna and came across it while rummaging in iPhoto.
CNN: Where in the world are you finding these food images?
Ebert: Well, I thought that breakfast looked tasty. Comments in Twitpic didn't. "What's that goop on the top?" somebody asked about the scrambled eggs.
So, as is often the case, I was inspired to go looking for other breakfasts, and that escalated from British bangers to blood sausage to haggis to intense Freudian speculation, leaving breakfast far behind.
CNN: Were you surprised to see how responsive your readers are to talking about, and getting so playful with these images?
Ebert:: Twitter is like that. I interact with a very lively group of Twits, who I've made a List of, named Twitwits." The tweets zing back and forth. I was personally responsible for dragging [Syndicated columnist Margo Howard] @margoandhow onto Twitter. Her first tweet was "Is this a tweet?" Now she's adding 400 followers some days, because she's tart and saucy, just like I told her she would be.
CNN: What is it about food pictures, specifically, that brings out the devilish and creative sides of your followers?
Ebert: They have dirty minds? It's amazing what a plate of food can look like. Just glance at thiswienie pizza...
CNN: And why is breakfast meat just so darned funny? (I've been trying to figure that out for ages.)
Ebert: I'm mystified. Somebody mistook a slice of fried bacon for a lobster claw, and that set me off on the high-fat photos, including the alarming bacon roast photo I found--bacon wrapped around a foot-high stack of sliced sausage, as I recall.
CNN: You wrote in your essay "Nil by Mouth", "What I miss is the society. ... Meals are when we get a lot of our talking done -- probably most of our recreational talking. That's what I miss. Because I can't speak that's another turn of the blade. I can sit at a table and vicariously enjoy the conversation."
Do see you the conversation via these pictures a corollary to this?
Ebert: Twitter is something like conversation, and a great pleasure for me. The trick is to follow people you respond to, and then expand via their re-tweets. That's how I found a group of women in India, a land that supplies some of my very favorite tweets in the whole world from two women named @natashabadhwar and @nancygandhi, who I think actually met through my re-tweets. Both are breathtakingly good prose stylists.
CNN: You seem to have established a wholly new dynamic for celebrity interaction with fans via Twitter -- not just broadcasting, but genuinely engaging with them. What has this brought to your life, and do you think any other well-known figures will or have adopted this avenue?
Ebert: I don't know. I just enjoy the hell out of it. I try to hold promotion of my own site down to around 5-10 percent of my Tweets. I use proper English instead of ChatSpell. I try to be clear. Some people's Tweets are so densely compressed I can't understand them. @SarahPalinUSA can be incomprehensible, she uses so many abbreviations and acronyms.
Several months ago I started something called Tweeto. Last thing every night, I re-tweet three of my new followers. That way I've discovered a surprising number of gifted twits that I now follow.
Andy Ihnatko, the cyberguru, advised me: "Try to maintain a high ratio of signal to noise." I never inform people that I'm awake, or going to bed, or hungry, stuff like that. I've had to unfollow some brilliant people because they weren't making a Twitter effort. Of the most colossal wastes of time is tweeting airport itineraries, for example JFK-ORD-LAX. If that was coming from Air Force One, I still wouldn't give a damn.
Follow Roger Ebert at @ebertchicago and follow Kat Kinsman at @kittenwithawhip.