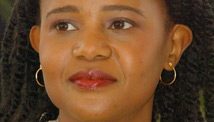 STORY HIGHLIGHTS
Quake came as country was hoping for upswing, says writer Edwidge Danticat
She says Haitians are known for resilience in face of great challenges
She says people have "incredibly strong will" and will rebuild
People are suffering doubly, fearing they've lost loved ones and country, she says
(CNN) -- The earthquake that shook Haiti on Tuesday was only the most recent disaster to lay siege to the most impoverished nation in the Western hemisphere, a country that was beginning to show some signs of rebirth, says Haitian-born American novelist Edwidge Danticat.
"There was a sense after the four storms last year that there were some positive things happening," she said, with new hotels going up and fresh hope for foreign investment, against a long historical backdrop of poverty, natural disaster and political instability.
The magnitude-7.0 quake, she said, "just grinds everything back into the ground."
Even so, Danticat sees hope in a resilient population and an international community that she believes will come to its aid.
"It looks extremely bad right now," she said, "but Haitians will rebuild."
Danticat has been writing about Haiti since she was a girl.
When she was 12, she left Haiti and moved with her brother to Brooklyn, New York, to join her parents, who'd emigrated a decade earlier. Her first works in English were published in a New York city magazine for teens when she was a teenager. The books she has written since have leaned into the history and issues of Haiti, the Haitian diaspora and the immigrant experience. She is an advocate for her country of origin.
Danticat is the author of several books, including "Breath, Eyes, Memory," an Oprah's Book Club selection; the National Book Award finalist "Krik? Krak!"; and "The Farming of Bones," an American Book Award winner. "Brother, I'm Dying," a memoir, was a 2008 winner of the National Book Critics Circle Award for autobiography. She is a 2009 recipient of a MacArthur Foundation grant.
Danticat spoke with CNN.com Wednesday.
CNN: What does the earthquake mean for Haiti?
Edwidge Danticat: It is a catastrophe beyond measure, because even when we've had mudslides or floods, it has overwhelmed the capacity of the country to handle it: to absorb the wounded, to help people find medical care. But this situation is something far beyond anything the country has ever experienced before.
In Haiti, most people cannot afford basic medical care, so imagine now, the primary hospital in Port-au-Prince is said to have been severely damaged. It's truly an extraordinary catastrophe for a country that's already suffered so very, very much.
The sad thing is that the country seemed to have been on an upswing. There was the beginning of some tranquility. There were recent stories about some new, even fancy, hotels in Jacmel and Port-au-Prince. And Bill Clinton, the UN special envoy to Haiti, had recently hosted an investors conference in Port-au-Prince with investors from Latin America as well as the United States.
There was a sense after the four storms last year that there were some positive things happening, and this just grinds everything back into the ground.
CNN: What are your concerns about how the nation will emerge from the disaster?

Video: 'The ground was pitching'

Video: 'The earth actually split'

Video: U.N. workers missing in Haiti
Danticat: I swing between hoping for the best and fearing the worst. It seems as if we will have to rebuild Port-au-Prince and the nearby areas from scratch. What I'm most afraid of is that this is just a string of catastrophes, and in a place like Haiti, this can quickly become something even more catastrophic than it already is.
CNN: In what way?
Danticat: You have all this disaster, all these people who are dead and wounded who cannot get help, so you have this second wave of death of the people who are wounded and then, very quickly, food shortages -- and in a place where people already have so little. Now they've been reduced beyond despair.
CNN: How has the country dealt with disaster in the past?
Danticat: We Haitians are known for our resilience, because we've suffered so many natural and political tragedies over the years and have always somehow managed to bounce back. We've never had to face something like this, so this time I think it might take a lot longer. But there is an extraordinarily strong spirit in the Haitian people. It looks extremely bad right now, but Haitians will rebuild. Certainly, Haiti is going to need a great deal of help, but the people have it in them to rebuild, and they will.
CNN: How will they do this?
Danticat: We will need help from all our neighbors, from the international community. We will need individual donors and government donors. I would encourage people to support organizations that are already on the ground and can immediately start helping people. Organizations like Partners in Health, Doctors Without Borders and the American Red Cross. Humans have a tendency to pull together in tragedy. You can't imagine a more tragic day for Haiti than this. We will need everyone.
CNN: Have you heard from your family members?
Danticat: I'm still trying to find some cousins and an aunt, an extended family of dozens of people in Port-au-Prince. My husband has two uncles in Carrefour, which I understand took a great hit. We haven't heard anything from them yet. We did, however, hear from my mother-in-law, who lives in the south, in Les Cayes, and from some friends we have in Les Cayes who miraculously have telephone and Internet. We're trying to stay hopeful, though. You can't imagine how many people are in the same situation we are, just waiting to have news.
CNN: You live in the Haitian community in Miami, Florida. What is it like there today?
Danticat: Everybody is inside watching the TV. I went to a church in Little Haiti where people are just sitting there with calling cards and cell phones, just dialing people in Haiti that they cannot reach. And they're praying. People just want to be together. There is a man who works in the parking lot nearby, and he is just walking around, dazed. We were having a conversation, and he said he hadn't heard from his wife. He hasn't heard from his children. "It's unfamiliar to us," he said. "I've never heard of anything like this in my life."
It's twofold. People are thinking "I may have lost a loved one, but also I may have lost my country." You feel so sad, terribly sad. Everyone does. But Haiti's the kind of place where people develop an incredibly strong will. The motto of Haiti is "L'union fait la force": "in unity there is strength."
In moments like this, you cling to that. You cling to everything. It makes me remember that this is a country that didn't have a chance when it began, a nation of slaves becoming the world's first black republic. You have to draw from this historical precedent and hope there will be a rebirth.