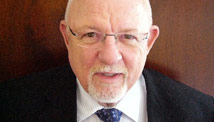 STORY HIGHLIGHTS
Iraq election a tribute to sacrifice of U.S. troops in that nation, Ed Rollins says
Rollins says it was appropriate that Oscar went to director of a war film
Rollins says "The Hurt Locker's" Kathryn Bigelow rightly dedicated her award to troops
He says Americans need to honor the dedication of service members who fight for freedom
Editor's note: Ed Rollins, a senior political contributor for CNN, is senior presidential fellow at the Kalikow Center for the Study of the American Presidency at Hofstra University. He was White House political director for President Reagan and chairman of the National Republican Congressional Committee.
New York (CNN) -- This past weekend, Iraq had a real election and in spite of threats and bombings, millions of voters participated in record numbers. It is a giant step forward in Iraq's road to democracy and has the potential to be a beacon for others in this battle-scarred region.
Even though all the details of the new government will take months to work out, step one, free elections, was a major accomplishment, and the people of Iraq should be very proud. They have paid an enormous price in the deaths and injuries of their fellow citizens and loved ones. Some may never recover from the financial ruin caused by the loss of their homes and destruction of their neighborhoods.
Every citizen has been affected in some way by the last eight years of war. But to many, and especially Iraq's young people, a stable and peaceful future is now a potential reality with their own peacekeepers in place and a functioning government.
Instead of the feared civil war between warring factions, we may see Iraq's conflicts being peacefully battled out at the ballot box and in the parliament.
The United States and its allies also should be relieved. We too share in their victory. Whatever the real reason we got into Iraq -- and many Americans may argue it was right or wrong -- it is working. And the reason it is working is because of the magnificent efforts of our troops and diplomats. They too have paid an enormous price. Thousands have lost their lives; many military families have been separated and broken up, and too many service members have suffered injuries to the body and soul.

Video: Bigelow 'never dared to hope'
How appropriate that on this weekend of the election, thousands of miles away in Los Angeles at the Academy Awards ceremony, the brilliant and talented Kathryn Bigelow dedicated her Oscar to the servicemen and women in Iraq and Afghanistan and spoke for all of us: "May they come home safe."
Her victory as best director for her superb Iraq war movie, "The Hurt Locker," was a well-deserved accomplishment. But her salute to the troops, with 41 million U.S. television viewers and many millions more worldwide, will have an impact far beyond her film.
Bigelow's film also won the best picture award (the fourth war movie in the last four decades to win the best picture award). The other three: "Patton," "The Deer Hunter" and "Platoon" were box-office blockbusters. Her independent movie is the lowest-grossing winner in recent history.
Hollywood usually glorifies war or belittles it. It seldom gets it right. War is brutal and can seldom be depicted in its full awful reality. There are exceptions. "The Hurt Locker" is an exception.
This month is the 65th anniversary of the battle of Iwo Jima, one of the fiercest battles in the Pacific campaign of World War II. In the battle, fought from February 19 to March 26, 1945, we lost 6,821 brave troops and another 19,217 were wounded. The Japanese fought to the death with more than 20,000 killed and only 216 captured.
To honor the heroes of Iwo Jima, President Truman awarded the Medal of Honor to 22 Marines and five members of the Navy, most of them posthumously. More U.S. troops were killed at Iwo Jima than on D-Day.
Nearly everyone has at least seen the Pulitzer Prize-winning photograph taken February 23, 1945, by Joe Rosenthal of "Raising the Flag on Iwo Jima." The photo depicts five U.S. Marines and a U.S. Navy corpsman raising the American flag on top of Mount Suribachi. Three of those men died within days in the battle.
The picture was used as the model by Felix de Weldon to sculpt the memorial that now is cast in bronze and serves as the U.S. Marine Corps war memorial monument adjacent to and overlooking Arlington National Cemetery near Washington. It is the world's tallest bronze statue, standing nearly seven stories high.
Washington is full of memorials, but none is more spectacular than this one. I lived in an apartment overlooking it during my Washington days, and marveled every day at its beauty and the adoration and respect members of the corps, past and present, had for its symbolism as they reverently visited it.
The inscription on the base reads: "Uncommon Valor Was a Common Virtue."
Adm. Chester Nimitz's words are as true today for the hundreds of thousands serving us in Iraq, Afghanistan and elsewhere in the troubled spots of the world. As we fight over health care and other political concerns here at home, let's not forget those fighting and winning freedom on our behalf elsewhere.
Bigelow said the words for all of us: "May they come home safe." And know they are loved and appreciated by their nation.
The opinions expressed in this commentary are solely those of Ed Rollins.