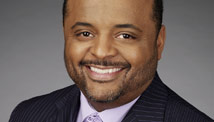 STORY HIGHLIGHTS
Israel announced plans for 1,600 homes in East Jerusalem while Joe Biden arrived for talks
Harsh rebuke by Obama administration met with criticism from some Republicans
Roland Martin says U.S. acted correctly in publicly assailing Israel for plan
Martin says U.S. must be even-handed broker in negotiations with Israel, Palestinians
Editor's note: Roland S. Martin, a CNN political analyst, is a nationally syndicated columnist and author of "Listening to the Spirit Within: 50 Perspectives on Faith," and the new book, "The First: President Barack Obama's Road to the White House." He is a commentator for TV One Cable Network and host of a one-hour Sunday morning news show.
(CNN) -- If you listen to supporters of Israel, they essentially act as if Americans criticizing the Jewish nation is akin to committing treason against the United States.
Sorry, folks. Israel, no matter how close an ally of America, should not expect the United States to act as if everything it does is fine.
The decision by the Israeli government to announce the building of 1,600 homes in the disputed area of East Jerusalem while Vice President Joe Biden was in the country to move forward the Israeli-Palestinian peace process was a slap to the United States.
Israeli officials admitted it was a mistake in making the announcement during Biden's visit, but they made clear they are moving forward with the settlements.
The fallout from the announcement was swift and decisive. It drew a harsh rebuke from Biden. Later, Secretary of State Hillary Clinton chewed out Israeli Prime Minister Benjamin Netanyahu.
America's response was obviously received positively by the Palestinians, who regard East Jerusalem as the future capital in a Palestinian state. And other Arab nations had to be smiling with the United States' rebuke of Israel, its closest ally.
Naturally, pro-Israel groups, such as the powerful American Israel Public Affairs Committee, rose to the defense of the country, saying:
"The administration should make a conscious effort to move away from public demands and unilateral deadlines directed at Israel, with whom the United States shares basic, fundamental and strategic interests.
"The escalated rhetoric of recent days only serves as a distraction from the substantive work that needs to be done with regard to the urgent issue of Iran's rapid pursuit of nuclear weapons and the pursuit of peace between Israel and all her Arab neighbors.
"We strongly urge the administration to work closely and privately with our partner Israel, in a manner befitting strategic allies, to address any issues between the two governments."
Look at that key phrase: "closely and privately."
That was echoed by Sen. John McCain, R-Arizona, on the floor of the Senate. He questioned why the U.S. should publicly disparage Israel and called on Obama administration officials to "lower the dialogue" and "talk quietly among friends" to work on our common goals.
Then you have House Minority Whip Eric Cantor, R-Virginia, calling the Obama response "irresponsible."
"While it condemns Israel, the administration continues to ignore a host of Palestinian provocations that undermine prospects for peace in the region," he said in a statement.
This is the tit-for-tat nonsense that has blocked a true peace agreement between the Israelis and Palestinians.
Supporters of Israel always want the U.S. to ignore their wrongdoing and focus on the Palestinians. And the supporters of the Palestinians are quick to deflect criticism when they do something dumb and demand that the U.S. decry Israeli actions. We see it in Israel and here in the U.S.
This is utter nonsense.
In order for the United States to be seen as an honest broker for peace, we can't be seen as favoring one nation over the other. Our moral authority to lead is based on our credibility with both sides.
Even though Arab nations know that Israel is our closest ally, they know that we have a history of giving them a fair shake. That's the only way President Carter was able to broker a peace agreement between Egypt and Israel in 1978, leading Anwar Sadat, president of Egypt, and Menachem Begin, prime minister of Israel, to share the Nobel Peace Prize.
In 1993, President Clinton hosted the signing of the Oslo Accords, for which Palestinian leader Yasser Arafat and Israeli leaders Yitzhak Rabin and Shimon Peres shared the Nobel Peace Prize in 1994.
The distrust about Middle East policy was at the heart of some American Jews being leery of supporting then-Sen. Barack Obama for president. We heard and read reports of some Israel supporters questioning whether he would be more sympathetic to Arab concerns -- and whether he is or used to be a Muslim.
So when you see reports quoting Israel's U.S. Ambassador Michael Oren saying relations between the two longtime partners at its worst in 35 years, expect to see additional pieces on whether mistrust between Obama and Israel is at the heart of the issue.
At the end of the day, America has spent years and years trying to broker peace between the Israelis and Palestinians. Generations in both countries have grown up weary of constant friction, battles and death. It's time both sides do all they can to set aside their differences and co-exist peacefully.
And the only way to get there is if America speaks forcefully when one or both sides do something that will endanger a peace accord. In this case, Israel's actions aren't helpful. And we were right to call them on it.
The opinions expressed in this commentary are solely those of Roland Martin