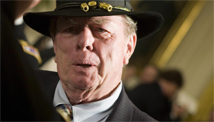 STORY HIGHLIGHTS
Joseph Galloway: U.S. fighting two wars for almost a decade, yet holiday has lost meaning
Galloway: Many see Memorial Day as just summer's first long holiday weekend
Honor lives lost by turning up at a ceremony, he says, and in the way you live
Meditate on the thousands of Americans who have died in Afghanistan and Iraq
Editor's note: Joseph L. Galloway, a war and foreign correspondent for half a century, was special consultant to Gen. Colin Powell at the State Department and co-wrote "We Were Soldiers Once -- And Young." Galloway was decorated with a Bronze Star Medal with valor for rescuing wounded soldiers under fire in the Ia Drang Valley in 1965, the only civilian awarded a medal of valor for actions during the Vietnam War.
(CNN) -- Even though we as a nation and a people are enmeshed in two wars that have dragged on for nearly a decade, the days set aside each year to honor our veterans and remember those who have fallen in combat seem to have lost their meaning for most.
Monday is Memorial Day, a solemn holiday set aside for us to pay our respects to the more than 1 million Americans who have died in over two centuries of our wars. It will be so marked in official ceremonies in the nation's capital and in town squares all across the country.
But for most, this is just the first long holiday weekend of summer, time for shopping the big sales at the mall, barbecuing in the backyard or heading home from an excursion to the beach.
I suppose this is what we must expect, if not accept, in a country where fewer than 1 percent of our population is in uniform, protecting and defending the rest of us -- where all the burdens of service and sacrifice fall on the few and those who love them.
Maybe I could just say knock yourself out, folks, have a bunch of fun, if this particular holiday didn't mean so much to those who have seen the ugly face of war up close and personal.
It's a chance to support your troops in some more meaningful way than slapping a yellow ribbon magnet on your car.
--Joseph Galloway

Video: Biden: Troops are 'spine' of nation

Video: Remembering the fallen

Video: Memorial Day in Afghanistan

Video: Concert honors U.S. military
This is the day when our country is supposed to pause and offer thanks to those who fell in battles from the first days of the Revolution to today in Afghanistan and Iraq. It's a chance to support your troops in some more meaningful way than slapping a yellow ribbon magnet on your car.
All you have to do is just turn up. Go to the ceremony in your town or city. Say a thank you to some of the veterans, especially those of the greatest generation, the 15 million men and women who fought World War II and are now dwindling down to a precious few.
Take the time to meditate on the roughly 1,000 American troops who have given their lives in Afghanistan and the more than 4,000 dead in Iraq. Every one of them was precious to a family and to those who fought beside him or her. The pain of such a loss is incalculable, and for a child or a spouse or a parent it can last a lifetime.
Understand that your freedom is not free; some have given their all for that freedom. Acknowledge the debt we all owe to them and to all who serve.
We owe a great deal to those who served in war and whose knowledge of combat is personal -- to those who have held a dying soldier or Marine buddy in their arms and watched as the life drained out of his eyes; to those who know they owe their own life to a friend who gave his life to save theirs, and to those who relive old horrors in new nightmares.
Remember your fallen friends with pride. Tell your children, and their children, what good and decent men they were, and how much they wanted to live and come home. Honor them by the way you live your life, working each day to make this world a better place for your having lived and their having died.
Should you run into people who were an Army medic or a Navy corpsman or a military nurse, give them a big hug. They are the only ones who went to war to save lives, not to take them, and they always came when someone screamed. Always.
Bless them all. Love them all. Today, of all days, please remember our fallen comrades and those who mourn their loss.
The opinions in this commentary are solely those of Joseph Galloway.